Occupational Therapy isn't the easiest of degrees, but it's way more rewarding than a 9-5 desk job
The bonds you make along the way make the job not feel like a job at all
Let me guess, you've heard of Physio, Nursing and Midwifery but you've never heard of Occupational Therapy. And before you ask no, it's not about injuries at work.
Occupational Therapy is a science based degree that helps patients to continue to perform activities in their everyday life. It's all about being functional, actually being able to do the things you want despite being unwell or disabled. Basically, you got shit to do and we help you do it, while somehow making it fun along the way.
It's a pretty intense course, having to do placements every year while doing assignments, revision and also trying to keep up our Snapchat streaks with housemates that we never get to see anymore. They might staying up until 5am drinking wine and discussing their new Tinder matches while you have placement in two hours, but there's no feeling that beats making a big difference to someone's life.
We put the FUN in functional
Doctors and nurses may save your life, but we help you live it. Physios can teach you to walk, but you wouldn't be able to get glam and put your shoes on to go anywhere without Occupational Therapy. We help to promote the quality of our patients lives, which means really fun activities like supporting disabled people to go horse riding for example. We don't get involved with any of the boring stuff and are expected to make therapy as fun as possible. 
We're pretty creative people, and can even help improve patients sex lives so they get their daily dose of Vitamin D.
We're bossy AF
When we say we help you do the things you want to – we mean it. Unlike many healthcare practitioners, we don't do it for you, but basically bark orders at you until you can do it independently.
We may feel like a complete bitch sometimes refusing to help an elderly man butter his toast in hospital, but no one is going to be there to do that when he goes home. We teach people new ways of doing things, adapt the activity to suit their needs and can also prescribe specialist equipment.
No one can fully understand how rewarding it is to safely discharge a patient back into their family home after a stressful hospital experience, unless you've actually done it. Knowing that a patient is much happier and able to independently do the things they want to do to remain living at home is one of the most rewarding feelings.
We work with anyone, anywhere, and it's amazing 
We work with young offenders in a prison to patients with prosthetic limbs. There are few careers where you can be working with disabled war veterans, the homeless, mothers with post-natal depression or with children to improve their handwriting. Occupational Therapy is perfect for nosey people who love talking to and meeting new people, and who want to travel the world at the same time. This also means our job is so varied, with no day being the same.
We are closely linked with Australia, New Zealand and Canada – and many Occupational Therapists venture off to unheard of tropical countries, just because we can. Our qualification is widely recognised all over the world, it'd be rude not to take advantage of that. That's pretty much a guaranteed tan all year round.
You'll officially become a proper adult
Being made to leave your housemates and move to both dodgy and non-dodgy parts of England for placement can be pretty daunting, especially because of all the midweek drinks you'll miss out on. But placement makes you grow up quick and become responsible fast.
Plus, when we qualify, we get a professional registration and are able to sign your passport –  if that doesn't make us sound responsible, I don't know what will.
Money ain't a thing
It's a well known fact no one goes into healthcare to get rich, but we're definitely not complaining about the pay. Graduate salaries really vary depending on where you're working, but working in London can start you off on just below 30k a year, which is probably more than what your housemate Sarah doing Leisure and Tourism could earn.
Some NHS trusts even give you a £1k pay rise each year just for being a bae. There's a massive shortage of Occupational Therapist's so you won't be unemployed living with your parents for too long either.
Loads of Psychology graduates also want to be us, with a lot of them realising that getting a Psychologist job is pretty damn difficult and then choosing to studying a MSc in Occupational Therapy instead. Occupational Therapy is a great mix of courses, with knowledge of Biology and Psychological theories being combined.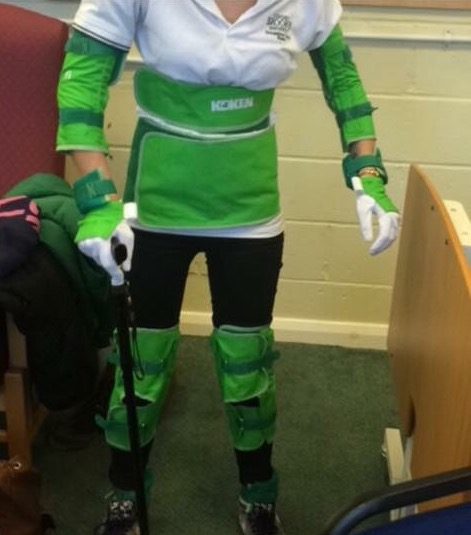 Your course is one big group of mates
We may only have about 50 students in our cohort, but this brings us all so much closer together. Most of the students are middle aged women, meaning that we all learn so much more from each other than if we just spent time with 18 year old's straight out of college.
There's also hardly any guys on the course, I have two on mine – so if you're going through a bad break up and fancy being guy free for three years it's pretty much ideal. We don't have to work long hours or do night shifts either, with minimal bodily fluids involved.
Occupational Therapy isn't the easiest of degrees, but it's way more rewarding than a 9-5 desk job. We are on our feet all day, but we've also learnt to appreciate every second of a night out.
The variety of patients we meet really opens our eyes and changes our perspective on the world. One of the best parts of the job is hearing all the amazing stories from patients and really getting to know them. Seeing their faces when they have learnt to carry out a task on their own is a really special experience.
Best of all, the bonds you make along the way with patients and families make the job not feel like a job at all.