Here's everything we know about Aberdeen Uni's response to coronavirus
Plans for exams are still unclear
| UPDATED
The University of Aberdeen's plans following the recent coronavirus outbreak remain unclear.
This morning, Aberdeen University announced the cancellation of the Live on the Lawn celebration, which was supposed to take place tomorrow. An email to students said:
"With the expected introduction of social distancing caused by the Coronavirus, the University has decided to postpone tomorrow's (Friday 13th) Live on the Lawn event.
"The health, safety and wellbeing of our students is our priority. It is our intention to host the event at a later date and we will keep you informed when the situation becomes more clear."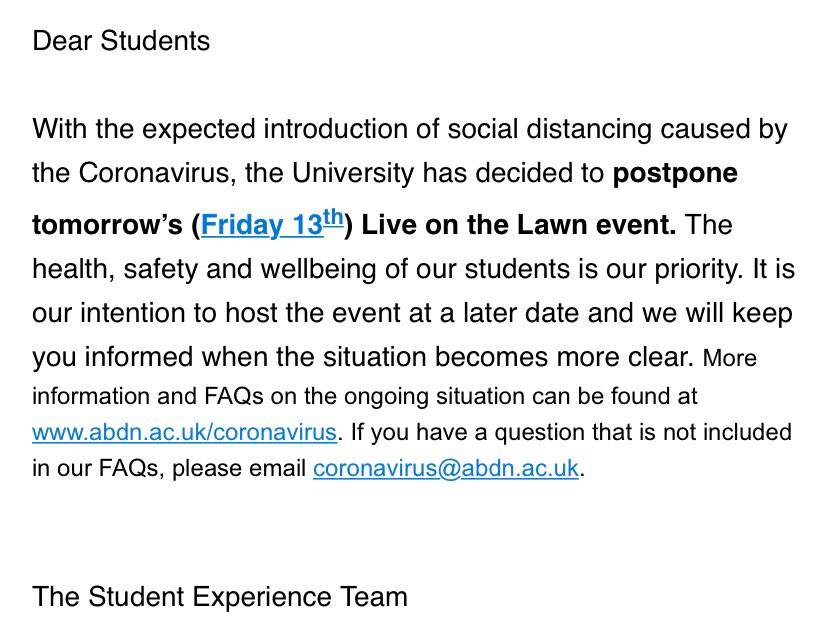 Yesterday, they also informed students via email of plans to close Sir Duncan Rice Library at 10pm instead of midnight to allow for "intensive cleaning" to take place.
International students have been contacted by the university and strongly urged to "return to your usual place of residence." The email states the following:
"Based on this emerging situation, the University is changing its travel advice for students on Erasmus/International Exchange Programmes. We are now advising you to strongly consider returning to your usual place of residence, be that in the UK or elsewhere.
"We make this recommendation on the basis that the ability to travel is likely to be further restricted in the coming days and weeks, in which case, travel may soon no longer be an option."
The University are offering their full support for students who decide to do this, and aim to help everyone continue with their studies to the best of their abilities.
Aberdeen University is yet to reveal whether or not remaining classes will be cancelled and if exams will take on a different format to previous years, potentially online.
The Aberdeen Tab contacted the university press office and are awaiting an official response. We will keep updating our page as the situation progresses.
featured image: SWNS stock image