'They can't ignore us any longer': Warwick staff on why strikes are important
'Collectivise and stand in solidarity'
Industrial action is taking place at the University of Warwick during weeks nine and 10 of term 1.
The industrial action, which started last week, will end on the 4th December, and comes as the result of UCU Union members passing a vote in protest of pensions, poor working conditions and pay.
We spoke to four Warwick staff members about about the factors that led them to participate in industrial action, how students can learn from them, and why collective protest is a vital means of demanding change.
"As the saying goes, you cannot be what you cannot see"
In October of this year, Warwick published a report on pay gaps at the university. The report found that women earn up to 26 per cent less than their male colleagues. Additional categories in the report include an ethnicity pay gap (white vs BAME) and a disability pay gap.
Dr Katja Laug, IAS fellow and Sessional Tutor, told The Warwick Tab the system of measurement for the ethnicity pay gap (BAME) is "inadequate" as it presents a "conflation of all black, Asian, and ethnic minority staff members into a single number.
"To my knowledge, the entire country now has 29 black female professors – of just under 6,000 female professors in the country, as compared to just under 16,000 male professors in the country (around 70 black men)," she said.
"Now just add the numbers up. What if you are a disabled woman? What if you are a black woman? What if you are a disabled black woman?"
Dr Laug added: "We do not, as of yet, have numbers for the LGBTQA+ community or for working class/low socio-economic income backgrounds.
"These, too, are factors that need to be investigated as they affect pay and chances of hiring and promotion, as well as the experiences people have at their workplaces."
Dr Alastair Smith, Senior Teaching Fellow and Director of Graduate Studies in the Division of Global Sustainable Development, referenced figures of staff bonuses made available at Warwick. The figures showed men were rewarded 52.8 per cent more than women and only 21 per cent of professors are women.
Dr Smith called the figures "staggering" and told The Warwick Tab: "These outcomes have complex drivers, but these intra-generational inequalities are unacceptable.
"Among the many systemic causes underlying these issues, not least systemic and institutional racism, one is representation," Dr Laug said.
"As the saying goes, you cannot be what you cannot see."
Dr Laug says UUK and the British Government need "to close the pay gaps to make it tenable and feasible for women, those who live with disabilities, and people of colour to work in academia" if they are "at all serious about closing the attainment gap."
"Hourly paid contracts offer no security"
Many of those participating in industrial action are on "casual" nine-month contracts, which force them to be on constant lookout for new jobs.
"Our most vulnerable staff have no idea where they'll be next year," Caroline Proctor, IT Support Manager, told The Warwick Tab.
"This is not only massively stressful, but it means they can't give the work they're doing, including teaching students, their full attention," she says.
Dr Laug argues these contracts "offer no security." She told The Warwick Tab: "If you are unwell, you can either still go to work or not get paid.
"If you have a grievance in your family, you can grieve at work or not get paid.
"If you want a family, you cannot have paid parental leave.
"If your child is unwell, you will not get paid to stay home and care for them."
"Hourly paid contracts also often do not count as 'years continuously worked' in the UK," she adds.
"Therefore you cannot apply for Indefinite Leave to Remain or British Citizenship."
"Other contracts," she says "are fixed-term, often less than a year (no teaching in summer, no salary)."
Dr Laug told The Warwick Tab workers are left with no choice but to "send off an extraordinary number of applications to other institutions in the hopes of getting another, probably fixed term contract elsewhere.
"Each time you move to work another contract elsewhere, you are left with the costs of moving.
"You are leaving your social network behind, and you are doing the applications, the moving, the new social networking all while working unbearably high workloads for your current insecure job."
"The papers will all brand it as 'lecturers go on strike!' but it's not just the lecturers"
Caroline Proctor believes those who don't work as lecturers are often forgotten about in the debate.
"We are often the forgotten workers of the universities, but that doesn't mean I love it any less," she says.
"But if by working at a university it means I have to struggle to pay my bills, if I'm not being paid fairly with men doing the same job, and my pension contributions keep going up and my returns go down, something has to be done.
"The papers will all brand it as 'lecturers go on strike!' but it's not just the lecturers.
"Striking affects every part of university life and all kinds of university work and therefore is and has to be a last resort."
"I'm utterly exhausted tonight"
Staff at the university also told The Warwick Tab about burnout culture.
Dr Smith cites burnout culture is a massive factor in the industrial action, adding many of his colleagues across universities in the UK were "utterly exhausted tonight."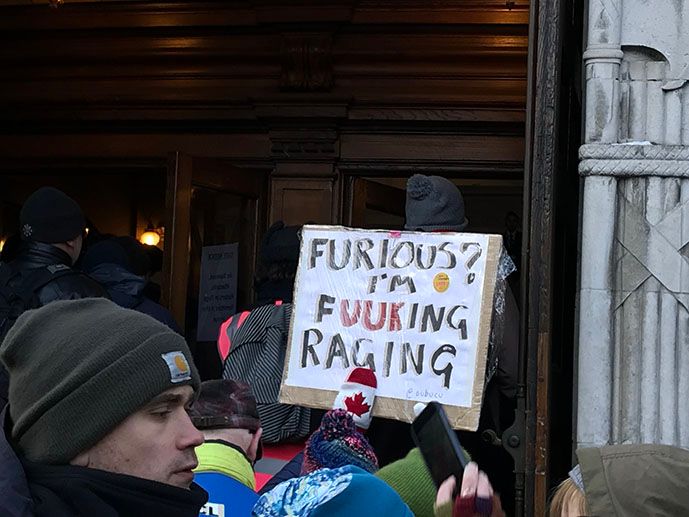 "I face completing marking over the weekend, as well as growing admissions, which I am expected to return ASAP to capture Oxbridge applicants for yet more high quality students," he said.
"We love our jobs, we love our students. We are striking for adequate and equal pay to do this work, and for a decrease in workload (achievable by hiring precarious workers on secure contracts) so that we have the time to do our work properly and have a healthy work-life balance."
"We're not of a generation where working hard was enough to guarantee the savings we need"
This year, UCU members working in UK universities had the opportunity to vote in two ballots: One on pay, the other on pensions.
According to the UCU website: "79 per cent of UCU members who voted backed strike action in the ballot over changes to the Universities Superannuation Scheme (USS)."
These changes, which dictate an increase in contribution levels from 6.35 per cent of salary in 2011 to 9.6 per cent in 2019, are alleged to demonstrate a "lack of progress" following last year's strikes, which also had a strong focus disputes over pensions.
Dr Smith told The Warwick Tab: "We went back to the work we love, hoping we would be valued.
"Initially the news was supportive—the published report raised a whole series of complaints about pension decision-makers and entirely vindicated the UCU's position.
"Many universities, including Warwick, independently endorsed the report and suggested reforms; there was even a subsequent rebuke from the Government Regulator for further impropriety by the USS."
"Decision makers acknowledged the interesting points, and ignored all the major findings. Instead they demanded a staged set of contribution increases by both employers and employees."
According to the UCU website, modelling done by First Actuarial shows "because of the changes to USS, a typical member will pay around £40,000 more in to their pension, but receive almost £200,000 less in retirement leaving them £240,000 worse off in total. That is compared to a hypothetical member who also joined in 2011 on the same conditions, but has not been affected by any of the changes brought in since then."
Caroline Proctor told The Warwick Tab: "We're not of a generation where working hard was enough to guarantee the savings we need."
"Nothing has ever been conceded by the powerful out of the goodness of their hearts"
Dr Anna Hajkova, Associate Professor of Modern European Continental History, told The Warwick Tab the protests have "an important impact on students" and show them the "beauty to collective protest, and that decent pensions are part of dignified human life."
"This is why the picket line, even though it was cold and desolate, was a place of warmth and solidarity," she says.
Dr Smith adds: "If we fail as university staff to teach now by example, what might our students realistically expect of their own futures and those of their colleagues, friends and loved ones?"
"Being part of the UCU means when we feel strongly enough about something, we do have the members and the mandate to strike that means they can't ignore us any longer," Caroline Proctor added.
Dr Laug told The Warwick Tab: "Collectivise and stand in solidarity – nothing has ever been conceded by the powerful out of the goodness of their hearts."
The Warwick Tab has contacted the university for comment.
Related stories recommended by this writer:
• UCL's outsourced workers go on the biggest strike in Education History
• Dogs of the Cardiff picket lines: The strikes continue
• These are the best signs at yesterday's York's Climate Strike