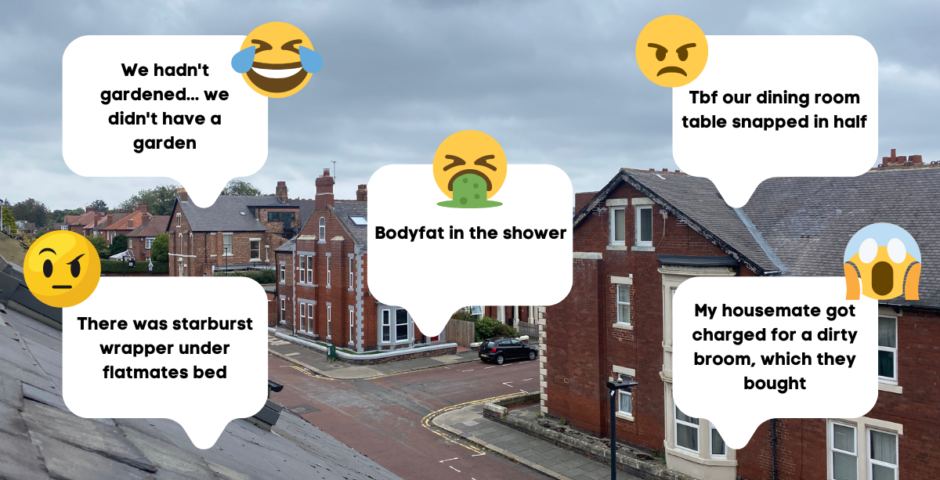 Just 24 insane reasons Newcastle students didn't get their deposits back
Petty is an understatement
The end of your housing tenancy is a tense time of year. It's a lifeline if you want to have an amazing summer or spend it working 40+ hours a week.
Landlords like to take the absolute piss when it comes to letting students have their deposits back, so we decided to ask Newcastle students why they didn't get theirs back – some of them are as much as a disgrace as the UK importing two-thirds of our cheese *Liz Truss cries*.
1.) Cleaning fee for leaving one earring behind
Must've been one big earring.
2.) Charged for taking a mattress protector they bought
Probably would have been charged if you left it too.
3.) Didn't get the windows professionally cleaned
Window cleaners are always in a student's weekly budget.
4.) Not taking the cleaning supplies with them
Unforgiveable.
5.) There was a starburst wrapper under the bed
Understandable if it was a lime starburst.
6.) Dust
This seems to be the biggest culprit.
7.) A broom, which the tenants bought, was dirty
Don't bother leaving anything just to be nice, it's not worth it.
8.) Damaged dishwasher, but they didn't even have a dishwasher
It's common courtesy to pay for things you didn't break, or even better, didn't have in the first place.
9.) Tampon left in drawer
I have no words.
10.) Two flies found in a bedroom
Might have taken the poor landlord a while to catch them, have you not seen that episode of Breaking Bad?
11.) A leaf in a drawer warranted a full professional deep clean
You really can't make it up, the poor cleaner must have been exhausted.
12.) Bodyfat in the shower
What?
13.) Safety pin left on the floor means the house was left 'messy'
This is my Mum's idea of messy.
14.) Didn't open the door to the maintenance man
I swear they knock as quiet as possible and leave straight away.
15.) Charged a cleaning fee for the day they moved in
They must be one messy tenants (bet they live on Cavendish).
16.) Someone did a shit in the freezer
I think I'm agreeing with the landlord on this one.
17.) Dining room table snapped in half
I mean fair enough.
18.) Cushion left in bedroom, not in the living room
Sounds like a three man job.
19.) £300 for the removal of a single sombrero
That is one expensive sombrero.
20.) Left a pretty much brand new fridge for the next tenants
Evil, just evil.
21.) Slugs in the outside drain
Cleaning your drains is a daily cleaning task, no?
22.) Flatmate didn't pay rent for three months, so they took it off the rest of the house
I would have paid a lot of money to see the beef in that house group chat.
23.) Tenants didn't garden before they left, but they didn't have a garden
Mowing invisible grass >
24.) A missing knife and fork
They better have been gold plated.
Want to write stories like this? Join the team, no experience required. DM us via @TheTabNewcastle on Instagram or The Tab Newcastle on Facebook.
Related stories recommended by this writer:
• Both Newcastle universities shortlisted for uni of the year award 
• Northern Rail is selling more than a million £1 train tickets
• Bijoux is hosting a competition to pay one student's tutition fees for an entire year