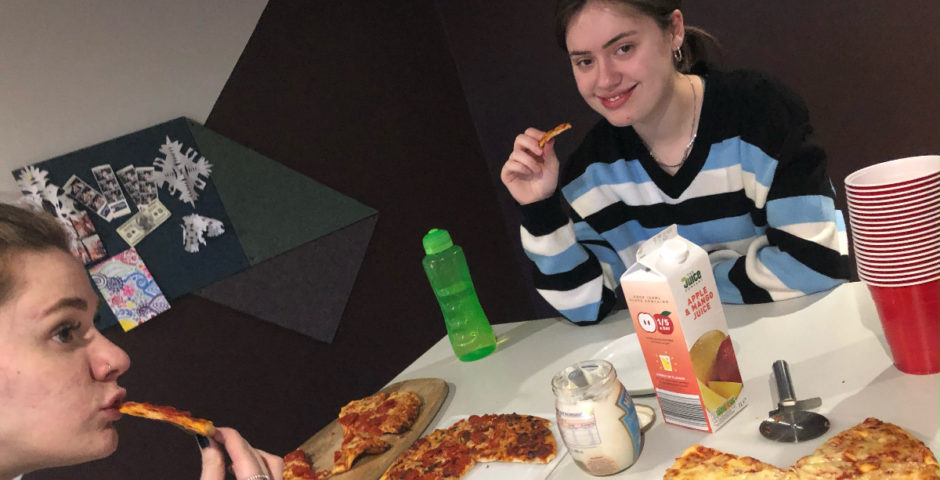 Anything and everything you need to bring to uni this September
Perhaps it was the best week of your life, perhaps the worst; Freshers' Week is fast approaching and for some of you, it'll be your first. Planning the big move might be daunting for some, so knowing exactly what you will and won't need is a great way to take the stress out of the next few months and save you from overbuying and some severe taut flat relations. Here is absolutely everything you may need to pack for uni so you don't go without.
Kitchenware
2 x plates
2 x bowls
2 x glasses
2 x chopping boards
1 x frying pan
1 x sauce pan
1 x kitchen knife
1 x wooden spoon/spatula
1 x set of plastic containers/ziplock bags
1 x tin foil
1 x sieve
1 x dish scrubber
1 x pack of tea towels
Rule number one when it comes to items that'll live in a shared space is to buy patterns. It's unlikely that your flatmates will point blank steal your stuff (unless you live in Leazes) but there will definitely be the "I thought it was mine" excuse thrown around and you will definitely find your plate growing mould in the bottom of the sink.
Generally speaking you want two of everything you'll use daily. You'll save a FORTUNE using plastic containers to make your own lunch for uni and they're also handy for storing food in to keep your crockery free. Ziplock bags are even better where possible, they'll save space in the freezer and can be washed and reused. Tinfoil can be used in substitute for cling film (except for microwaving obviously) and should be hidden until you know your flatmates can be trusted. A sieve is a good substitute for a colander as it can be used for pasta and not just rice.
And finally, a dish scrubber and pack of tea towels which must be your best hidden secret while in halls. I mean it, they will not be treated kindly by your lovely flatmates and will be used to mop up all kinds of foreign spills.
I also opted for two big bowls for pasta and two small plates for snacks but these are optional if you're wanting to pack light.
Bathroom
1-2 x towels
1-2 x bath mats
1-2 x hand towels
1 x hand soap dispenser (optional)
1 x tooth brush holder (optional)
1 x toilet brush (optional)
You might think one is suffice, but two sets of towels and mats are preferred if you want to save money on drying and make sure you never go without clean sets. Washing and drying is NOT cheap if you're in any of the pricer accommodations and can take hours and hours, so having two sets means you can air dry one set in your tiny uni room whilst using the other. The same goes for flannels and other accessories as this will make your life much easier but again, this isn't a deal breaker if you're short for money or packing space.
I can't do anything to save your multiple trips down to the washing room though, that's one L we all have to experience as a fresher. If you have your own en-suite then you might opt for a toilet brush and other decor. Primark home, Poundland and B&M are good for cheap accessories for your flat!
Bedroom
1-2 x sets of bedding
2 x pillows
1 x washing powder
1 x fabric softener
1 x bin
1 x clothes horse (optional but will save you a fortune on tumble dryers. You may need to up the heat in the winter and don't forget to open the window or your bedroom door)
1 x electric wax melt (optional – anything with a flame may set off fire alarm and result in you becoming the fastest hated resident in your halls)
1 x set of decorative lights (optional)
1 x dressing gown or throw over (optional)
1 x blanket (optional – but recommended)
1 x decorative pillow (optional)
1 x rug (optional)
storage boxes
The same goes for bedding as goes for towels. Washing powder can be kept in the kitchen but is safer in your room unless you know your flatmates wont steal a wash from you every week. A bin in your room and/or bathroom is so handy, bin liners optional. A (small) clothes horse will be invaluable if you have room and an electric wax melt will inject a much needed fresh scent into your room as they can get a bit stuffy.
Decorative lights, pillows and photos will make your room feel more homely and welcoming. You'll defo appreciate the cosy vibes when you're getting in after a rainy day at uni and when it's dark by 4pm. A dressing gown or throw over is handy when nipping into the kitchen while your flatmate's having a party and a blanket is defo recommended if you're not used to the cold in the North.
Cleaning
1 x Bleach spray
1 x Zoflora
1 x bleach
1 x set of sponges/micro cloths
Keep it simple – you don't need half the B&M cleaning aisle here. You need enough to keep on top of your bathroom if you have one and to do your fair share in the kitchen. Zoflora can be used for a range of tasks and smells amazing, bleach spray and bleach is an essential to make sure you don't have anything out of Stranger Things growing out of your toilet bowl. A set of reusable cloths/sponges are both environmentally friendly and versatile for multiple surfaces.
Storage crates and boxes are also great for managing space. See Eight easy ways to improve your uni room for further inspiration. And if you've forgotten anything, IKEA is just a stone's throw away in Gateshead.
Want to write stories like this? Join the team, no experience required. DM us via @TheTabNewcastle on Instagram or The Tab Newcastle on Facebook.
Related stories recommended by this writer:
• Retro arcade bar NQ64 to open in Newcastle this summer
• Everything in Newcastle that should be on your summer bucket list
• Newcastle grad left mortified after her dad ran on stage to take pic at her graduation