Why Bongo's Bingo is hands down the best night in Newcastle
Where else can you win a Henry Hoover?
You could argue getting drunk and dancing on benches whilst playing bingo seems rather bizarre and I admit it, bingo stereotypically doesn't shout fun.
Think about it some more though: Playing bingo whilst getting drunk, drinking and playing bingo. Suddenly this unusual combination starts to seem rather appealing.
When you go to Bongo's Bingo, you will see what all the hype is about. You will see why people go and post 30 minute long Snapchat stories. IT WILL ALL MAKE SENSE. Bongo's Bingo is the best and here's why…go on, I dare you to try.
The decoration
When Bongo's Bingo rolls around, the Boiler shop transforms into a glowing pink feast of fancy. Long wooden benches line the length of the enormous room and lights whiz around, reminiscent of the glory days of Year 6 discos.
For their Halloween event, they pulled out all the stops. There were insane decorations which transformed the warehouse into a Great Hall of spook. Bunting and giant scary objects hung from the rafters, including an unsettling clown face and giant spider. The costumes of the bingo-goers were class (although, most were not exactly classy).
BINGOOOOO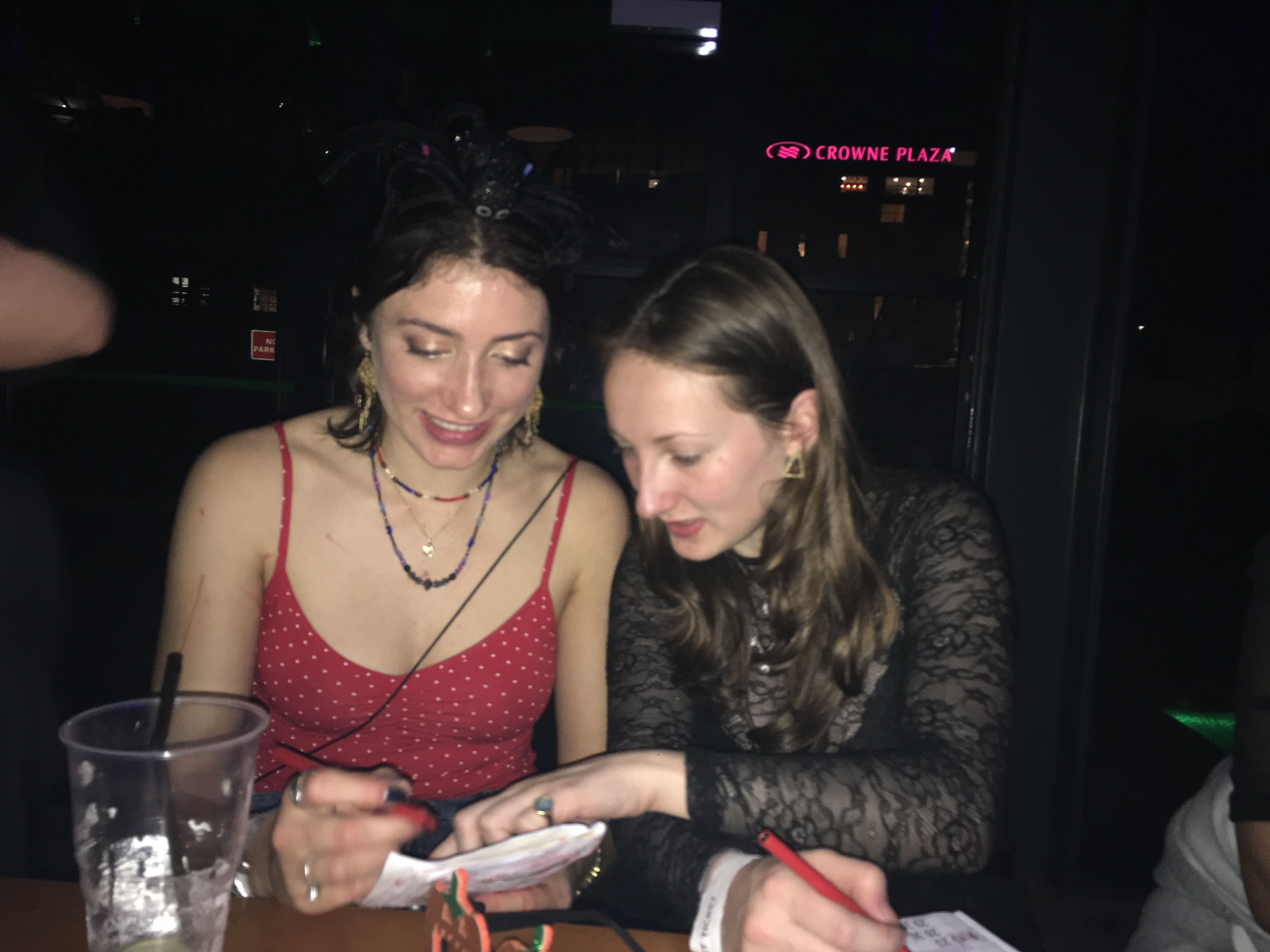 Without a doubt, Bongo's Bingo has been the most surprising night to come out of my university experience. The rounds themselves are arguably the best part of the night with weird and wonderful prizes at stake.
If you get a bit stuck or lose concentration (happens to the best of us after a few tinnies), drawing on your mates in red pen is also valid entertainment.
But there's no rest for the wicked, when certain numbers are called out songs are played and everyone leaps up and sings their heart out. Unlike traditional bingo, you're never sat down for long. Which brings me to my next point…
THE MUSIC
All the classic sing-a-long cheesy tunes under the sun are played, and when they are, you fucking love them. Even if you were never an Avril Lavigne fan, you'll be like an over-excited child when they play Sk8er Boi. From The Killers to Michael Bublé, they play the songs that get everyone singing along, poser students and drunk dads alike. With special guests like Fuse ODG, what could be more dreamy?
Dancing on the benches
Even when it's time to take break from bingo, between every round the music blares so it's time to hop back on those benches. It doesn't matter if you fall off, pretty much everyone does.
The prizes
If you win a line of numbers, you get a bottle of vod or Jager and the cash prizes get up to £500. Now that is lot of money to spend on trebs.
Life-size cut-outs of gems such as Danny Devito and Bruce Forsyth as well as enormous double-ended dildos could also be yours to take home.
Atmosphere
When you sing your heart out on a bench next to someone, that bond is for life. You'll find everyone you meet is genuinely happy to be there as it's virtually impossible to have a bad time when someone in your eye view is swinging a dildo around to "Sweet Caroline".
The crowd brutality
The great atmosphere also creates huge crowd interaction. If you make a false call, a deafening chorus of "why you lying" shakes the room. You will be scared and shamed by the bingo hall and you will wish you never tried to cheat. Therefore, most people don't, they just enjoy the night of insane bingo, chanting and dancing.
Swearing and singing at the top of your voice will inevitably result in a sore throat the next morning, but it'll be oh-so worth it.