University of Manchester has disabled ratings on their Facebook page after a flood of negative reviews
Campaigners have been banned from commenting on UoM's posts
The University of Manchester have removed the reviews and ratings system from their Facebook page, following a flood of negative reviews from unsatisfied students. Some students have since been banned from commenting on the university's Facebook posts.
Reviews and ratings were disabled on 23rd April, immediately following a string of negative reviews that caused the university's rating to drop from 4.7 to 4.3, leaving UoM with the second lowest rating of any Russell Group university.
A university spokesperson told The Tab the timing was entirely coincidental, and that the reviews section was removed as "part of an ongoing review."
The scathing reviews, which UoM have taken offline, were left by members of 'Take Action! UoM,' a student campaign group demanding that students are compensated for the major disruption caused by recent strike action. The same group recently protested a University Senate meeting.
After the university disabled reviews, students instead voiced their frustrations with management as comments on updates and photos.
However, UoM management did not look fondly on this, and began banning those students critical of the University from commenting on its social media pages.
This provoked a further response from other students, who again began adding comments to UoM's Facebook posts.
UoM told The Tab that it reserves the right to block users and remove comments that are deemed to be inappropriate, off-topic, or spam. A spokesperson provided this statement: "The University encourages conversation, debate and comment through official social media platforms and reserves the right to remove comments or restrict user access to University social media platforms if activity is deemed to be inappropriate, off-topic, or constitute 'spamming'.
"The reviews section of our Facebook Page was removed on 23 April, along with a number of other tabs or page sections. This was part of an ongoing review of the page by our Social Media team and is in line with the majority of other Russell Group Universities who do not hold a reviews section on their Facebook pages."
Whilst it is true that a slight majority of Russell Group members do not allow reviews or ratings to be posted on their Facebook pages, many do permit this. Those that do include Birmingham, Newcastle, Bristol, Cardiff, Glasgow, and multiple London universities.
When pressed for clarification of which "other tabs and page sections" were removed from the page, The Tab was told that jobs, notes, offers, services, and shop sections were disabled along with the reviews and ratings on 23rd April.
UoM confirmed that none of these sections had ever been used, with the exception of the notes section, which was no longer needed.
This leaves the reviews section, and associated ratings, the only active section to be removed. The reviews section had a longstanding history of frequent student contributions.
UoM insist that its removal on 23rd April is in no way connected to Take Action's campaign for students to review the university, launched just days before.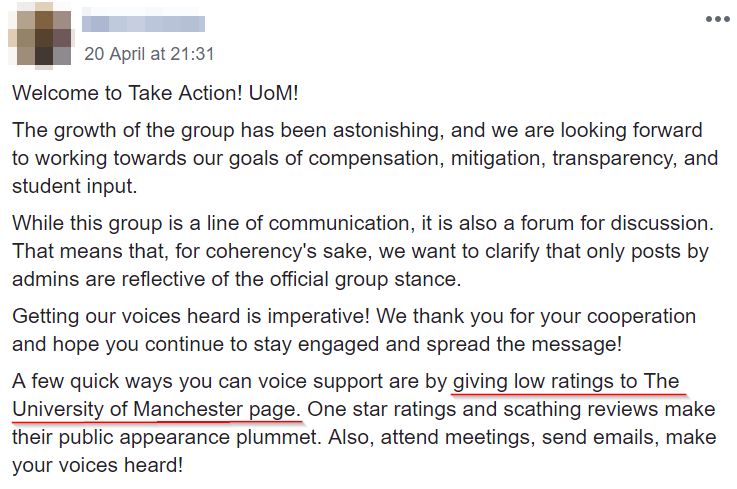 Students within the 'Take Action! UoM' group are coordinating to pursue compensation through the university's formal complaints procedure, through the Independent Adjudicator, with the threat of eventual court action.
UoM's Students' Union have this week released a comprehensive strike complaints pack, providing guidance and templates for those students seeking compensation. Postgraduate students are refusing to pay their tuition fees until the situation is resolved.
The SU have also backed a boycott of the National Student Survey for the second year running, fearing the data will be used to justify future increases in tuition fees. Last year's #DontFillItIn campaign left Manchester absent from the rankings after a majority of students chose not to take part in the survey.
A late attempt to increase participation backfired on UoM, when students realised the survey being reopened allowed those who had already taken part to withdraw their answers.
The university has recently been the focus of a wide range of protests, such as marches protesting investments in fossil fuels, and the university's partnerships with companies allegedly involved in the arms trade.
Students have long criticised a lack of transparency from university management. In a widely-reported blunder during an "open meeting" back in April, a Vice President told students their "contract is to deliver a degree" rather than an education. UoM then moved to ban audio and video recording of future meetings "so everyone can speak as freely as they would wish."
This followed repeated statements from the University that it would be "virtually impossible" to calculate compensation, which have been directly contradicted by the Independent Adjudicator for Higher Education, who routinely award students compensation for undelivered teaching.
The Adjudicator released a statement back in March, encouraging students to make formal complaints internally, which can then be referred to the Adjudicator should a student remain unsatisfied. The SU's complaints pack contains templates to start this process.
Get breaking Manchester news straight to your WhatsApp by clicking here. If you have any tips, message us on +44 7715 750931.