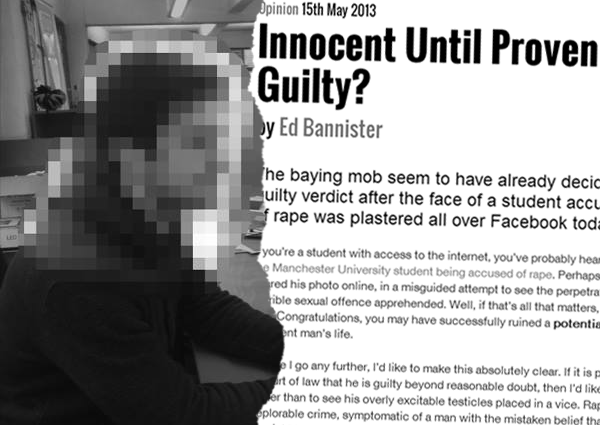 "I didn't know what freedom was anymore": Manchester student cleared of rape charges tells all
Heartbreaking words of the Manchester student wrongly arrested for rape and recently freed of all charges. Now he tells The Tab the full story.
| UPDATED
acquitted
arrested
factory
freed
georgraphy
Manchester
police
rape
student
It can be far too easy to take life for granted at uni.
Most of us have got it pretty good. We can stroll down leaflet-littered streets care-free, knock back a few pints with our mates, and at the end of a busy day of procrastination, retreat to our little palaces for some down time.
So how would you feel if all that was suddenly taken away from you?
That's exactly what happened to Sam*, the Manchester geography student who was arrested for rape last year, and then released without charge almost a year later.
Speaking exclusively to The Tab, he reveals how one accusation last May led to eight long months of hell, which changed his life forever.
A young man in his early 20's, Sam greets me at his home with a warm, welcoming smile, giving no clue of the ocean of torment he has recently emerged from.
After a quick exchange of pleasantries, he recalls the events that would prove to spark the beginning of a fiery period in this humble student's life.
One night stand
"We had pre-lash at a friend's house, then we went out and I met this girl. I asked her back to mine, but she invited me to hers instead. So we went to hers, slept together and it was all okay".
"By morning, she was very keen to get rid of me quietly. I thought she either had a boyfriend or wasn't used to that situation. I tried talking to her but it seemed I was doing more harm than good. So I left. I just laughed it off in my head and went to see my friends".
As he left the hall of residence where the girl lived though, a suspicious photo was taken of Sam, which police later went on to release to the public.
"Halls have swipe cards for the gates, and I didn't have one so I had to jump over the fence to get out – that's when the picture was taken".
A few days later, while travelling to London for a job interview, Sam suddenly started to realise the harsh  gravity of the situation.
A tearful arrest
"I started getting missed calls from my friends – one rang me and said she had some really bad news – this girl had claimed rape on me, and it was all going round on Facebook.
"When I arrived in London, I saw a few police officers. I asked them if they were looking for me and they said 'yes'.  I burst into tears and asked them not to handcuff me", he recalls, the feelings of fear and uncertainty of that moment still haunting him.
After a cold night in a police cell, Sam was eventually taken back to Manchester, where he was bailed until an investigation could be done.
Betrayed
By now, the photo police had released of him had appeared on several websites and news programmes, including ITV Granada, Manchester Evening News and the Manchester Student Safety page on Facebook.
"I saw the photo and asked my friend to contact university to ask them to take it down. I couldn't believe my face was being put up like this – it was unfathomable. It was very wrong of the police to release it publicly".
Eventually, the photo was removed and the press coverage died down, but by now, the damage had been done. "The police told me it wasn't safe for me to be in Manchester because of the way it had been portrayed here, so I had to go home.
"They did let me back in for an exam. My friend was driving us down Oxford Road, but I felt really unsafe being there, so decided not to do it. Uni were fine with with that, and backed me 100%".
Sam was desperate not to let his uni studies be affected by the whole mess, and even thought of taking a year out to reduce his work load. But he bravely fought on.
"I didn't want the girl to have got something over me. I didn't want her to have affected my life that much. I just wanted to get back to uni".
Another cruel twist came when he was told that he wasn't allowed to see his closest friends, due to them being witnesses in the case.
"That was horrible", he sighs. "I was told I'd be able to speak to them the day after they were interviewed, but it turned out I couldn't. That was probably the hardest thing to be honest".
In the months that passed, Sam's bail was repeatedly extended, and he constantly felt betrayed and let down by the police.
"I was angry with how they dealt with the situation – it was monumentally awful. I thought the police's job was to investigate, not to judge or make assumptions.
"I'd lost all faith in everything. I didn't know what freedom was anymore".
Joy
But in early January, just days into the new year, he was contacted by an unknown number with a some long-awaited good news.
"I got a phone call from the detective. She told me there would be no further action against me and that everything would all be wiped off my record", he gladly explains, with an unmistakable air of happiness and joy.
"I just burst into tears. I knew I couldn't speak to my mum because of how emotional it was, so I called my dad to tell him".
With a bright glow around his face, Sam fondly remembers how overwhelmingly supportive his friends were through the whole ordeal.
"There's a select few who I owe my life to for pulling me through the last several months. You really don't know who your friends are until you're in a situation like that.
"When I saw them, we soon started laughing and joking – it was that sense of returning to normality that was so relieving.
"It was eight months of my life I'll never get back, but we just went out and got drunk", he fondly says.
"In particular one friend, named Batman, I quite literally have an eternal debt to, and can honestly say I owe elements of my life and sanity to. He gave up his entire summer, and put his 21 year old life on hold to remain by my side, and took some convincing to go on a 2 week holiday that he left for with completely unjustifiable guilt. "
When asked how he felt about the people who shared the photo of him on Facebook, his response was very clear.
"I'm not angry at them. People were told by the newspapers that I had raped someone, so they will have thought it was true. But newspapers need to be bloody careful about ruining people's lives".
Equally, he admirably has no wish to get even at the girl who accused him of rape.
"I've had no contact with her– my friends were livid but I decided not to tell any of them her name. Two wrongs don't make a right", he thoughtfully explains.
"There are vulnerable girls out there who have had bad things done to them, so I wouldn't want them to feel like they can't report it".
With his life slowly getting back on track, Sam reflects on how the last year has changed him.
"You go through life, and you don't know who you're engaging in these intimate actions with. You've had a good time and a drink, but you don't really who they are. This kind of thing shakes your life, and it's a wake up call".
*The Tab has chosen not to use the student's real name to protect his identity.