Meet the UCLU Taekwondo squad ready to kick KCL's ass
Thursday 16th March sees the transformation of Somers Town Sports Centre  into a cauldron of electric energy as KCL face off against UCL in another Varsity challenge: Taekwondo. Reaching the tail end of a dominant 2016/17 season, UCLU TKD look to solidify a 4th straight varsity win.
Pundits are using the most sophisticated measures to predict who will win. On the banter scale, KCL weighs in at a weak -5, with UCL reaching the heights of triple figures. On the meme scale, UCL wipes the floor with King's, mainly thanks to our epic treasurer, Sara Shuaib. In terms of freshness, yeah we probably take that too. Plenty of freshies at UCL (it's a good thing). Training-wise, well, if you can survive the 6-hour Saturday sparring sessions, then everything else in life seems a lot easier. Except dissertations. Those are still really hard.
Without further ado, here's everything you need to know about the fighter line-up representing UCLU TKD.
Vincent Bailey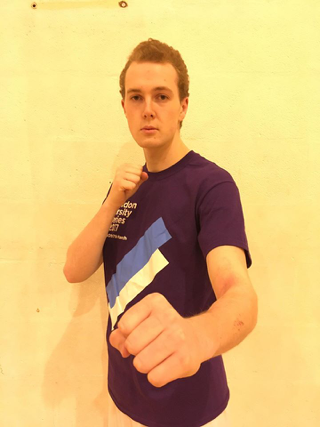 The man, the myth, the legend. Few can put away a can of beans like Vince. Fewer still come to training wearing their dad's nude-coloured long johns.
Word on the street is that Vince was born in the 60s; his fresh trim and his sharp banter certainly suggest so. Come across Vince and expect to be merked by some Year 9 standard humour and an axe kick to the face.
Don't make the mistake of underestimating this kid's skill.
Sehajdev Singh Bhatia (Men's Captain)
This boy knows how not to dress. From dead creps to flared trousers and ankle swingers, his fashion sense is to be reckoned with.
Commonly seen ploughing through six bananas in one sitting, his hunger for food matches his hunger to fight. He might stand a chance if he doesn't die of acute hyperkalemia first….
Dinaay Sharma
He forgets his phone, laptop and keys on a regular basis. He doesn't forget how to kick your ass.
The proud owner of one of UCLU TKD's finest kihaps, he is known to bounce two imaginary basketballs and keep his mouth wide open whilst in his fighting stance. Imagine a gawping goldfish bouncing basketballs under its side fins. That's pretty accurate tbh.
Put out from nationals due to an unfortunate injury, he is keen to make a comeback and test himself against King's at Varsity.
Linda Celkova (General Secretary)
The queen of savagery and self-deprecation, she is one of the best and most improved members at UCLU TKD.
A savage sense of humour and an even more savage fighting instinct, this girl is a tank and does not back down in the ring. She will also happily let you know if your banter is dead, if you're being moist, or if your dress sense is clapped.
Erica Cheng
Deep from ends in Bexleyheath, the cockney is strong with this one. Combined with a vicious sense of sass and an innate fighter's instinct, she can be terrifying in the ring. She's super nice but Erica I'm still scared of you 🙁
Dmitry Bolshakov
The buzz cut. The turtleneck. The look is bold but he is a gentle giant at heart. Quietly assured, his confidence is as strong as a block of Sainsbury's mature cheddar.
Light on his feet, despite being a heavyweight, watch out for some rapid turning kicks with some serious mass behind them. May cause injury or sudden death.
Noura Al-Issa
Low-key BNOC in the Cruciform, she knows more medics than most medics. Frequently seen hopping between tables in group study, she is always armed with some recently bought Wasabi and backed by her MBBSY2 entourage.
Her unrelenting essay courseworks demand an unrelenting intake of coffee. High on caffeine, debating the Middle East situation in her head and with a mean front leg, I suggest #Approachwithcaution.
So whether you want to get schooled about race and politics, styled in the waviest Adidas classics, or kicked in the face, Noura's your gal.
Chaneil Patel (President)
In a recent survey, 9/10 people said they were envious of Chaneil's hip anatomy. No one is as natural at check-into-axe or roundhouse doubles as him. Some have speculated that he is in actual fact the inventor of the check-into-axe.
A proud advocator of Adidas tapered tracksuits, not a day goes by where his calf game isn't on show. He recently confessed that he doesn't track macronutrients as carbs, fats and proteins, but as banana malt loaf, mixed fruit malt loaf and chocolate malt loaf.
Contrary to popular belief, Chaneil denies being high all the time. Yeah, sure bro.
Minerva Martinez
She's Spanish, served with a side of sass. She'll lure you in by being damn adorable, then send you fleeing with a crisp back leg roundhouse to the jaw.
Gold at nationals, 29-9 in the final. It pays to be one of the tallest in the -49kg class. Rumour has it that she is Bianca Walkden's new training partner.
—
So there we have our next dream team. Are you ready to support the the biggest university Taekwondo club in the UK's fight against measly old King's tomorrow night? If so, make sure to buy your tickets here. The event starts at 6.30pm and tickets are £5 for students (£7 for non-students).