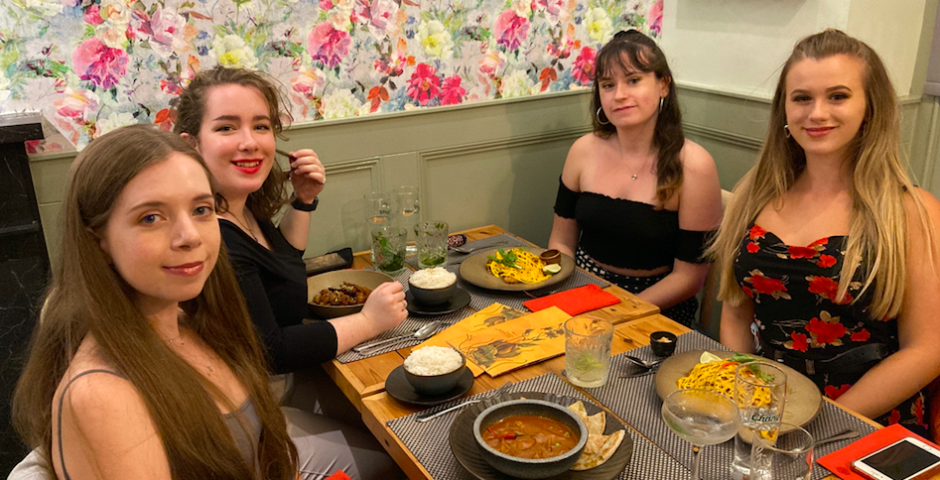 Here are the Exeter restaurants continuing the Eat Out scheme into September
Why buy coffee when you can get a whole pizza?
Practically everyone and their dog has been enjoying the UK Government's Eat Out to Help Out scheme throughout the month of August. Let's be honest, it's probably one of the only good things to have come out this pandemic. But it's all coming to an end on Monday night!
However, fear no more. Some Exeter restaurants are continuing their own version of the deal throughout September, so your student loan can stretch just that little bit further. With the ongoing uncertainty as to how Freshers' week *sorry* Welcome week is going to work, restaurants and bars might be the go-to when it comes to meeting up with friends, having socials and maybe even going on some dates …
Here are the restaurants in Exeter that have confirmed deals in September so far.
Bill's
https://www.instagram.com/p/CEhgyrAhUZY/
First up, Bill's! Bill's is one of those trusty restaurants that seem to have something for everyone, so good thing it's on the list! You can get two courses for £14.50 or just a main for a tenner. If you get the most expensive things on the menu, you can save yourself up to £12.50! Cheat the system and you'll have a bit extra student loan for those alcohol funds.
Franco Manca
https://www.instagram.com/p/CEY3r33plnz/?utm_source=ig_embed
Franco Manca may have replaced our beloved GBK last year, but it looks like it's been a blessing in disguise. A pizza for £2.60?? The most expensive one is £4.48 for crying out loud. Even Pizza Express can't beat that price.
It's basically cheaper than cooking for yourself so this seems like a no-brainer. Plus they've called it 'Rishi II'. Props for witty marketing.
Bella Italia
https://www.instagram.com/p/CEHXug8lE8h/
Bella Italia arguably has the most exciting September deals, which is a surprise because, well, its Bella Italia. They have Bottomless Pizza from 12-9pm on Thursday for £10 per person, which is just amazing in itself. HOWEVER. Between 12 and 5pm Thursday-Sunday they have Bottomless Brunch. For an extra £15, you get unlimited pizza AND Prosecco for 90 minutes after you arrive. Best brunch ever if you ask me.
Bella Italia is also offering an alternative deal if you're just not feeling Prosecco. For £25 per person,  you can choose two starters and four cocktails. Who doesn't want garlic bread, sweet potato fries and four passion fruit martinis? (Other options are available) Just make sure to pre-book as it will probably be packed.
Deliveroo
https://www.instagram.com/p/CEYu3F_gFqB/?utm_source=ig_embed
If you're not in the mood to go out, you can still save some of your hard-earned student loan. Deliveroo is offering £5 off independent restaurants on Mondays, Tuesdays and Wednesdays. While those restaurants still haven't been announced, it's great because it means you can have a bit of variation from all the pizza you've been eating. But unfortunately, this means you don't get any money off of your Pret order.
Independent restaurants
To all of you who are just excited to be back in Exeter, after 6 long months or even for the first time, there are so many other great restaurants to explore. While they may not be doing any deals as of right now, that doesn't mean they're not great value.
Are you seriously missing going out? Well, Pink Moon could be your answer. It is situated on Queen Street and has an underground space that doubles as a kind of bar/nightclub. They've had lots of events on throughout August so watch this space for September! Plus, the brunch and the cocktails are the bomb.
https://www.instagram.com/p/CEY-YprFotX/
Some other amazing bars and restaurants in Exeter to hit up when we are all FINALLY allowed back include: The Monkey Suit, No1 Polsloe, Artigiano's, Sacred Grounds, Brody's and The Flat. (To name just a few!)
To be perfectly honest though, we know we're all just going to make a run straight to the Impy. Or the Ram.
When going to restaurants, always wear a mask to prevent the spread of Coronavirus.
Related stories recommended by this writer:
• A definitive ranking of Exeter's best pints
• Locked-Down in Exeter: Making the most of the city
• I'm not crying, you are: we asked you about your wildest Exeter nights out and you did not disappoint