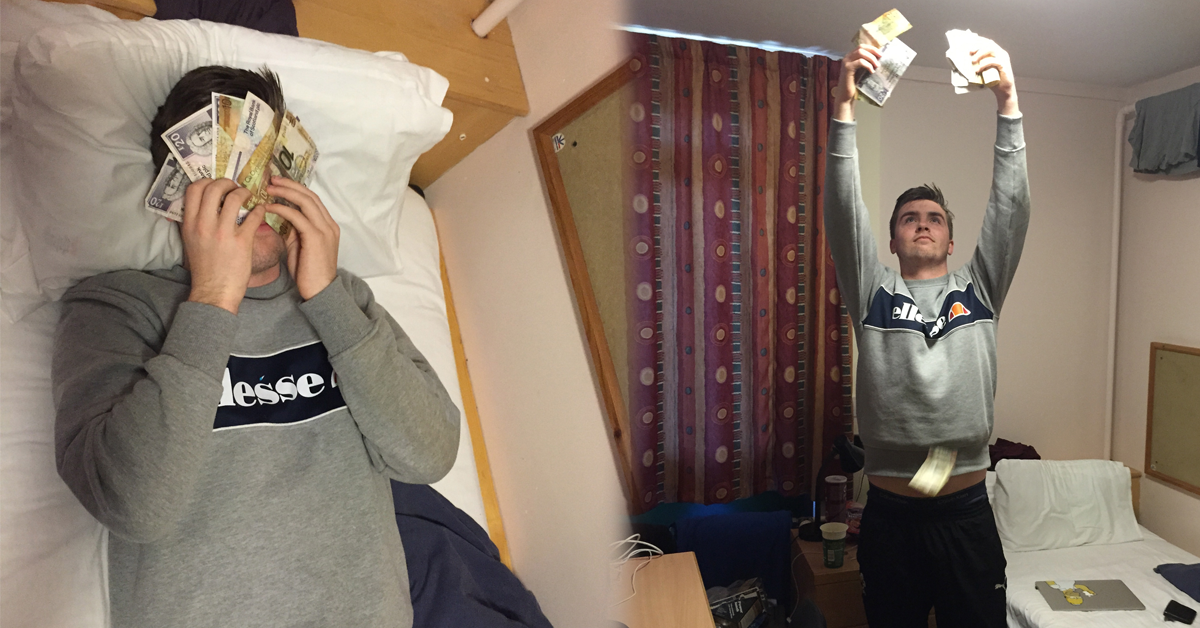 Lucky fresher wins £5000 with his first ever bet
'The first thing I bought was a gourmet burger from the JMCC bar in Pollock Halls'
national
noad
A fresher economist opened a gambling account and ended up winning nearly £5,000 in an hour — with zero prior experience.
Ciaran Mulligan, 18, set up a new account after chatting to a friend and had bagged £4,720 on roulette.
He started with a free cash bonus of £100 on the basis he could only receive any winnings at all if he won 32 times that amount. And then he won.
Fortunate Ciaran said: "In my head, it wasn't real money.
"I've never done it before so I had no idea how it worked. I thought that winning 32 times the original amount only got you the £100, not the whole thing.
"When I got to £4,720 on the game, I had no idea that all that money was mine.
"As I tried to withdraw the money, it said that I had £4,720 to withdraw and I just went mental."
Over the past few days, Ciaran has been spending a lot of time thinking about how to spend his money.
He said: "The first thing I bought was a gourmet burger from the JMCC bar in Pollock Halls.
"I thought I'd treat myself. I seriously considered splashing all the money in one big night just so I could say that I spent that much money on one night out.
"I nearly bought a flamethrower, but I wasn't sure where I'd keep it.
"But I've decided to book a holiday to Tokyo with the money with a friend which should be amazing and I'll still have lots left to spend."
He wasn't quite sure how he'd tell he his parents and at first refused to say how much he won.
Aberdeen-born Ciaran said: "I had to phone them to ask for a utility bill so I could prove to [the company] I was over 18.
"I told my dad that I won £50 on football bets and he was pretty impressed.
"Eventually I told them the truth though. My dad couldn't speak when I told him, he literally didn't say anything.
"He gave the phone to my mum and she just started screaming, she was so surprised and slightly worried that I might be addicted."
When asked whether his luck with the ladies had improved, he said with a grin: "No, well not not yet anyway."
Despite his very successful first foray into gambling, Ciaran claimed he probably will never do it again because he knows how lucky he was.
The lucky sod.