Empire just announced that it's moving venue to the city centre and I'm SHOOK
Empire will finally have TWO ROOMS
One of the most popular clubs in Cov, Empire, is set for a major change as it has just announced plans to move to a new location in the City Centre.
The Empire is currently located on Far Gosford Street and will be moving later this year as part of massive extension plans.
It will soon be located on Hertford Street, in what was most recently JJB Sports and DW Sports. Since the closure of the sports store, the unit has remained empty. Proposed plans mean that the capacity will increase from 900 to 1,500.
Owner Phil Rooney has revealed that they are planning to be up and running by August or September, though the ongoing Coronavirus pandemic could alter the timeline. He said of the move: "It's a much stronger location. We should be able to put on bigger shows and get bigger names. We want to get people into the city – who will spend money elsewhere in the city when they are here."
In the artist impressions, the brand new Empire venue shows that it is set to have a balcony bar which overlooks Hertford Street.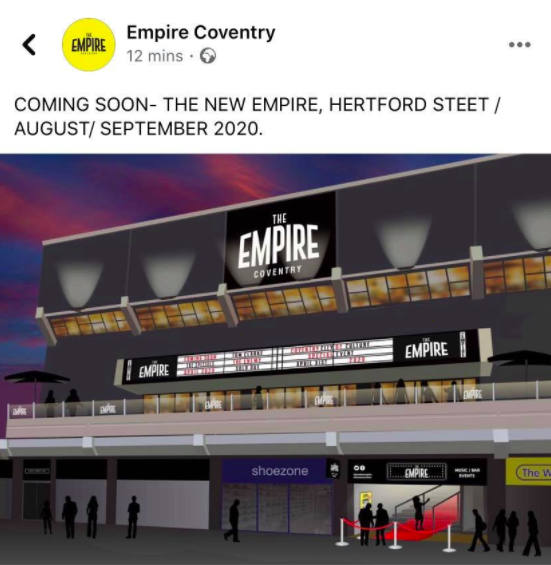 Second year Coventry student Caitlin told The Coventry Tab: "I think it's good that they're moving to a venue that can satisfy people more in terms of space, toilets, bar queues etc but I think it could really affect how students use it for Wednesday socials as it's much further away from housing and the majority of pubs used for socials, it will be interesting to see what happens to the venue on Far Gosford Street."
Ruby, a third year student, said: 'The new Empire Coventry looks sooooo good! It seems like it'll be a fab size, which will be good for gigs & shows, especially that it's closer to the train station- watch out Brum you've got some gig competition!! I think that it's great that it's more in the centre of town, it'll add more life to it and allow the students to connect with Coventry more. It's so much nicer to have loads of other places round a club, imagine all the sports pub crawls to get to Empire'.