Behind the scenes of CUCFS
The Tab gets an exclusive look inside the most fashionable night of the year
Looks were served. Poses were struck. Gender was deconstructed. Wigs were snatched.
With stunning pieces from designers like John Herrera and Moran Arwas, performances from such incredible acts as Mercy's Cartel, and models so breathtaking that words can't do them justice, it's safe to say that it'll be hard to top this year's annual Charity Fashion Show (March 8).
And we've got the inside scoop thanks to Axel Getz (@axelgetzbabes), who not only brought it to the runway but also documented the show from start to finish. Read on to find out what goes into staging a night like no other.
Just woke up and my night cream has done her job but we need to get this chest hair SHAVEN, this skin CLEANSED, and this mop WASHED!
Much better! My skin care routine is a patented secret but I will tell you that (listen up boys!) you can never underestimate the power of an exfoliating treatment and don't forget a dewy finish primer!
Before I go out to face the day, have to add on a little tinted moisturiser to give me that third trimester glow and some silking cream for the hair to keep these curls in check! 

Alex and I are waiting outside to get our final looks for tonight fitted and sorted! Waking up this early is never easy but beauty is pain and besides, it is always exciting to see the clothing on!
Here sister Ludo (I mean come on, we literally look related xoxo) and I are stepping into this all white lace FANTASY. The glamour!
Second lewk on! My dear dresser (a person who helps you get in and out of your clothing backstage) Emily helps me into a lace moment by some darling Italian designers! Emily is a super star because she got me through the hardest quick change in the entire show! Those fingers can button up a shirt in record time!
OMG! Who is this stunningly beautiful veiled person! I wish I knew them ~
A message from our sponsor BUMBLE!! If you come, the drinks are on this dating app's tab! I mean look at Duvessa straw and tell me you don't want to be on that app!
I mean, in case you want to find me… you know where you can find me!
Getting this speckled visage properly beat by the makeup artists. Stage lighting can wash one out so often you have to really put the colour back on.
One final fitting on location with Paul Aaron's crochet creations!
After walking the runway one last time in rehearsals, we are requested backstage until the show begins. After the makeup and the clothing is on, the time is ripe for vain and gorgeous selfies. Here I am pictured with the impeccable Jessica in some of our pieces and makeup.
Drew during the classic backstage quick change! One part stress, three parts fun!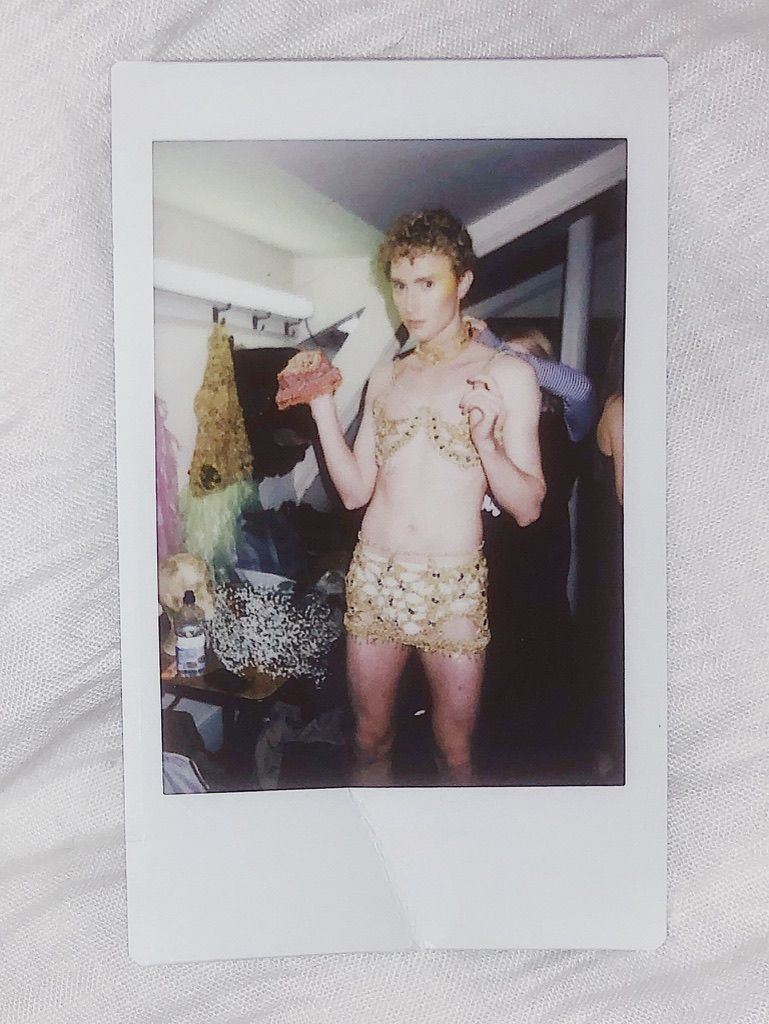 Am I not giving you the full Slave Princess Leia at Jabba the Hut's Palace on the desert planet of Tatooine?!
Models line up for their walks as soon as they are ready to hit the runway with their faces painted and their clothing SNATCHED.
We are not only papped at the end of the catwalk but also backstage for some BEHIND THE SCENES action! My God! The fabulosity!
Just before I went on for my first walk…The nerves get to you but then when you are right before the runway, the music starts to pound in your ear and all I can think is "stomp down this catwalk and make it your bitch while making the crowd fall in love with you" I did both xoxo!
Just before the final runway! We are wearing our charity's merch, Solidaritee T-shirts. They are the fashion brand that raises funds for small NGO's! Check 'em out!
After the show ends, we celebrated backstage and quickly switched into some experimental black tie lewks, henni! I went for my gold and emerald fantasy and of course there had to be a boa to match! Follow me on insta @axelgetzbabes for more great content #shameless
We finally end the night at Novi and dance our gorgeous, tired asses off together after a show well done! Huge shout out to all the people who made this such a fantastic evening!!
This year's fashion show was organised in support of Solidaritee.