Students fall victim to bike thief on campus
They've even taken the ones that are locked up
bike
selly oak
the tab
the tab bham
the tab birmingham
the tab brum
the vale
university of birmingham
UoB
During the past week a number of students have reported that someone has been breaking locks and stealing expensive bikes. It appears that students with new or costly bikes are being targeted on campus and on the Vale despite securely locked them up.
One of the victims of this recent spate, Robert Wood, told the Tab: "Basically, I locked my bike up outside the Munrow Sports Centre in the bike shed at about 3:30pm on Monday.
"I used the pool for an hour, then came outside to the shed to find my lock snapped on the floor and my bike missing, but there was a bike very similar to mine (same colour and brand) left where mine was with no lock.
"I reported the incident to the Munrow Sports Centre and I filled out a form about what happened and my details. Then I was sent to security to see if they had any footage and I think the guard said he had seen the bike on the cameras, but I couldn't see the footage until I reported the incident to the police (which I haven't done yet).
"He also said that often bike thieves ride an old bike to the bike shed, steal another nicer bike, then leave the old one there unlocked."
Another student who has had his bike stolen, Jacob Pickering, added: "I locked my bike up outside Shackleton on Sunday night and by Wednesday morning it was gone.
"The lock was cut and the bike was nowhere to be seen, it was an expensive road bike so I think whoever is doing this is targeting expensive bikes.
"I am currently trying to claim insurance and get hold of the CCTV."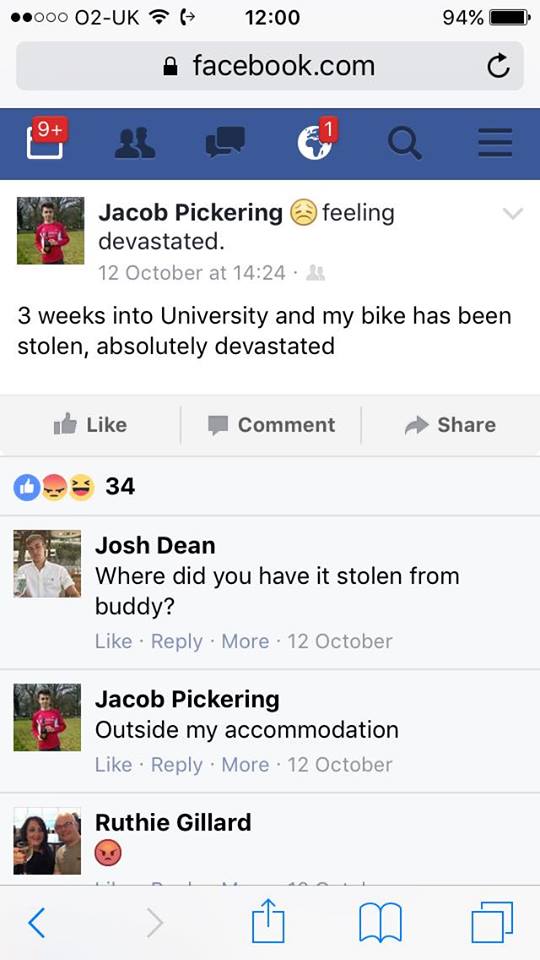 Anyone with information about the bike thief are urged to call West Midlands Police on 101 or anonymously call Crimestoppers on 0800 555 111.