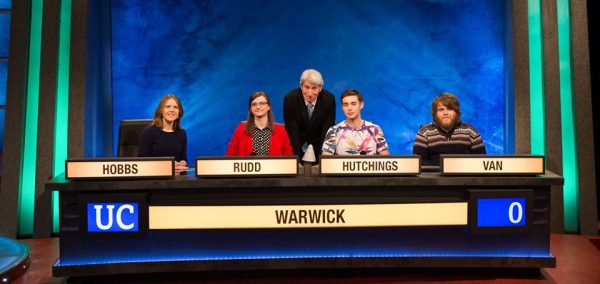 Team Warwick in tonight's University Challenge quarter-finals
They're against Emmanuel College, Cambridge
Warwick Quiz Society will take on Emmanuel College, Cambridge, in tonight's quarter-final of University Challenge.
In November, Warwick got through to the quarter-finals, and tonight, Team Warwick will compete to get one step closer to the winning trophy.
The four team members representing Warwick are: Second year History and French student Sophie Hobbs, Computer Science Masters graduate Sophie Rudd, WBS Masters student, Giles Hutchings, and History graduate Thomas Van. There is also Jamie, the team substitute, who is a second year History and French student.
The quarter-finals mean that the winning team will need to win two games out of three, in order to go through.
Team Captain Giles Hutchings said: "I obviously want to do as well as possible, and only eight out of 28 teams make it to the quarters, proving we've already done quite impressively."
He added: "There's more at stake when you've got a little closer to the trophy".
University Challenge airs tonight on BBC 2, at 8pm. It will also be screened on the big screen on the Piazza tonight.