Super easy festive recipes to impress this Christmas season
'Tis the season to eat too much, drink too much and be wayyy too merry
Christmas is all about family, friends and making memories, but more importantly it's about food. It's time for the fancy biscuit tins, cheese boards and it being socially acceptable to drink from 10am.
So instead of sitting back and ripping open the box of Roses, why not get on your mum's good side and take the reigns! Here are some deceptively easy recipes to prove (or fake) your skills as a whizz in the kitchen!
Main: Lentil and Cranberry Roast
Although this sounds kinda fancy, it's actually really simple and will make you look like a queen in the kitchen. This recipe is for one person, so if you have an awkward veggie (AKA me) you can easily cater to them, or you can double/triple the recipe to make more!
You will need:
– 25g dried cranberries
– 1tbsp red wine
– 125g COOKED puy lentils, they weigh more cooked! (buying them pre-cooked makes this a lot easier, but also massively bumps the price up!)
– 1/2 onion (or just a small onion)
– 1 clove garlic
– 1tbsp sage
– 1/2tbsp parsley
– 1/2tsp paprika
– 1 tbsp tomato puree
– 1 tsp soy sauce
– 1 tsp corn flour
– Veg (I went for broccoli, carrots, and everyone's festive fav, Brussels sprouts)
– Optional: roast potatoes (but are these really optional when they're the best part of roast?)
Method:
1. If using uncooked puy lentils, cook lentils according to packet instructions and set to side.
2. If having roasties, chop potatoes and parboil for 15-20mins until relatively soft. Place in oven for 30-45mins at 200 degrees celsius, or until golden brown and crispy.
3. Put wine and cranberries on a moderate heat, cooking until the wine becomes a syrup texture and the cranberries look "plumped". (You now have basically a whole bottle of wine to drink, you're welcome)
4. Place foil or greaseproof paper in the bottom of a 200ml ramekin dish, or any type of bowl/ pyrex that's oven proof! Place cranberries in.
5. Fry onions and garlic until onions are soft and add all the herbs, cooking for one more minute or so.
6. Take off the heat, and add the rest of the ingredients (lentils, tom puree, soy sauce, corn flour).
7. Place lentil mixture into chosen dish and compress. Cook for 15mins and put veg of choice on to boil.
8. Serve up and enjoy (I covered mine in gravy after this photo was taken and it was amazinggg).
For one meal, this costs around £1 depending on amount of veg! + lentils used!
Dessert: After Eight Cheesecake
Cheesecake is always a winner, but when combined with After Eights, it's absolutely irresistible and super easy!
You'll need:
– 200g digestive biscuits
– 80g butter
– 250ml double cream
– 300g cream cheese
– 1/2 pack After Eights, crushed (you can eat the rest, no judgement here)
– 50g dark chocolate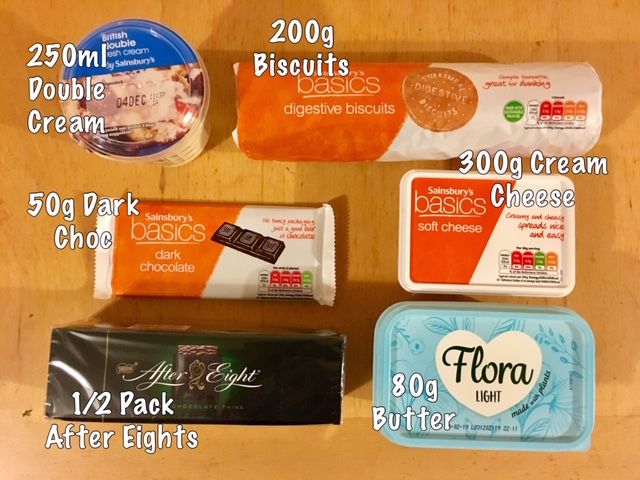 Method:
1. Melt the butter and crush the biscuits and combine. Press into bottom of dish and place in fridge.
2. Whip the cream (this does take few mins of whisking, be patient!), combine with cream cheese and place half in another bowl.
3. Combine half the cream cheese/ cream mix with the After Eights, leaving a few for the top. Place on top of biscuit base and return to fridge.
4. Combine the other half of the cream cheese/ cream mix with the melted dark chocolate, smother on top of the cheesecake and decorate with After Eights!
This WHOLE cheesecake cost just £3.22 and can serve 6-8
Drink: Frosty Coffee Baileys
This is the simplest cocktail you will ever make, but is still super indulgent
You will need:
– Baileys (or cheaper Aldi version like mine) – amount is up to you!
– 1 shot coffee
– Vanilla ice cream
Method:
1. To make a shot of coffee, place 1-2tsp instant coffee in a mug and add a splash of boiling water, mix and place in blender.
2. Half fill glass of choice with Baileys, put in blender.
3. Put 2-3 scoops of ice cream in bender, and blend all ingredients.
4. If you're feeling fancy, drizzle your glass with chocolate sauce and pour your creamy Baileys mix into the glass and top with more ice cream.
This will cost way less than £1 to make, and you probably already have most of the ingredients anyway!
Happy cooking and Merry Christmas woohoo!