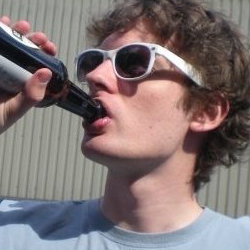 SUSU SHOWDOWN: Simon Boyce
We gave presidential candidate Simon Boyce some article space to try and convince us to vote for him.
First of all, I'd like to introduce myself. I'm a physics with photonics undergraduate and a member of many societies. I also contribute to online sports and music magazines, I'm an activist for the Time To Change charity and I campaigned for Caroline Lucas MP in Brighton at the last election.
In standing for SUSU president, I'm not just trying to force a debate and hold Sam Ling accountable but to give students a choice. I believe there needs to be a candidate from outside the current SUSU bubble to bring in fresh and creative ideas and to use a different experience and skill set to make the union more inclusive and open. I know I don't have all of the answers but I intend to ask the important questions and provide the union that the population of Southampton University deserve.
I have very clear ideas about what I'd like to see the union doing. For one thing, I would like to see us using the talents we have. The Laughter Lounge is a great comedy night but for some reason our own comedy society isn't involved. We have the Cube but DJsoc never perform in our students' union at all. Yes, bring in great comedians and DJs to entertain us but let's also use these events to showcase what we have to offer!
Recently I spoke to some society leaders who had used their own money to organise and publicise an event which earned enough for the society to fund it for the next ten years. I believe SUSU should help societies have the experience of raising their own money and raising their profile in this sort of way rather than keep them dependent on the union's funding. After all, it'll mean more money to go around!
Beyond societies and entertainment, as president I would take more of a lead in publicising services available for students in financial or personal distress. It's easy to feel very isolated if you're having problems at university but it doesn't have to be that way. SUSU should be as much a support network as it is an entertainment venue and your representative to the university.
I believe transparency is essential to knowing you are being properly represented, your money isn't being misspent and sabbatical officers are doing their jobs. I would ensure a budget summary is available so that anyone can check that the finances are in good order, I would make the minutes of committee meetings easier to find so that you can see how key decisions are taken and I would keep students up to date on what I am working on day by day and how it will make a difference.
Finally I'd like to talk to you about my campaign. As you have just read, the themes of my work here are inclusion, participation, support and transparency. I went for a poster design featuring a Venn diagram to represent the union as the intersection of many different student groups and because we are such a diverse mix of people from different backgrounds and with different passions; I feel I am the person to tie these together and build a union that truly unites.
If you want to know more of what I'm about, get in touch with me on Twitter or Facebook: www.twitter.com/smboyce and www.facebook.com/boyce.
Have a look at what Simon's competitor Sam Ling has to say here.