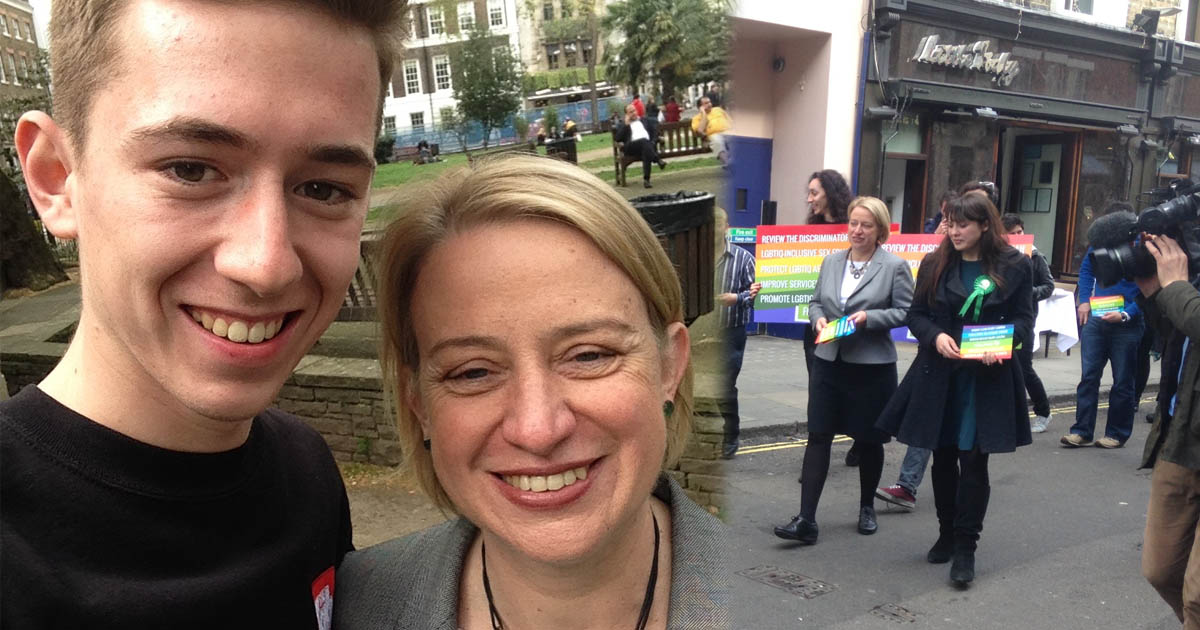 Natalie Bennett's solo in Soho and promises to annul your loan
As I follow Natalie Bennett down a busy Soho street, I'm struck by how little recognition she receives. Accompanied by an entourage of press and campaigners, her attention is limited to a few people saying 'oh my God, it's you!'
For the leader of the Green Party to be so unrecognised was bizarre. Imagine Farage or Sturgeon walking through any town, let alone the constituency they're most hopeful for, and receiving such a small amount of attention. Nevertheless, this gave me the perfect opportunity to talk to Natalie and establish what a Green government would mean for UCL students.
The Sydney-born Somers Townian had been in Soho launching her LGBTIQ manifesto.
A delighted grin swept over her face as I asked a question she was clearly hoping would come up. "How will life change for UCL students if the Greens are in charge come May 8th?" Predictably, Nat turned straight to tuition fees, she wants rid of them, and that's for us too – "people who have already queued up for loans will see them annulled".
The Greens also want to see an increase in student grants for their living costs, a move which she claims is "fully costed" in their manifesto and will be funded through a new wealth tax.
If you're a part-time student, part-time legend and need a part-time job to support your lifestyle, then there's good news for you too. Bennett wants to see the minimum wage raised to a living wage and a target of £10 an hour set for 2020. However, she – like labour – wants to "ban" zero-hour contracts.
She said: "There's no legal definition of what a zero-hours contract is. There are casual contracts, which simply means you can say to the employer, 'I want to work Tuesdays and Saturdays.'
"But zero-hours contracts are where the employer is able to demand that you make yourself available and they tell you at very short notice whether you're coming in or not.
"So there's a distinction to be drawn: we're not trying to ban casual work, we're trying to ban those zero-hour contracts that exploit people".
Satisfied with her response, I was keen to find out how seriously she takes the legalisation of cannabis debate. Having interviewed CISTA candidate Shane O'Donnell earlier in the week, who had claimed that it was not a priority for the Greens, I was keen to hear Natalie's response.
The hash-cake eating party leader, seemed amused by the the criticism, defending her party who have "done a great deal to put the war on drugs on the agenda". She tells me that Caroline Lucas, the only current Green MP, has forced the debate in to parliament for the first time ever, with the help from her number one fan Russell Brand.
Politely suggesting that CISTA have no chance of getting any seats, Bennett tells me that "if you're concerned about the drug laws, Green is clearly the way to vote."
I felt I should appeal to my new-found knowledge on Holborn and St Pancras politics, by pointing out to Bennett that she was probably going to lose out on the seat to Labour man Kier Stamner, a concept she remained positive about – beaming that "there's no risk of the Tories getting in".
Like Labour, Natalie suggests: "The Green Party wants to make multi-nationals and wealthy individuals pay their way, but we're opposed to the austerity, the cut backs in government services which Ed Miliband astonishingly boasted about yesterday."
When pressed on her future after May 7th, Natalie says that, if she's not elected, she will serve out her term for the next 16 months and carry on fighting for the causes that the Green Party supports.
Since we'd become such great friends, I finish off the chat with a couple of more 'casual' questions, where Natalie shows there is some sense of humour behind her cartoonish facade.
Natalie tells me that her favourite night out in London is to the theatre, although "that would require me to have a life", she confesses. She also loves a drink in The White Bear, Kennington – "a room behind a pub which isn't famous for it's drinks: you have a gin and tonic because you don't drink the wine".