I attended the Ukrainian protest outside the Scottish Parliament
'Ukraine is fighting for freedom and for Europe'
| UPDATED
Over the weekend there have been protests up and down the country regarding the Ukraine crisis. These protests are in support of Ukraine.
The Tab Glasgow was able to attend the protest being held in Edinburgh on Saturday, held outside the Scottish Parliament Building.
On arrival to the protest, my first thought was that the crowd wasn't as big as I thought it would be. Despite this, automatically upon entering there was a fantastic atmosphere.
The crowd was mainly made up of Ukrainians and Eastern Europeans. As a half-Lithuanian myself, I overheard several Lithuanian voices.
Not so much Scottish voices, which is a real shame. When one of the speakers asked if there were any Scottish people in attendance, there wasn't much response from the crowd. Whilst this may have changed as the day went on, I do not know, as I wasn't able to stay there too long. It would be nice if more Scots attended the next protests.

People were to the point with their signs. One bore the caption: "STOP PUTIN STOP WAR." Another said: "SEND AID NOW". Then another said: "LONG LIVE UKRAINE".
I also listened to several of the speakers who spoke on the megaphone.
One Ukrainian speaker said: "The Russians seem strong but they are not as strong as we think… They are not that motivated. They don't know what they are doing in Ukraine." He went on to say that Russia would suffer financially, saying, "they will feel it on their pockets. And maybe they will stop it from inside, who knows?"
Another speaker, from Lithuania, argued: "Ukraine is not fighting for Ukraine now. Ukraine is fighting for freedom and for Europe." He then said that instead of buying a cup of coffee today, instead we should "find a good organisation" and use that money to buy "bullets, bullet-proof vests".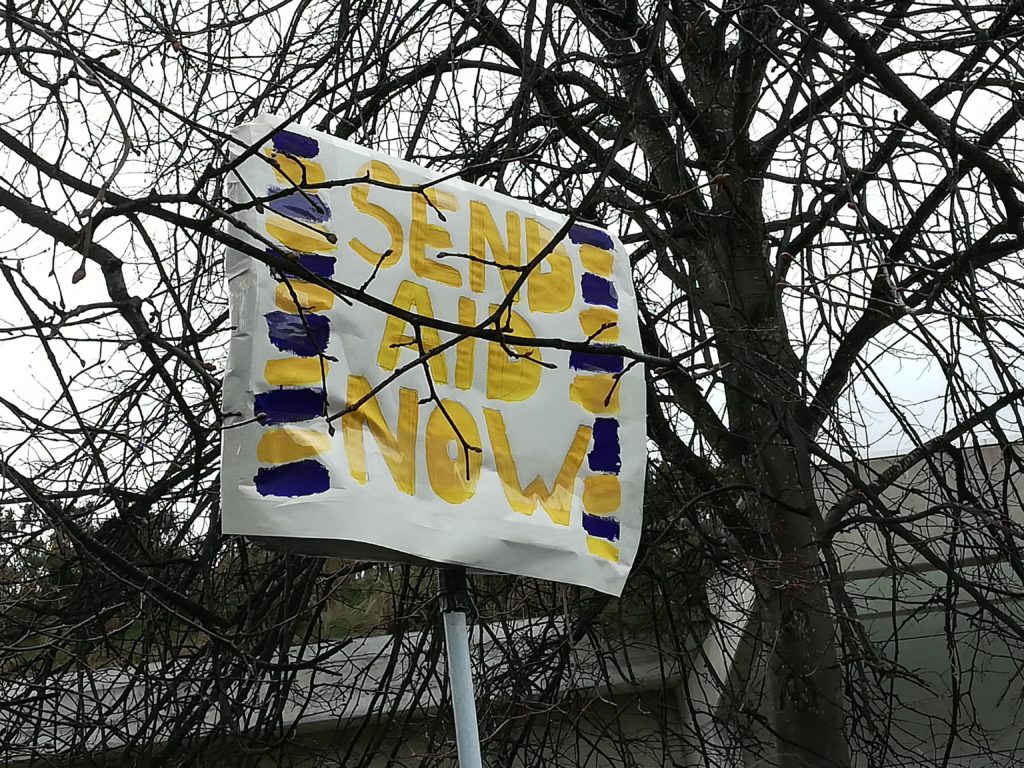 Then another speaker spoke of how Ukraine had held democratic elections. He then compared this to Russia, saying, that the current situation was a "result of a lack of democracy in Russia".
There will be another protest held tomorrow, Sunday the 27th of February at 12pm at the Sir Walter Scott Monument in Edinburgh. There will also be another one held tomorrow starting at 11am at George Square in Glasgow.
To find more ways to help with the current situation, click here.
Related stories recommended by this author: