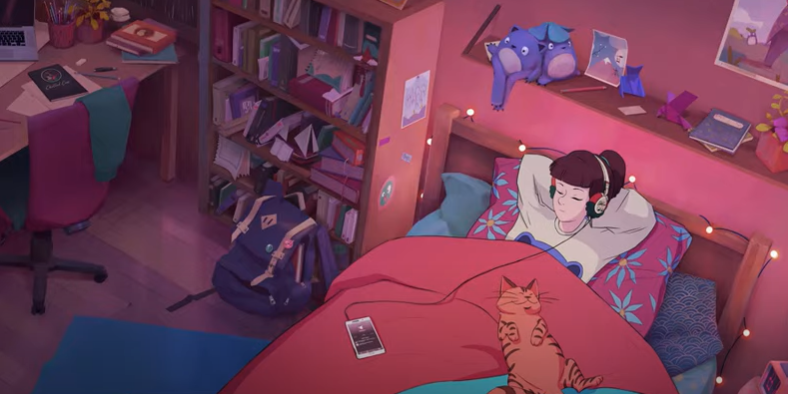 Music to get Glasgow Uni students through the gloomy season
Songs to listen to while studying
As the nights crawl in earlier and it gets harder and harder to get out of bed in the morning, sometimes music is the only escape from the gloom. The key to surviving a bleak Glasgow winter is to romanticise the darkness. This is the season of crawling under heaps of blankets in front of a movie, with a mug of hot chocolate and a Christmas-candle silently emitting cosy vibes in the background. Make the most of it, and on those painfully frosty morning commutes, try out some of these tunes to therapize yourself through the freeze. 
If you want to keep it chill
#1 Eugene, Arlo Parks 
There is a certain genre of chill, slow-moving hip-hop/indie which seems to the perfect company for long, early morning train journeys. Sombre, deeply feeling and impossibly chilled-out, Eugene's album art illustrates perfectly the poignant and relaxed vibe of Arlo Parks. It speaks of reflective Sundays and seemingly uneventful but meaningful time with friends. Arlo Parks' chill tempo will carry you back to slow, happy teenage summers and remind you of the summer months to come as you wander through a misty, grey Kelvingrove. Instead of romanticising vampires and werewolves, Parks and her counterparts will transport you to a Skins-esc aesthetic. Grungy, depressive and angsty: fulfil your lifelong Effy-fantasy while cuddling up with a friend and a book on the sofa. 
Similar vibes: Widdit by Lava La Rue, Time Machine by WILLOW, Charcoal Baby by Blood Orange and Ottolenghi by Loyle Carner.
If you want to keep up the tempo…
#2 All Of The Time- Jungle 
If you're not into embracing the wintertide, sometimes the best thing is to dance your way through the winter months and keep that circulation going. Disco, Jazz and Funk are making a bizarre and exciting comeback these days, DJs increasingly entangling them with EDM, birthing a sound we've all heard before but with a distinctly Gen-Z aroma. Follow the bandwagon and jump on some of these buzzing tunes. Why wallow in your misery when you can keep the party going? Jungle's new release All Of The Time will get your head bobbing even in the monotonous and soul-sucking atmosphere of the uni library. If the word bizarre appeals to you, venture all the way back to 2014 with Todd Terje's 2014 bop, Inspector Norse and dip your toes in Norwegian dance. Put a woolly hat on and embrace the boogie. 
Similar vibes: Space Cowboy by Jamiroquai, Sing It Back by Moloko,  Feel The Love by Prins Thomas and Teardrops by Womack & Womack.
If you're feeling sentimental… 
#3 Roslyn, Bon Iver & St Vincent  
This might be the cheesiest selection from the bunch, but as a former diehard Twilight fan, this song just seems to hit the spot when it comes to misty mornings. Bon Iver is the pinnacle of atmospheric indie-folk, with his soft vocals and acoustic guitar which seems to strike the heart strings just in the spot. Highly recommend imagining yourself in a Noughties YA novel, traversing through a sentimental montage, dreaming of your long-lost vampire boyfriend. Major main-character-syndrome with this kind of listening. I'm not going to tell you to listen to the entire Twilight soundtrack. But I'm not going to tell you not to… 
Similar vibes: Skinny Love and Holocene also by Bon Iver. Heartbeats by José González and White Winter Hymnal by Fleet Foxes. 
If you want to find your happy place… 
#4 Dreams, Fleetwood Mac 
You've been there, you've done it. But you know nothing gets the blood flowing like Fleetwood Mac even if you've heard it a million times. Tunes like these remind you of how good music really can be. Whether you're a Fleetwood Mac fan or not, hopefully this song will put a smile on your face. During the mind-numbing drag of exam season, your brain just isn't equipped to hear anything new and exciting. It's the old classics that will carry you through and take you to that happy place even if its already dark by the time you get out of bed… Think happy thoughts… 
Similar vibes: More Than This by Roxy Music, This Must Be The Place by the Talking Heads, This Charming Man by The Smiths and Rebel Rebel  by David Bowie.
And finally, if you want to try something new… 
 #5 Woman, Doja Cat 
If you're a sucker for viral music you're definitely aware of Doja Cat. Doja Cat has taken a firm spot at the top of the charts since her 2019 hit Say So which emerged at the same time as TikTok's takeoff. But with good reason. Every one of her hits is an empowering, sexy bop which will ultimately, spice up your life. Its easy to forget that you're young hot and thriving when you're bundled up under seven jumpers and a puffer jacket which makes you look like the Michelin man. Remind yourself of your outer and inner beauty by treating yourself to a bit of Doja Cat bounce. 
Similar vibes: Pain by PinkPantheress, Juice by Lizzo, Broken Clocks by SZA and FVN! by LVL1. 
Related stories recommended by this author: