We went on a book shop crawl around Glasgow
Like a pub crawl but with books
The idea is simple. It is like a pub crawl but for book-lovers. You go from bookshop to bookshop and rather than buying and drinking beer, you buy books.
With current restrictions, it isn't that safe to visit all in one day which is why we'd suggest you only visit a couple at a time. Hopefully, when restrictions ease one will be able to visit them all at once – a great activity for any literature-lover!
Category Is
Located a few minutes' walk from Queen's Park station in the southside, Category Is is not just a fabulously queer bookshop stocking books, zines, pins, and patches – it's also (normally) a community space. A queer barber, queer yoga, queer book club – Category Is has hosted or run them all! They also have a pay-it-forward shelf, for those who can't afford access to queer reading. Run by couple Fi and Charlotte, this space is where I got my first bi pin and my first volume of Alice Oseman's Heartstopper comic!
Caledonia Books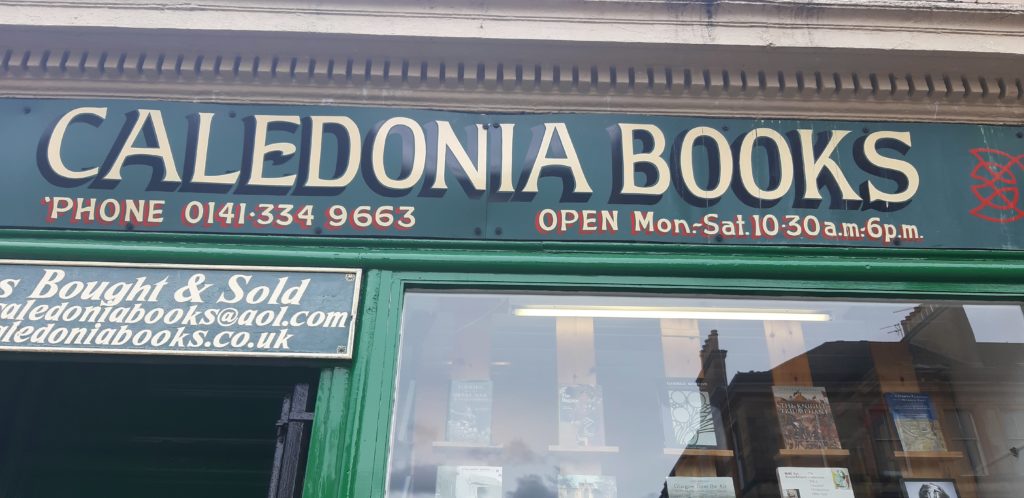 I prefer second-hand bookstores and this is my new find. Surprisingly, despite being a fifteen minute walk away from my accommodation in first year, I had never visited the place. (Despite walking past it many times.) It was small and cosy and I particularly liked the downstairs area. I actually came across some old film magazines whilst here and slightly regret not buying one. Anyhow, I can always come back in September!
Outwith
Outwith only opened in the last year, making it the youngest bookshop on this list! Just opposite Queen's Park station (and attractively near some lovely coffee shops), it stocks a limited but well-chosen and well-displayed range of books. During more normal times, it is also a writer's space. During my first visit, I picked up a book about the Irish language and my boyfriend grabbed a collection of Edwin Morgan's poetry.
Voltaire and Rousseau
Perhaps the most famous of Glasgow's bookshop gems, V&R is hidden away on Otago Lane next to another West End gem: Tchai-Ovna. Well-known for their three-deep stacks of books that might just avalanche if you pick out the wrong one and their cat that often naps on the stacks, this is another bookshop where you could come out with anything from a 1950s sci-fi book to an as-new hiking book or an ancient bound copy of Dickens. Be warned, they only take cash and their desk is frequently piled with books people have left while they ran to the cash machine on Gibson Street.
Oxfam Books
I had a weekend job working here, albeit only for a few weeks before the global pandemic. I love the feel to this place and the vast selection we have on offer here. Indeed, this is probably one of the best charity bookstores I've ever visited and I'd also highly recommend the chocolate they sell here, Tony's Chocolonely.
Calton Books
A pandemic discovery, this bookshop is tucked away on Gallowgate next to an old-fashioned sweet-shop. (A perfect pairing.) They stock all kinds of rebellious literature, from Marxist and feminist to Scottish nationalist and LGBTQ+. Crucially for me, they also stock some excellent pins and badges and, last I was in, I picked up a Dr Martens "Anti-Fascist" patch for my denim jacket.
Hyndland Bookshop
My next stop was to this small gem in the West End. I adored the cards on display here and bought myself a handful. Whilst the books here were not second-hand, there was a good selection of new books here. And of course, it's always a good sign when one of the first books you notice upon entering the shop is a favourite of yours…
Thistle books
Another West End gem often missed by those heading to Voltaire and Rousseau one street over, Thistle Books and Alba Music cohabit to sell second-hand literature and sheet music. Its narrow aisles and ceiling-high bookcases give it the best kind of antiquarian vibe, and they have a few secrets – like a shelf or two of signed books! It's the perfect place to go under the pretence of buying your course texts cheap, then emerging with a bag full of entirely unrelated reads from across many a genre.
Good Press
Behind an attractive storefront on St. Andrew's Square is Good Press – a bookshop, art space, printer, and publisher all in one. They stock an eclectic range of books on art, design, photography, and music, but not in the conventional sense. At Good Press you might find an artist's concept cookbook (includes recipe on how to make a sponge cake out of real sponges), anthologies of contemporary responses to art made during the AIDS crisis, zines full of haikus, or how to books to help you imitate the sound of the shore using two hands and a carpet. You never know what you'll find!
Waterstones on Byers Road 
Being just a ten minute walk from the main university campus, this is an ideal spot to visit on a lunch break for some book-browsing. I actually remember going here in first year and buying some good classics here, A Brave New World and 1984.  (Interestingly enough, these two books became my pandemic reads.)
We hope you are able to delve among the shelves at these bookshops to find what you are looking for!