These two Edinburgh students have moved to a remote Scottish island for the semester
The couple have swapped city living for the Isle of Cumbrae
This semester is proving to be very different to the one most of us had planned. A couple of Edinburgh students have taken this weird semester a step further: they've traded in their city flats and moved to the Isle of Cumbrae, a remote island off the west coast of Scotland.
Harry and Olivia, two third years at the University of Edinburgh, upped sticks to the island at the start of this semester. The two were initially planning on moving in together in Edinburgh in January anyway.  Online learning made them realise they had no need to physically be near campus.
Fed up of extortionate Edinburgh rents, they spontaneously made the decision to leave the city at the end of the Christmas holidays. They were initially looking for somewhere in a remote part of Scotland for a slower pace of life especially as they both love hillwalking and cycling.
The pair had put a deposit down on a flat on the Isle of Cumbrae within four days of searching on Rightmove. The island has a population of less than 1,400 people and can only be reached by boat. Neither of the couple drive so they had to pack up their clothes and uni stuff into suitcases and get the train to the ferry port – and put everything else in storage.
To minimise the risk of Covid transmission, the two did get Covid tests beforehand. That being said, Cumbrae is also in full lockdown like mainland Scotland and some islands.
They told The Tab Edinburgh that the local community has been incredibly welcoming and that their neighbours have been very friendly.
Harry, an economics student, and Olivia, a sociology student, t0ld The Tab they were excited to get stuck into life on the island.
Both had years abroad to the US cancelled due to the pandemic and were gutted to be missing out on such an amazing opportunity. Olivia was supposed to be studying at the University of California and Harry at the University of Pennsylvania.
Although Cumbrae could not be further from the sunny beaches of California or the big city of Philadelphia, they said: "Both of our year abroads for this year being cancelled means we really wanted to salvage some adventure from this year. Instead of being in Cumbrae, both of us should be in America right now. But we'd have been apart for a year so maybe this has worked out better in a way."
The two also saw this as an opportunity to get to know each other better and spend some quality time together.
Olivia said: "Some of my friends were asking me if moving together would be too much, but we both just thought our own opinions were the most important and thought it was the best idea. We're both really chill so don't really stress each other out."
They have been dating for less than a year and initially got together just before the first lockdown.  This meant they spent the first few months of their relationship apart (although they'd both do their shopping at Waitrose in Morningside to be able to see each other).
They feel like their relationship has withstood one test already and should be able to cope with possibly six months alone on a remote island.
The slower pace of life has also made them appreciate the little things in life more.
They also said part of their reason for moving somewhere remote like Cumbrae was because they didn't know when they'd next get the chance to do something like this.
Harry said: "What prompted me to come to the island was definitely sense of adventure, I'd always wanted to live on an island and on a beach and felt like this was my only chance since uni is now online. After uni, I'll probably be working in a city since there are not many jobs in small island towns like these."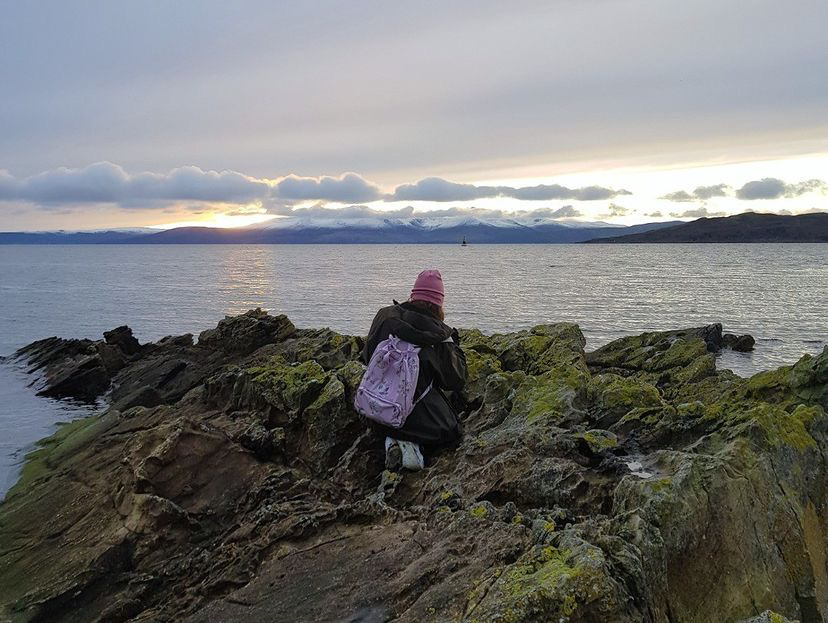 They admitted that the cost of living in Edinburgh (versus somewhere remote like Cumbrae) was a big factor in their decision. They said: "We found the monthly rent on the flat in Cumbrae was going to be £350 for both of us combined. That was definitely a big bonus after paying over £500 each in Edinburgh."
Harry and Olivia said the pandemic meant that city life – and the associated cost – seemed pointless. "The benefits of being in a city that you pay the extra rent for (bars, things to do, being close to friends and parties etc.) aren't here anymore so why pay for it?"
The response of their friends and family was mixed. Olivia's family was incredibly supportive and Harry said his family "just asked me if I was really sure I would get on with Olivia for five months and that my studies wouldn't suffer. But a strange coincidence was that my grandpa was already planning a visit to Cumbrae once the pandemic is over so he hopes to come later this year."
However, the couple admitted some of their pals were less convinced – with one saying they were "absolutely bonkers."
As for whether the two are actually crazy or have just made the best decision of their lives, I guess we'll see in about five months.
If you want to see more of Harry and Olivia's semester in Cumbrae, you can check out their Instagram @islandsemester2021.
Related articles recommended by this writer:
• Edi Uni teaching will be online until the end of the semester
• What does your favourite Edi university building say about you?