We visited Cardiff's Winter Wonderland: Here's what we thought
Are you even a Cardiff student if you don't take an obligatory tip to Winter Wonderland when December comes around?
Cardiff's highly-anticipated Winter Wonderland has returned once again for another year of Christmas-themed fun: boasting an ice skating rink, delicious festive food stalls, live entertainment, as well as all the funfair rides you could ever want.
We took a trip ourselves in order to decide whether it was worth splashing the cash from whatever's left of the student loan, so that you don't have to (although you probably have by now anyway).
Starting out strong with the hot chocolate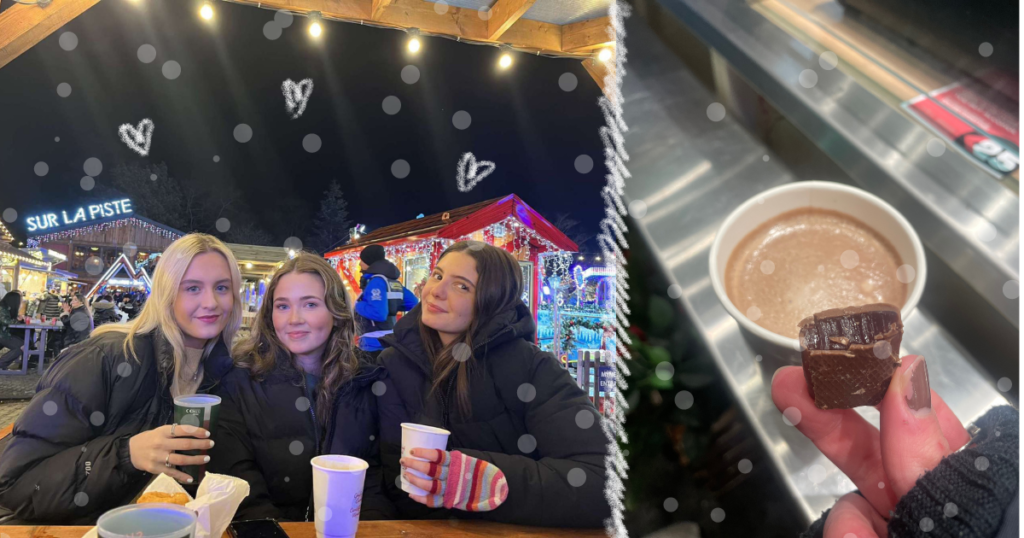 First we headed towards the hot chocolate stand and were amazed at the variety of syrups they had to offer. They had a choice of Bailey's, Terry's Chocolate Orange, and even Turkish Delight, plus all of the drinks come topped with whipped cream and either a Flake, Chocolate Orange segment or a mini Turkish Delight chunk.
Cost: £4 for a regular hot chocolate, or £5 for ones with different flavoured syrups
Verdict: Definitely worth the money. One of the best hot chocolates any of us have ever tried. It was so good, we went back and got a second drink.
Next for some savoury goodies
Afterwards, we hit the hot food stand, where they had a variety of different German sausages such as Bratwurst and Krakauer, Mac 'n' cheese with pulled pork and hand cooked chips, a drool-worthy selection if you ask us.
Cost: £6.50 for the Krakauer hot dog, and £3.50 for the chips.
Verdict: According to first year, geography student Ben: "I felt like the Krakauer was processed and not authentic German sausage. Cheap tasting and what you might expect at a football game."
We feel that the chips weren't anything too special either. Save the tenner and spend it on the sweet treats or the rides instead.
Sweet treats
The crepe stand had a variety of different fillings to choose from including Biscoff, and Nutella with strawberries. The sweets stand (almost directly opposite the crepes) also had plenty of different sweets, including a couple of vegan/gelatine-free choices.
Cost: Around £8 for crepes with most of the different fillings, though prices did vary slightly. £2.50 per 100g of sweets.
Verdict: Whilst being slightly pricey and a tad messy to eat, the crepes are definitely worth the money they cost. However, we found that with the sweets you could only get a very small amount, before it cost huge sums of money. Pictured above on the right is the amount of sweets you could get for just less than £8, so we wouldn't recommend it.
The fun part: Time for some rides
Last but certainly not least, we decided to finish off the night with some rides. It's worth noting that a majority of the rides seemed to be aimed at younger children, with very few rides being suitable for those above 4 feet tall. Nevertheless, we managed to have a go on the Waltzers, the Sky Wheel and the beloved Dodgems.
Cost: £4 each for the Waltzers and the Dodgems. £6 each for the Sky Wheel.
Verdict: Whilst we feel that whilst the rides are over-priced for what they are and the amount of time you get to spend on them, they're an essential part of any trip to the fairground. Although the Sky Wheel was the priciest, it's definitely the ride we most recommend as you go around three times and get some stunning views of Cardiff from above.
Our final overall verdict of Cardiff's Winter Wonderland is that you can expect to be splashing a lot of cash in order to have a good time. We spent upwards of £30 each, so if you happen to have any bits of your student loan left at the end of term, then it's definitely worth taking the trip. Winter Wonderland also would be the perfect place for a date, thanks to it's cozy and romantic vibes, so if you're prepared to treat your significant other then this is the place to go.
Recommended articles by this writer: