LIVE: The 2017 Oxford and Cambridge Boat Races
All day coverage, analysis, insight and gossip
boat race
boat race 2017
boat races
Cambridge
cambridge students
Cambridge University
gdbo
Life
Oxford
Rowing
Sport
Student
Students
Tab
the tab
university
Welcome to your all day coverage of the Cancer Research Oxford and Cambridge Boat races 2017. This year marks the 163rd Men's boat race and the 72nd Women's Boat race. The Tab is here will all the news, analysis, lowdown and gossip to float your (Cantab) boat.
We'll be reporting live from Putney, moving to Morlake, with several refreshments stops on the way. The sun is shining over London, so sit back and enjoy the quintessentially Oxbridge event of the year.
If you want to send us photos, quality boaty insight or fiery gossip, send us email at [email protected] or drop us a message via our Facebook page.
#GDBO
---
Results & Verdict
Women's: CUWBC beat OUWBC (in a record time)
Men's:OUBC beat CUBC
Reserve Races:
Women's: Blondie (C) beat Osiris (O)
Men's: Isis (O) beat Goldie (C)
---
Key Timings 
The Cancer Research UK Women's Boat Race Toss: 14:45
Osiris Blondie Toss: 15:00
Isis Goldie Toss: 15:15
The Cancer Research UK Boat Race Toss: 15:30
Oxford & Cambridge Women's Blue Boats Boat: 15:47 & 15:50
BBC TV Goes Live: 16:00
Osiris & Blondie Boat: 16:02 & 16:05
Isis & Goldie Boat: 16:17 & 16:20
The Cancer Research UK Women's Boat Race: 16:35
Oxford & Cambridge Blue Boats Boat: 16:47 & 16:50
Osiris Blondie Race: 16:50
Isis Goldie Race: 17:05
The Cancer Research UK Mens Boat Race: 17:35
---
Live Stream
18:25
That's a wrap. If you wish to continue the merriment, there's an after party in Fez Club, Putney (how very appropriate.)
Apart from that, it's over and out from us. We are off to a pub. Thanks for joining and well done to all crews.
Who knew rowing could be so fun?
18:08
17:57
OXFORD WIN THE 163rd BOAT RACE. Oxford take the win by a knife edge after a supreme race. Well done the Other place. Commiserations to a superb Cambridge team
17:52
We are with you Hugh (as is the Cambridge Union)
17:5o
Umpire warns Cambridge against crossing stations. Cambridge still in touch with Oxford
17:46
The close call seems to have given Oxford a slight lead. GDBO.
17:44
The blades are getting very close together. Who knew it was a contact sport?
17:42
Nothing in it as the boats meet the first bend
17:37
We're off! Cambridge slightly long at the start
17:29
The men's boat race is about to begin
17:28
How candid
17:22
CUSU Presidential candidate Jack Drury and his 'colourful' friends
17:13
Cambridge women lift the trophy
17:11
CUWBC President Ashton Brown speaking to the Tab: 'We kept it internal, no matter what happened. It is the race we wanted to have last year but we weren't able to have'
17:09
Cambridge women overjoyed at their win
16:54
VICTORY FOR CAMBRIDGE WITH A RECORD TIME of 18:43
16:52
Cambridge are now approaching the finish, victory clearly in sight
16:48
Cambridge are now 18 seconds in front of Oxford
16:41
Cambridge now lead by four lengths as they pass under Hammersmith bridge
16:39
Boats approach Hammersmith bridge, beginning the second half of the race
16:37
Women's boat race starts! Oxford has a major fault in the first few seconds, leaving them several lengths behind the Cambridge boat
15:58
We are hearing reports that "The Morris dancers are causing a blockage in the path."
15:50
First Cantab boat of the afternoon leaves the boathouse
15:37
Oxford men WIN the toss and opt for Surrey. Cambridge keep their cool.
15:06
Steady crowd building at Bishop's park
14:52
Girton JCR pres here, staking his claim on the greatest beverage of all time.
14:45
Cambridge women win the toss! Captain Ashton Brown chooses Surrey side
14:36
The Trophy has arrived.
14:30
Oxford men have the edge on the winning odds, but Cambridge women have stronger odds than Oxford. But these aren't the only bets being taken…
14:10
Having a merry Morris time
14:04
Meanwhile in Hammersmith, a bunch of Morris dancers (is this the correct term of quantity?) are partaking in the sesh.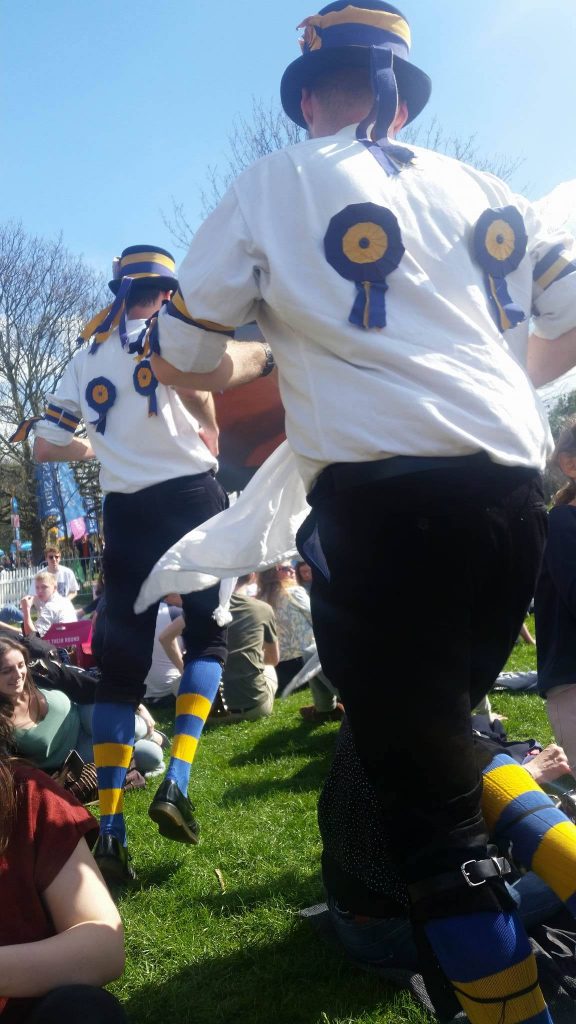 13:52
The BBC are ready and prepping. Boat Race favourite Clare Balding is in the building.
13:41
Even Smartwater have bought into the Blues rivalry. I don't even like sparkling water but I couldn't bring myself to drink dark blue
13:40
We're back after a short lunch break, which included and array of sandwiches provided by the press team. #pressprivilege
12:40
Weather conditions along the Thames are pretty stunning, with a slight north westerly wind. Here is what the Met office is saying.
12:15
Struggling to decide where to get the best view? Or just fancy a pint? Check out our guide here.
12:06
Light Blue Buses in sight. The Cambridge women's team have arrived.
12:00
Dan here in the Press room. All very swish.  Lots of bustling journos drinking coffee and photographers  wiring cameras up.
10:00
Despite fears that the Boat Races were to be called off due to a bomb scare, it is now expected that the races will go ahead, with Marine experts examining the submerged World War 2 bomb early this morning.
However, some viewing areas may have to be cordoned off to spectators if the unexploded bomb is deemed to be a safety hazard.
More when we get it.