What kind of UoB student you are based on your mask
Pandemic couture is thriving, but what does your face mask say about you
The newly emerging field of pandemic couture has brought us a whole heap of iconic looks.
From the sudden obsession with surgical gloves guaranteed to sweat an entire pool from your hands, to the steamed up visor obscuring your seminar leader in a cloud of condensed breath.
It's safe to say that a pandemic has never looked so good. But the one must-have accessory that stands out from the crowd has got to be the face mask.
So, what does your face mask of choice say about you?
UoB reppin'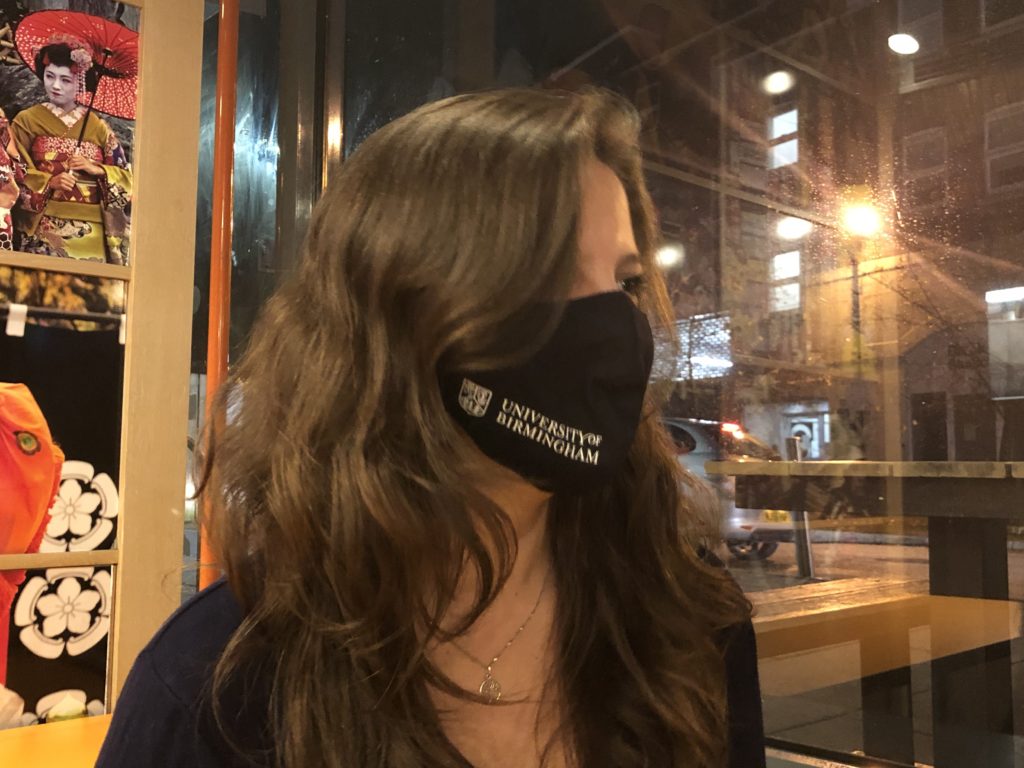 We all love a freebie, and no freebie is as desirable as the ultra Covid-repellent, UoB face mask 3000 – with Sir David Eastwood's own personal guarantee of efficiency.
So, if you're going crazy for that cheeky lil black and white number, here's what we know about you:
 Well to start, you're at UoB. Well done, Mum and Dad must be proud.
You most likely have a North Face puffer – ideally in black – that matches the mask perfectly. Throw in some iets frans joggers and we're good to go.
You've never ever washed it – your bronzer is cooking up a treat in there.
You obviously love Old Joe and have a framed pic of him on your wall (and as your lock screen, and home screen, and your duvet cover…)
You wear it EVERYWHERE; on the train; on the bus; on the family getaway to the Cotswolds. Anywhere you go, the UoB mask goes – lest we forget where we hath come from.
The surgical mask
An iconic staple of the early 'rona days, before we realised they're probs not the most eco-friendly masks and yes, we are in fact killing the turtles.
So if I see you sporting one of these (literal) bad boys, prepare for some silent under-the-breath mutterings, is it that difficult to get grandma to make you a reusable one. But what else does the ol' surgical mask say about you:
You hate the turtles. Just to reiterate.
You definitely complained when they stopped giving out disposable lids at the Teaching and Learning building – the environment who?
You're going for a major study sesh at the library – nothing says endurance like this loose fitting, actually breathable number.
You're obsessed with Scrubs and are secretly living out all your fantasies.
At least one member of your family works for the NHS – how else do you keep those supplies up? You're drowning in surgical masks – like the turtles 🙁
The "funny" face masks
You know – the ones with a mouth pulling a face, or a butt, or some crazy teeth, or Bojo doing jazz hands. One of those. The more niche end of face mask fashion. If you're a fan of one of these, this is what we know about you:
You're trying to give off an ironic dad vibe, but you're 20 and just wish you were in The Goose.
You've sent everyone a picture of you in your mask with the caption "I don't know why I got so many funny looks on the bus earlier!" Yeah, good one Dave.
You're a Fab 'N' Fresh BNOC
You never wear it over your nose. Cause Corona is a myth. It's some crazy conspiracy theory made up by Huawei, destroy the 5G towers!
The ol' t-shirt pulled up over the face trick
You're an idiot. Go home. I see you and no, you can't go into Tiv gym like that – I don't care if you forgot your mask and you're about to lose your time slot.
You have chaotic energy, this mask business has been compulsory for months now, get it together.
You're too scared for the public shaming of having no face covering whatsoever in Aldi, so this is your (shameful) last ditch attempt.
You're even worse than the turtle haters.
Grandma's homemade face mask – stitched with love
What a dream. We may not be able to see our grandparents but you bet that we're rinsing them for some homemade face masks.
Sporting iconic 80's curtains prints, and some questionable tea towels, these are the elite face mask – the kind worn by saints. If you wear one of these, kudos to you:
You're clearly the favourite grandchild which – as well all know – is the only reason to have siblings and cousins – to compete. May the best spawn win.
You wash it religiously – you've been raised well, with class and self-respect. Grandma bulk made these bad boys, you've got masks for days.
You obviously study English Lit and this *homemade* *ethical* bad boy clearly fits your aesthetic – we see you in Starbucks hun
I know exactly where you'll be on a Saturday night: patrolling the streets like true Samaritans, stopping super spreaders in their tracks with your moral supremacy and all-knowing gaze – you can practically smell deviance on us commercial-mask wearing lowlifes.
You are the antidote to coronavirus. You are the evolved.
Related stories recommended by this writer:
•We asked our UoB editors how music has helped them through lockdown
•Here's seven tips to become a more sustainable UoB student in isolation
•Cheers to 2020: A list of things UoB students can drink to this year