Credit Crunchers: Digbeth's hidden gem
We went bargain hunting in town
If you're looking for affordable vintage attire, this is the place to go. Credit Crunchers is located about a five minute walk from the Bullring and is just opposite the rag market. (23 Moat Lane to be precise.) Not only does it have very low prices, it's restocked every 2 days so you'll always find something appealing.
You may easily walk past and turn a blind eye but you would be a fool to do so, though it's interior and exterior may not be as flashy as the likes of COW or Urban Village (situated in The Custard Factory), Credit Crunchers has far more to offer for the more humble student buyer. In contrast to COW and UV you will not end up spending half of your student loan in one go, the prices at CC left our jaws dropping to the floor – crop tops for 10 pounds, dresses for 7, REAL leather and fur jackets for 10, the list goes on…
They also sell mirrors and other home-ware items, so if you're wishing to do up your uni room for cheap or to just restock your wardrobe for all those quirky Rainbow nights you'll no doubt be attending, take some time to browse this treasure chest of wonders!
Midi sequin skirt: 7 pounds
Pantsuit: 7 pounds
Fur coat: 20 pounds
Denim jacket: 15 pounds
Sequin midi skirt: 7 pounds
Slip dress: 5 pounds; Fur coat: 10 pounds
They even have christmas jumpers! (5 pounds)
Animal print tee: 5 pounds
USA tee: 5 pounds
Skirt: 5 pounds
Camo tops: 5 pounds each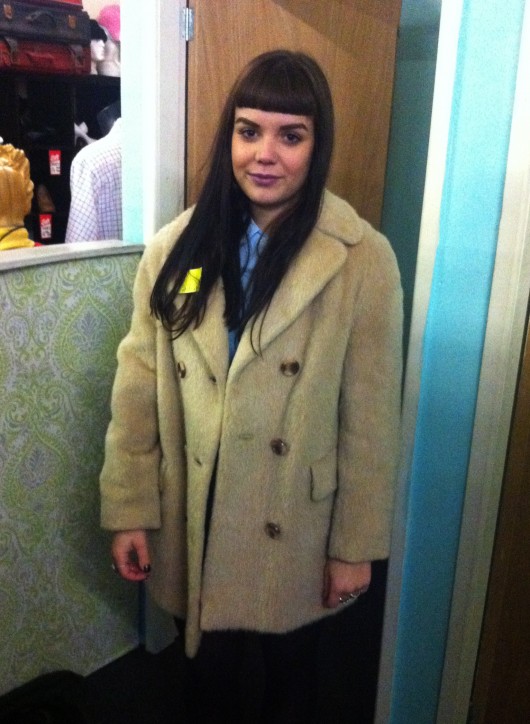 Mohair coat: 15 pounds
Red silk dress: 5 pounds
so much choice!!
And if you're into taxidermy this is the place to go…
Fancy a ferret to keep your neck toasty in those long winter months?
And this mock Barbour jacket with REAL leather lapels was only 15 pounds!!!
 A variety of fur for your choosing…
And some great bargains!
Hats galore
Rabbit fur coat: 30 pounds
Sequin cami: 5 pounds
Sequin top: 5 pounds
Sequin dress: 7 pounds
So what are you waiting for? Get down there now!