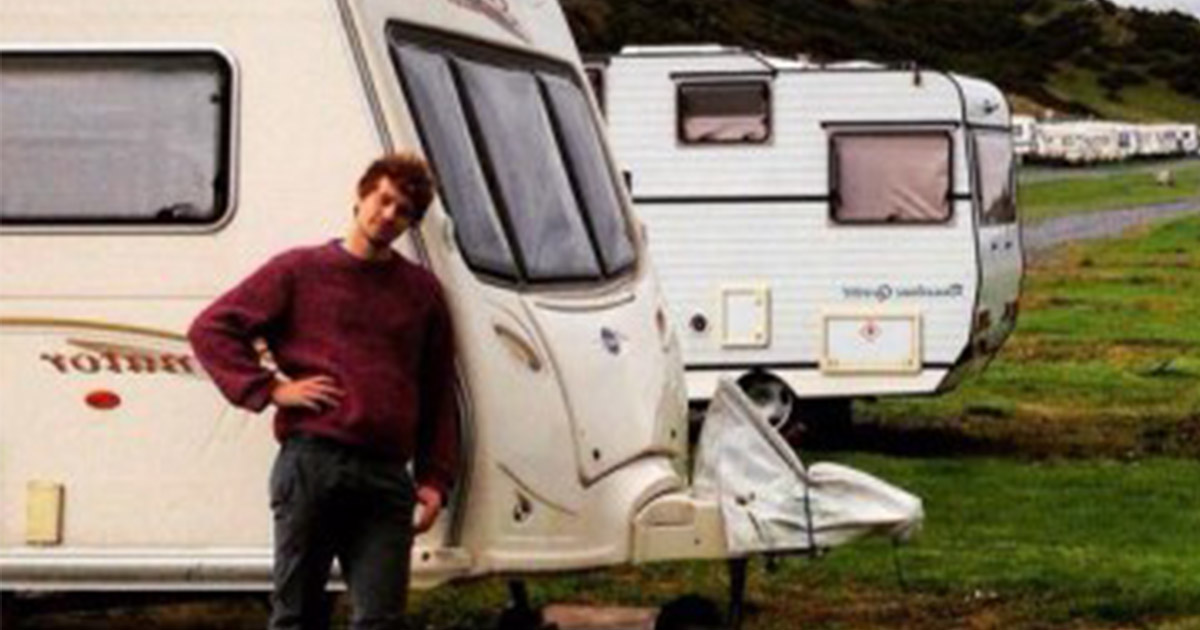 Meet the fresher who lives in a caravan
He moved by himself 10 miles away from uni
national
An outdoorsy first year has moved into a remote caravan in the middle of nowhere because he loves the fresh air and quiet. 
Countryside Conservation fresher Tom Moore, 23, shunned halls to live all by himself in a portable home.
The Aberystwyth student bought a caravan and moved by the sea – a staggering 10 miles away from campus.
Tom told The Tab: "I'm not massively into night outs anyways.  I'm more of a quiet pint and camp fire kind of guy."
He added: "My mates think it's great although most wouldn't fancy it because it is out the way and it has other little practicality issues.
"I have to be very selective with nights out, and try and find accommodation or alternative arrangements to get back so it's a little tricky.
"The great welsh weather combined with caravans isn't the most appealing to most."
Coming to uni after working as a National Trust Ranger for four years, Tom was determined to make his university experience as cheap as possible so decided to buy his own caravan.
Tom said: "I was mainly motivated by cost, but also the prospect of having my own shack, living fairly off grid and being right by the sea.
"I didn't really want to live in uni digs because I've had my independence already, it's also a natural progression from my VW Camper."
"I don't feel I missing out because I think that living by the sea is a fair trade off."
Tom currently lives by himself but is hoping that his girlfriend will come and visit him regularly in the New Year.
He said: "I love living in my caravan – the sound of the sea, the wildlife, the amazing nights sky – it's amazing!
"I even go on early morning trawls across the beach – it's great what you can find."
Living in a caravan might be nice during the Indian summer, but Tom will have to think more carefully about his pitch when winter comes.
He said: "I'm in a rather exposed area, but I check out the weather regularly so should be fine. And I plan to move it to a more sheltered location late November."
Not happy with living in a caravan, Tom's next wild project is to build his very own shack in the woods and avoid paying a rent or mortgage.
He said: "I want to build a log cabin for many reasons.
"I want to live near a woodland and make it green and sustainable.
"Possibly even off grid and pumping electric back in with solar and wind power."