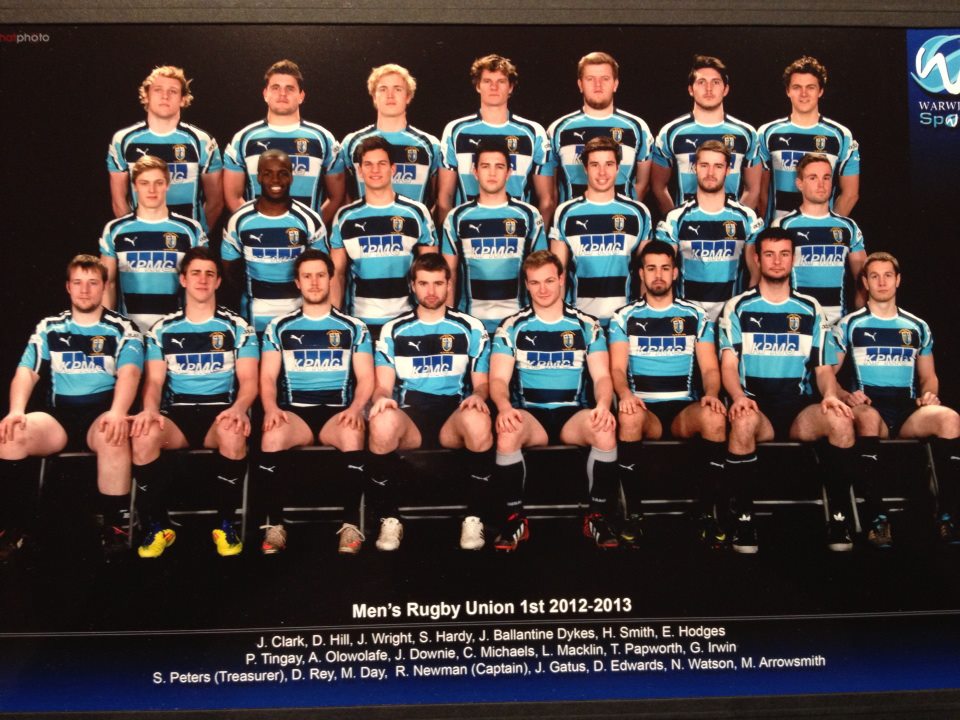 Saturday's Supermen
The Tab takes a look at 6 game changing players for Saturday's Varsity finale.
As this year's much-anticipated Varsity Rugby finale looms ever closer, The Tab is bringing you profiles of some of the most stand-out names on Saturday's teamsheet.
With current Chairman Andrew Primett claiming that UWRFC's 1st XV 'look set to put more points on the board than the average Cov student has UCAS points', this Saturday's battle is set to be one to go down in the history books.
The Captain
Name: Richard Newman
Nickname: Big Rick, Skip
Position: No.8
Bio: It is a well-known fact that no man on earth is taking this Saturday's colossal battle more seriously than Richard Newman.  Some say this man voluntarily puts himself through physical torture to increase his pain threshold. Some say this man never, ever rests. Some say this man is the only person on the planet to ever have made Chuck Norris sweat. Expect to see the mere presence of this Mancunian Overlord making the Cov pack literally shit bricks.
The Kicker
Name: Dominique Rey
Nickname: Le Mal Chat, DomDom, Dirty Dog
Position: Fly-Half
Bio: UWRFC's notorious Mauritian international fly-half is set to be a game changer this Saturday, with Dom Rey expected to pull the strings behind the scrum with skill and panache. Much like outgoing SU president Nick Swain, his infamously dextrous hands are going to be key to bringing all that his pals around him have to offer in to the public limelight.
The Flare
Name: George Irwin
Nickname: G.I., Carey-G
Position: Winger
Bio: Having reportedly shaved his legs for 'decreased wind resistance', George Irwin's quick feet and finely-groomed hair are set to no less than dazzle Coventry into submission. Ladies looking to grab a piece of the action, expect to find George propping up the SU bar after the match, sipping vodbulls and checking himself out in every mirror, window and watch that gives even the faintest reflection.
The Heft
Name: Joshua Ballantine-Dykes
Nickname: JBD, Posh Git, Bruce Bogtrotter
Position: Prop
Bio: Defying the expectations based on his Eton-educated choir-boy upbringing, JBD's reputation for power and might is more reliant on his pitch performance than his extensive land-ownership. As one of the 1st XV's few freshers, Josh is known to be 'one to watch', assuming he exerts greater control over his Viallis-based protein intake over the coming years.
The Fashion
Name: Luke Macklin
Nickname: Luke NeverSeenAtSmacklin, The Mac
Position: Full-Back
Bio:  A model professional through and through, Macklin has long given up drinking alcohol in a bid to maintain ultimate fitness and peak assesment centre performance. Sadly though, the cost of such a rigorous diet regime has been the loss of a social life altogether. It is with a tone of nostalgia that we now discuss memories of Macklin on nights out, at circle, or simply showing any form at all. However, what has been our loss will be the university's gain, as such a lifestyle has surely prepared him for a stellar Varsity performance.
The Secret Weapon
Name: Jimmy 'Mr. Chow' Crawford
Nickname: The Assassin, The Korean Warrior
Position: ?
Bio: Known across campus both for his merciless brutality and chiseled physique, Jimmy Crawford's remarkable if not surprising form has resulted in his selection as a 'wild-card' for this Saturday's battle. The impact that J.C. is expected to make off the bench is set to be nothing short of gargantuan, with Skipper Richard Newman advising Jimmy with only three words: 'We want blood'.*
Some were born great. Some achieve greatness. Some had greatness thrust upon them.
So, if you like rugby matches with more big hits than a S Club 7 'Best Of' album, more cheap shots than a Kelsey's Happy Hour, and more drama than an Emmerdale omnibus, buy your tickets here.
*For those concerned, when Jimmy Crawford was asked to comment on the accuracy of this biography, he responded by saying 'Whatever, it's fine. I rate the bantz.'