Live updates: Smoke bombs and chants as hundreds of protesters descend on Sussex Uni
We will be updating this article
Hundreds of protesters from across the country have converged on Sussex university as a national demo at the University of Sussex, in response to the unsuccessful negotiations to end the lecturer strikes.
Students are protesting pension cuts with chants, marches and smoke bombs. We are told that around 1000 protesters attended the demonstration.
Alcohol has been removed from the shelves of the campus shop, and protesters are occupying the construction site of a new halls. Here's what has happened so far.
Over a hundred protesters now occupy East Slope construction site building
The Tab Sussex is told that there is "now between 100 and 150 in the occupation" of a building at the new East Slope construction site. This is nearly four times the number who were occupying the building this morning.
Protesters have been photographed climbing over the walls of the site in order to join the occupation, after the main entrance was blocked off.
Protesters are now on the roof of Pevensey
Protesters have climbed onto the roof of Pevensey and have set off a blue smoke bomb. They are holding up a banner which reads "Slay the neoliberal beast".
Smoke bombs have been set off
Protesters have set off red smoke bombs in library square, and can be seen waving them in the air whilst other protesters are chanting in the square.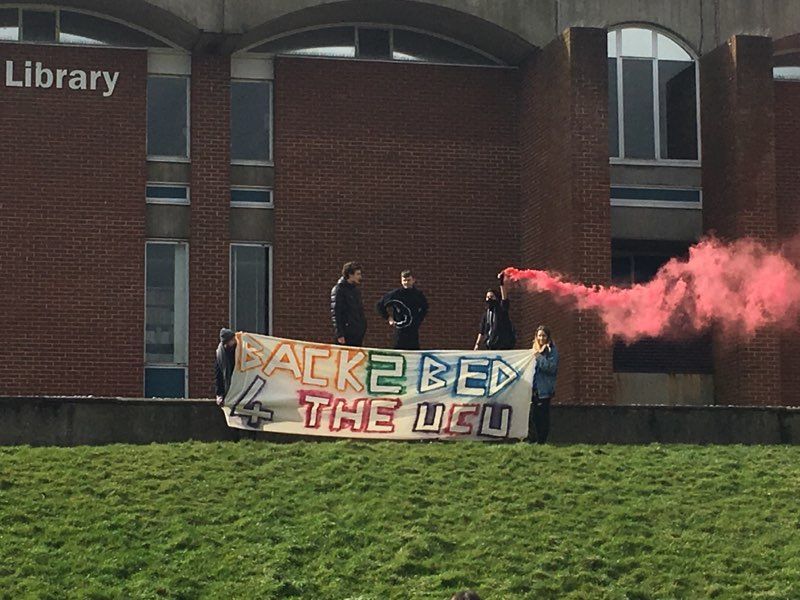 Protesters have been chanting against pension cuts
Protesters have gathered in Library Square and been chanting "Students and workers unite and fight ", "Pension aren't a perk, pay them for their work" and "You can shove your raid-on pensions up your arse". A list of proposed chants was published online before the demonstration.
Sussex House targeted by the march
The group of protesters marched on Sussex House, a hub for university staff. Home-made banners with slogans such as "Adam Tickell what a FUUKing sell out", "Slay the neo-liberal beast" and "Back 2 bed for the UCU" were carried by protesters.
Whilst they marched they chanted "this is what democracy looks like" and "when I say cut backs you say strike back"
As the march passed Sussex house, protesters turned to face the building and booed.
Protesters attempt to break into construction site
Whilst a group of 40 protesters already occupy a building at the East Slope construction site, other protesters have attempted to enter the site themselves, but have been stopped by construction site staff.
We are told that the protesters are attempting to deliver food and water to those occupying the building.
The main entrance to the site has now been cut off by barriers.
All alcohol removed from on-campus Co-op
The on-campus Co-op has removed all alcohol from its shelves as a safety measure against the national demonstration.
Students occupy new East Slope building
A group of 40 students are occupying a building on the construction site for the new on-campus accommodation, demanding reductions in rent as the cheapest accommodation is being replaced by the most expensive. This means that protesters are using the momentum, and coverage, of the UCU strikes in order to fight for other causes. The occupiers stated that they "will be halting construction for as long as it takes to force management to meet our demands."
Nearly 600 clicked attending on a Facebook event for the demo, with a further 800+ expressing their interest. The last time a demonstration happened with such impact was in 2013, when protesters rallied against privatisation of on-campus services. This time, the demonstration was organised as an act of solidarity for tutors who are caught in a battle for their pensions, their futures.
Chris Chapwin, head of UCU, told The Tab Sussex "its been a good turnout, I think the worry was that loads of students would turn up and start damaging stuff but they've been amazing."
With thanks to: Kyle Farrell, Katie Tobin, Kate Tyrer, Callum Brown, Sally Nolan, Shona Todd, Alexander Northwood, Hermione La'Chapelle.