The new library name is revealed, and it's a step in the right direction
The new library will be named after Emily Wilding Davison, an alumna and women's rights activist
Today the new name for the Library and Student Services Centre has been revealed. After a competition run by the University for students to name the new centre, Paul Layzell announced this afternoon via a Live Stream on the student intranet that it will be named after Emily Wilding Davison.
Emily Wilding Davison is  an alumna of the College, having studyied modern languages here in the 1800's. She later went on to be one of the most iconic members of the suffragette movement, alongside women such as Emmeline Pankhurst. However, she is probably most known for having thrown herself in front of the King's horse at the Epsom Derby in 1913.
Naming the new centre after an activist for women rights shows that Royal Holloway wants to celebrate its history, and is a really exciting step forward for the College's future. The reaction has been really positive, and it seems that a lot of students and staff are really happy with the name.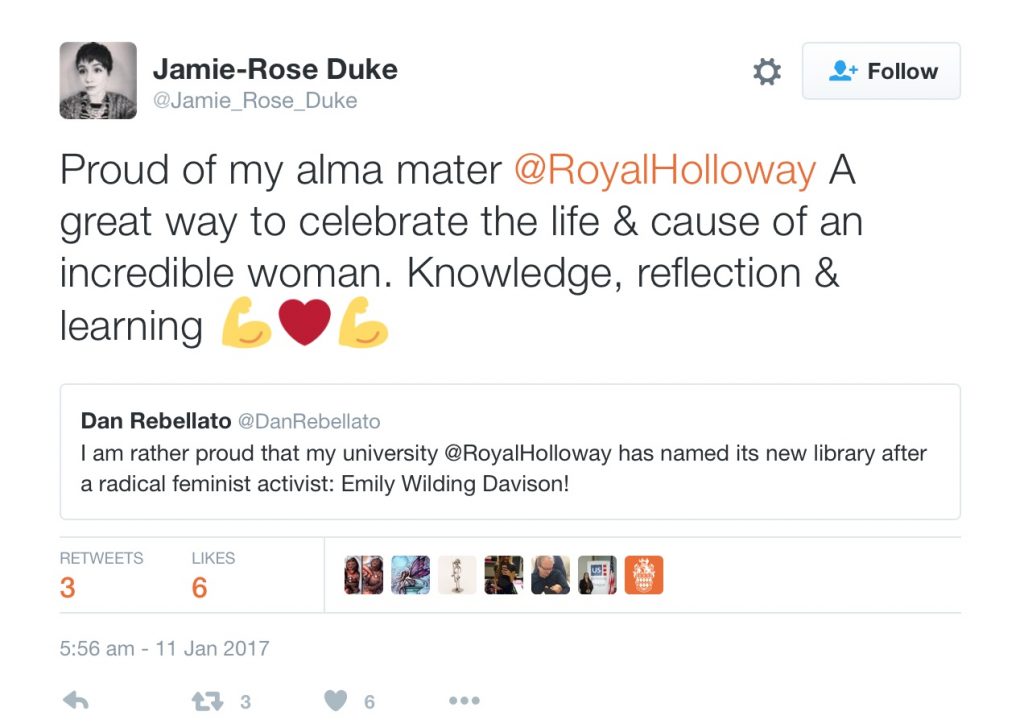 The University also announced that they will be celebrating another of our alumna, George Eliot, the famous novelist by naming the new student residences (due to open in Autumn 2017) after her. George Eliot, whose real name was Mary Ann Evans, was one of the first students at Bedford College, and was author of many successful titles such as 'The Mill on the Floss' and 'Silas Marner' under a male pen name.
Natasha Barrett, President of Royal Holloway Students' Union shared her support, "It's fantastic that we can name this building after Emily as she embodies a principle that our founders also stood for – equality. Their egalitarian spirit lives on in our community today where we believe in supporting every individual to ensure that they can succeed no matter gender or background."
The new library and student services centre will be opening in Autumn 2017 ready for the new academic year.