Royal Holloway investigating a number of racist messages sent over social media
They said: 'Racism has no place at Royal Holloway'
| UPDATED
cw: racism, racist language 
Royal Holloway is investigating numerous racist messages sent via social media, allegedly by one of their students.
One comment said: "Not even a n***o male would rape you". Others included phrases "go back to Africa", "monkey", and multiple uses of the slur "n***o".
Royal Holloway has said it is "urgently looking into" the "offensive comments", saying "racism has no place at Royal Holloway".
It is not confirmed if the person behind the messages is in fact a RHUL student, although the account's Instagram bio said they were. Their account has since been deleted.
As well as those described above, comments and messages sent by the account, seen by The Tab RHUL, included: "What male would buy you drinks? In the zoo it says please don't feed the animals"; "Do n***o females produce chocolate breast milk?"; "Black is not beautiful"; "Jungle bunny"; "Monkey in heat doing a mating dance"; "A1 slave material"; "Windrush" and "Don't forget to breathe".
They also included slurs "blacky", "n***o" and "g*lly w*g".
More screenshots of the messages can be seen below.
Numerous comments were left by the account, on the Instagram of Lauren*, a Black woman studying at another UK university. She sent screenshots on to her friends, one of whom the account began to DM and send further racist messages to. The Tab RHUL spoke to this friend, Hannah*, a Black woman studying at a university in the north of England.
Hannah told The Tab RHUL of the distress she and her friend have been in – after receiving the comments, Lauren then had to sit an exam, and Hannah has assignments due soon that she's now unable to focus properly on.
It's also difficult as they are not RHUL students, and there's not much their own universities can do to support them, in terms of "protection", knowing who to report the incidents to, and offering mental health support.
Hannah says she's unfortunately used to receiving "hateful comments" on social media – but the "abuse" this time "feels so different". She tells The Tab how "dark skinned black women", such as her friend Lauren, all too often receive "hate".
Royal Holloway tweeted: "Some of you have brought to our attention a series of offensive comments this afternoon. We strongly condemn all forms of racism – Royal Holloway values and is strengthened by diversity. We are urgently looking into the matter."
They went on to say: "Racism has no place at Royal Holloway – we have contacted the student and will be following our disciplinary procedure. Whilst we're doing this, we cannot comment further."
When contacted by The Tab, Royal Holloway said they had no further comment to make.
Lauren and Hannah's names have been changed to protect their anonymity.
Have a story? Email [email protected] in confidence.
The messages and comments can be seen below: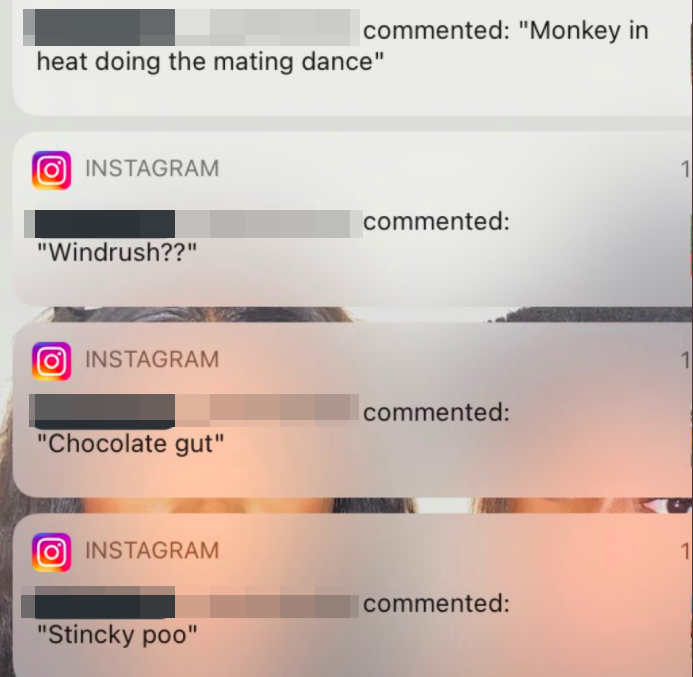 Have a story? Email [email protected] in confidence.