Tall History boy and short English Lit girl: The true tale of a confessions page romance
A love story greater than Romeo and Juliet…
This is a story that you couldn't make up, something many of us will only ever dream about, brought to us through a uni version of ask.fm. "Concrete Confessions Between UEA Sessions" is the place to complain about those annoying people talking in lectures, and the posh twats in the brand new en-suite accommodation. It's not the place you'd expect to find a love story.
Incase you don't know who short English lit girl and tall History boy are and what their story is, we'll sum it up for you.
It started off with a fairly normal post. A lonely heart was looking for a special someone to cuddle up to… it is cuffing season after all.
What happened next was kind of incredible.
Someone replied!! And it was so cute!!
The conversation was flowing, and loads more confessions were posted asking when they should meet and joking about their choice of coffee.
Everyone was living for it. The people of UEA became completely invested in their relationship.
Then, short English Literature girl went on her reading week but tall History boy was still up for a cheeky meet-up and a coffee, but then he went home too! So, it had to wait a few days.
At this point it was unclear as to whether or not the two actually knew who they'd been talking to, but everyone was hoping for the first Concrete Confessions baby.
But then, the tale resumed, not with a post from tall History boy, but when Concrete Confessions posted a shout out to tall History boy
Naturally, people went into overdrive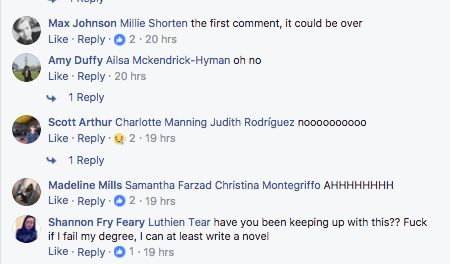 But what no one was expecting was the response from the page…
In a screenshot sent by short English Literature girl and Concrete Confessions, it turns out tall History boy is now flooded with female attention, and has gone off the idea of meeting up for a mocha
The message read: "Unfortunately for UEA's romance tale, this has been enough for me to attract my own female attention. It breaks my heart to share this with you and concrete confessions, but perhaps we could just be friends instead?"
The page can't 100 per cent confirm this is him because the location isn't accurate, but it could explain why there hasn't been much activity recently. The page often tells us when the location of a submission isn't correct, so although this post isn't the usual location of tall History boy, it could still be him.
Speaking exclusively to The Tab Norwich, short English Literature girl said:
"It seems my first choice of coffee really was too much of a deal breaker on this occasion. It is also apparent that most people worked out who I am and so for my sake and for the sake of our once adoring fans, I think it's only fair that tall History guy also reveals his identity. Apologies for this devastating ending to our tale – though really it's no fault of my own."
Our hearts are broken, thanks very much tall History guy.