Protests in picture: The last week of London protests and vigils
If you couldn't make them, here's all the photos you need to feel like you were there
Almost every day this week, Londoners have come together in their thousands to mourn, protest and agitate for change. On Saturday, a vigil was held to remember and grieve the death of Sarah Everard, but the violence used by the police force to disperse the mourners as well as the Government's Police, Crime, Sentencing and Courts Bill which threatens the very right to protest in the UK, induced a series of further protests.
From Sunday to Tuesday, thousands of protesters congregated outside Parliament to challenge the Government's attempt to curtail protesting rights, and remonstrate the violence used by the police force against women, on Saturday, and every day in the insidious forms of gender inequality that pervade society. Speakers at the protests gave testimonies narrating examples of police negligence and violence and appealed to Government not to increase the authority of an institution that abuses such powers as it already has. Signs reading "KILL THE BILL" tell this story.
Additionally, many protestors came in solidarity to mourn Sarah Everard and other women whose deaths have not been in the media. Many carried signs that indicate that women (trans, cis, intersex) and non-binary people simply do not feel safe, or protected on their own streets. The images below attest to this shared sentiment of fear and frustration and a collective desire, and demand, for change.
On Tuesday night the Police, Crime, Sentencing and Courts Bill passed the second stage of voting in Parliament, 359-263 votes. Subsequently, this week's series of protests, coordinated by organisations such as Sisters Uncut, is taking a pause while the leading organisations "strategise and plan next steps". If you couldn't make this week's protests, here are all the images you need to see before you get involved next time.
Saturday's vigil for Sarah Everard at Clapham Common
Sunday's protests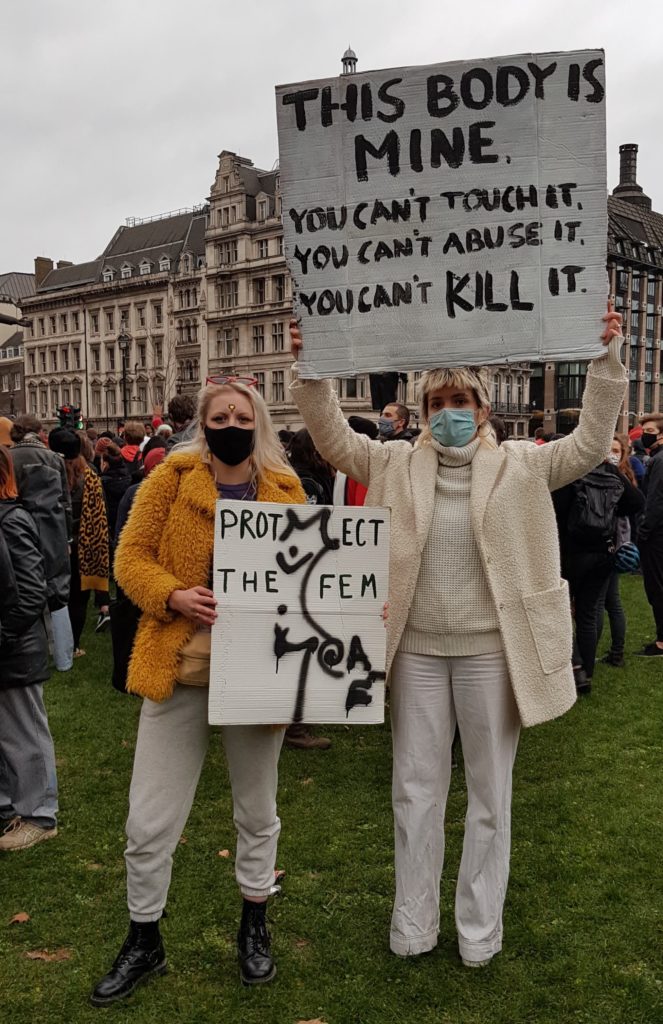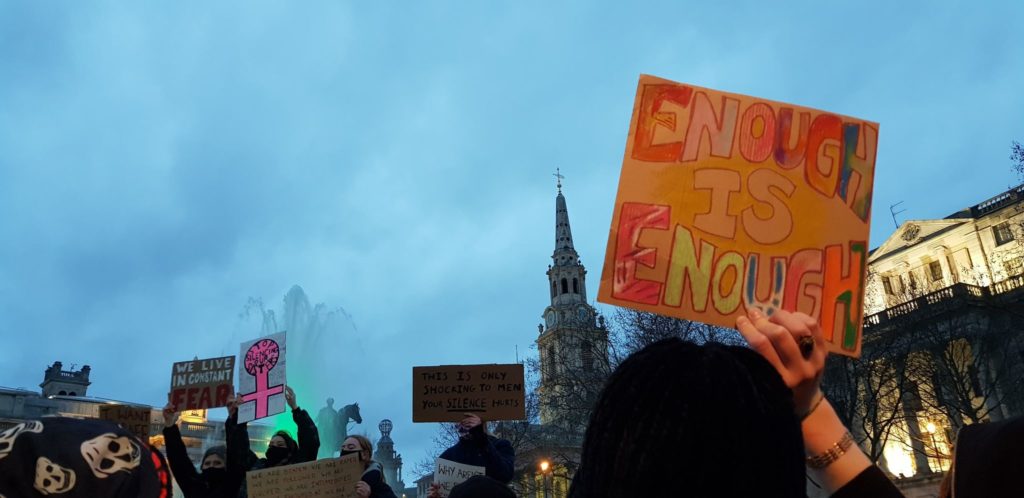 Monday's protest at Parliament Square
Tuesday's protests
All images via Lizzie Rose unless credited otherwise 
Related stories recommended by this writer:
• Violence used at Clapham Common Sarah Everard vigil to disperse peaceful attendees
• We asked protestors why they are marching right now and the responses are harrowing
• Protests: There's an urgent need for intersectional solidarity that can't be ignored anymore