Here's your women's rugby side set to trash kings
They've been reigning champions since 2007
In what is proving to be an incredibly tight London Varsity Series, UCLU stands at only two points down needing three victories from the remaining three events to maintain the title.
On Friday, Varsity reaches it's climax with both the men's and women's rugby matches taking place at Allianz Park.
The women kick off at 5pm and are looking to take a ninth consecutive win over Strand Poly. In fact, UCLUWRFC has never lost their varsity match. No pressure, ladies.
We caught up with the women's rugby committee who gave us a rundown of the Burlington Betties looking to smash KCL on Friday night.
Tickets can be bought here and secure access for a double header and the after party.
Coach – Kitty Dennis, 1st year, Medicine
Everyone's favourite perpetually concussed forward has taken up coaching this year. When she's not on the pitch she can be found either with her beloved pet hedgehog, Jeremy, or shaming us all with her awe-inspiring pint downing skills.
1 – Harriet Clapp, 3rd year, Politics and East European Studies
Despite occasionally betraying us to play for Hampstead – or even worse, league for the Army – Clapp always returns to the fold, like the prodigal prop. Harriet started this season's trend of forwards tries when she scored a hat trick against Middlesex and will continue it through to smash the Poly.
2 – Anny Sha, 1st year, Economics with East European Studies
Her economics degree really came in handy when this savvy-saver managed to fly to Copenhagen for under £20 just for the day. When she's not collecting stickers or drinking frankly impressive amounts of whiskey, Anny is usually found brutally whipping players into shape (both on and off the pitch). 
3 – Cat Campbell, 3rd year, Law
If you want the best life advice, frequent trips to the zoo, period costume parties and a guaranteed like on Facebook, then she's your girl. Aside from being the absolute rock of the front row at loosehead, Cat also has incredibly strong feelings about rum swizzles.
4 – Ursula Runacres, 2nd year, SSEES History
With a voice resonating across the pitch and Loop, even if you can't see her, you can definitely hear her. Despite her last appearance against Canterbury ending in hospital and a neck brace, she is a fiery, red-hot player. Did you know she went on the ski trip?
5 – Lottie Bestwick, 2nd year, Medicine
Queen of the hashtag (#rugbaes #bleedpurple), UCLUWRFC's resident poet laureate, and a recovering vegan, Bestwick is as diverse as they come. This lock-cum-winger is a truly oar-some on the pitch, breaking down back-forward divisions and defending her faculty to the end.
6 – Ursula Marshall, 1st year, Geography
Never seen in the same outfit twice Swamp will sass you both on and off the pitch. This East London babe is known for her determined facial expressions and making breaks down the wing to rival the late Jonah Lomu. What a legend.
7 – Zoé Goldberg, 3rd year, Law
A member of pretty much every sports team at UCL, Goldberg's loyalty lies firmly with the WRFC. Don't let her slightly confused demeanour fool you, she will absolutely ruin you be it through monstrous tackles, or killer runs (usually with at least three members of the other team hanging off her).
8 – Siti Rasyidah, 3rd year, Arts and Sciences
Moving from fullback to 8, the former president is ready to lead the forwards to victory on the 11th. Consistently being awarded Bitch of the Pitch – and having to give her pints to unsuspecting teammates – Siti really can do it all.
9 – Yuna Murayama, 3rd year, Arts and Sciences – Captain
Reformed Tinder addict who is a destructive force of nature both on and off the pitch. What she lacks in size she definitely makes up for in aggression. This year's captain is bound to be key to destroying Strand Poly, with her talents also lying in her helpful ability to underdress both in the changing room and in the club.
10 – Daisy Lu, 1st year, Medicine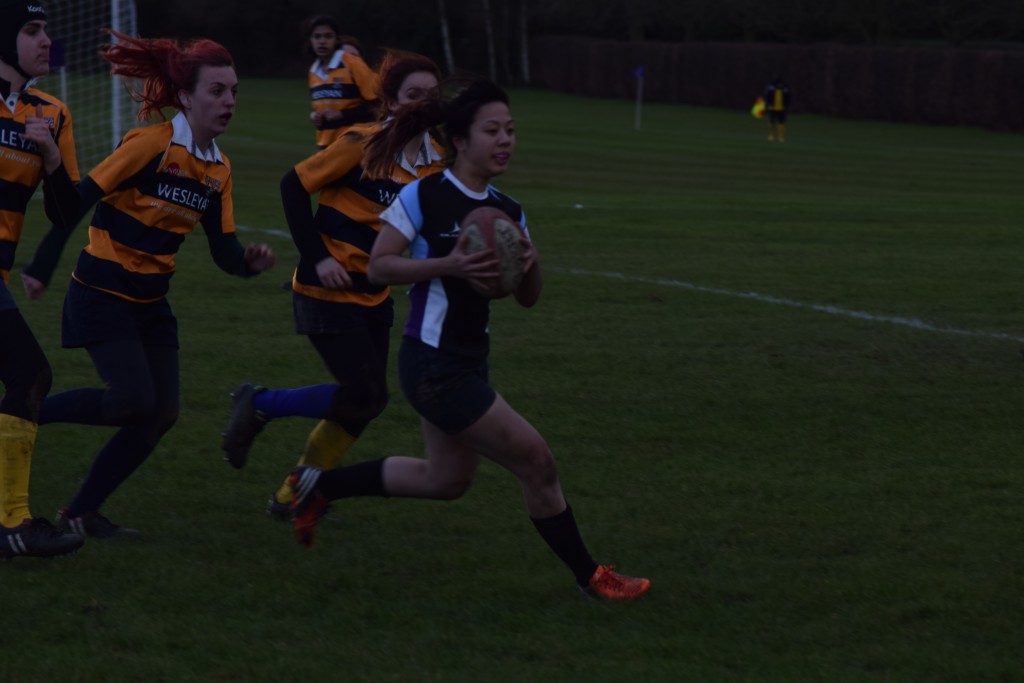 With her constant internal battle of allegiance between RUMS Badminton and the far superior UCLUWRFC, this Irish powerhouse can be found at every breakdown on the pitch. When not breaking people on the pitch she can be found in the library studying how to fix our injuries.
11 – Amy Kirk-Smith, 4th year, Arts and Sciences
Despite this pug-toting winger's year out, it's as if she was never gone. She may be late to the party, but when she's there, you know she's there. Killer tackles, speedy feet and an insane level of fitness all make this gal the ideal winger.
12 – Lisa Giraud, 3rd year, ESPS
Our very own Wesley Fofana, the newest Frenchie on the block has found her calling at 12. One of the sassiest players on the team, she's bound to be an absolute nightmare for KCL who she hates almost as much as organised fun.
13 – Kate Bovey, 1st year, History
When KB isn't being airlifted to hospital (#operationrepatriation2k16) or waiting in UCH, she is known for her destructive tackles and always sporting the latest in high end sports injury chic. When she's not making supporters wince with huge hits she can be found organising sportsnight mutinies with Lisa.
14 – Anne Rozès, 3rd year, ESPS
Possessor of the world's greatest hand off, this lightning quick player returns for yet another Varsity, hoping to score yet more killer tries. The biggest fan of 'Ever Never Have I Never Ever', this girl's sparse sportsnite appearance doesn't stop her being one of the best wingers there is. 
15 – Natalie Pendleton, 2nd year, Geophysics
UCLUWRFC's President struggles to form coherent sentences out loud, yet on the pitch her tackles speak for themselves. Sometimes mistaken for Bambi, this fullback has a perpetually cut up face due to her inevitable smashing of the opposing teams.
16 – Charlotte Stanbridge, 1st year, English Literature
Using her Northern grit and determination, Stanbridgo is all about strong defence and tackling. When she's not on a mad one in Dalston with her edgy Lit friends she can be found cutting serious shapes in Loop and pursuing her dream of becoming the world's first professional lineswoman.
17 – Emili Stevenson, 2nd year, SSEES History
Resident Tabber Emili can usually be found playing a highly tactical game and guarding rucks. Often seen in her uniform of overly tight shorts and obnoxious socks, she's one to keep your eyes on. Just for the love of god remember to lock up your sportsmen.
18 – Camille Monvoisin, 2nd year, ESPS
Having defected from Handball, Camille has shown time and time again that she can get down and dirty for a full 80 minutes in pretty much every position on the pitch.
19 – Mo Fox, 1st year, Geography
In a constant state of bewilderment, this fresher has torn up the pitch like nobody else. Her burning desire to be a taxi driver has lead her to question her decision to do a degree and she maintains that peanut butter is the best source of protein.
20 – Vicky Chan, Masters
Captain of UCLUWRFC 2013-2015, she has extended her education purely to play and win yet another Varsity. A fan of weather reports and destroying players two to three times her size, it's safe to say that Krum will be making an impact at Allianz.
21 – Linda Sou, 1st year, Ancient World
When Linda's not channelling her inner Nick Grimshaw on her radio show, at any of her friends gigs, or simply trying not to cut anyone else on all those edges, she can occasionally be seen on a rugby pitch. Her playing style enables her to slip under the opposition's radar and rack up the try count.
22 – Jocelyn Vega, 3rd year, Political Science
Hailing from Chicago, Vega shocked us all with her enormous tackles and blinding speed in her very first match against Queen Mary's. One to watch, she's most definitely never prioritised pulling over playing. ¿Qué onda, KCL?