The Tab Hits Harrods
If a Harrods Christmas is a bit out of your reach, Gabriel Pogrund has got your budget-friendly Christmas all wrapped up.
christmas
harrods
presents
shopping
With scarves out, mince pies lining the aisles of Sainsbury's and 611 hours left, Christmas really is just around the corner. December dawns as the annual scramble for presents threatens to vacate your already rather empty looking account. Yet, doesn't dad deserve more than a belt, the 'you're a mug' mug or Gary Lineker's latest vid' straight from HMV's discount shelf?
Luckily, The London Tab took a stroll down Old Brompton Road to Harrods, fawned over some extravagant items…and compiled this year's wish list of affordable alternatives for your convenience.
#5
This piece of Italian knitwear will set you back a £355! For a step down in luxury, get your mits on this chunky Primark sweater for a rather more pedestrian £18…
Your saving: £337
#4
Britons are set to spend £868 on Christmas this year. Save some hard earned wonga with this neat SportsDirect sock…erm, stocking. Is it not the contents that counts?
Harrods price: £45. Sports Direct price: £0.99. 
#3
This indulgent selection of limited edition Harrods chocolate truffles includes including salted pistachio and cinnamon praline flavours. It may fill your belly, but it will sure empty your account!
Instead, finish off Christmas dinner with a note of cocoa from Poundland. Cabury's Milk Tray is smothered in creamy milk chocolate and value. With £100, you could grab yourself two thousand of these bargain-price chocolates or a lonely eighty truffles from Harrods.
Your saving: 2500% per chocolate
#2
This Cruella Deville-style robe is so ghastly the £899 pricetag  has raised eyebrows galore at the Tab. Harrods says this morbid smock is "eminently wearable, a refreshing piece for Christmas cocktail dos". Hmm…
Again, look no further than Primark! This classy piece comes without the Claire's Accessories feather looking things and, of course, an extortionate outlay.
You save: £850 / your dignity
#1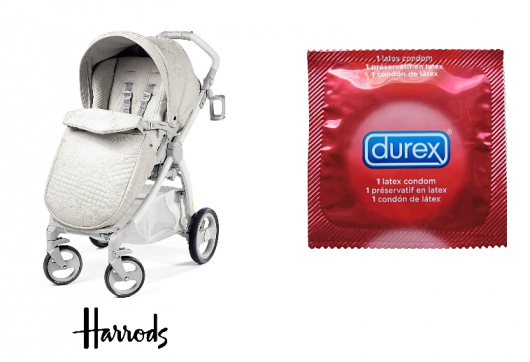 Did you know that with the festive spirit and mulled wine, accidental conception is 400% higher than average on Christmas eve? This agile Versace pram has 360 degree steering functionality. With quilted pillows and a lightweight chassis, £2700 is value for money. The Tab, however, has a slightly cheaper alternative for the time being…
Your saving: £2699.50
Hit the shops with this definitive list and you'll owe yourself a pat on the back and a pint come Christmas Eve. Have a mince pie on us.
Merry shopping!