The six best places in Lincoln to spice up your study session this deadline season
Don't worry, the library is not one of them
With less than two weeks of teaching left, deadlines due and dissertations to finish, it may be difficult to find the best place for you to study. The library may seem like the obvious choice but those brick walls can get a little boring from time to time.
Even though your uni accommodation may be your solace, it's understandable if you need an escape from the desk you see each morning as you open your eyes.
We rounded up the top six places in Lincoln to study, which does not include the library.
1. Minerva Building
The first pick is the building we all know and love. The Minerva building. Spacious and more relaxed than the library with its couches and partitioned booths it is the ideal spot to finish up your portfolio or finalise a group presentation. You can even take a break to grab a takeaway coffee from the 94 degrees cafe, or a toastie from Lindon's canteen.
Strolling along the Brayford, seeing the swans, is the right way to start a study session. With four floors to choose from and a balcony to admire the view of the city and of course Cathy D, why would you want to study anywhere else?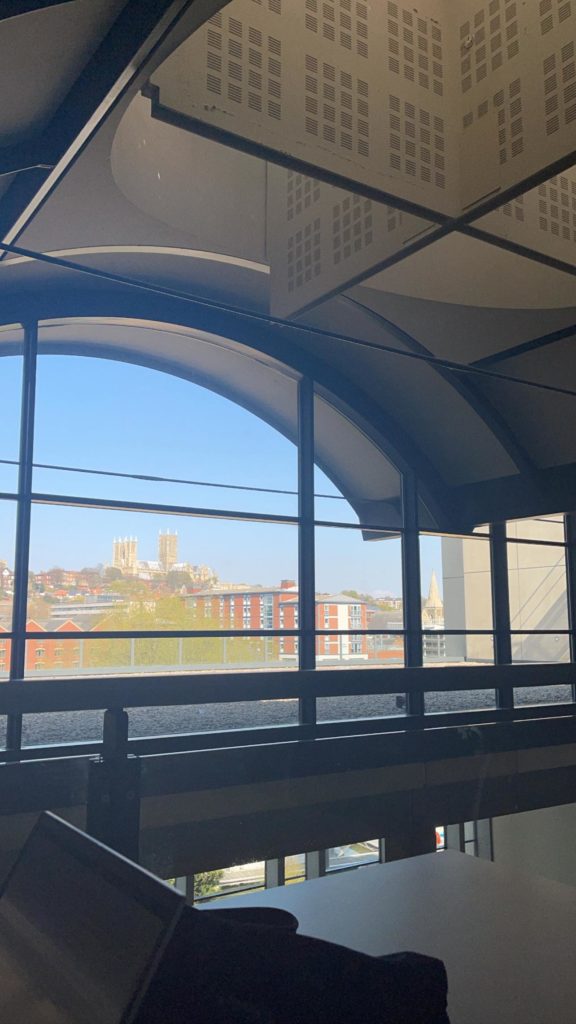 2. West or South Common
Lincoln has multiple green spaces. Whether your uni accommodation is closer to the West common or you, unfortunately, live in Sincil Bank near the South Common you will always be close to nature. Despite clear disadvantages, no wifi or electricity, if it's been a long week of gruelling studying stuck at a desk going to read for an hour or so under a tree in one of the commons is ideal.
For an added bonus you can watch the horses, runners, and dog walkers as you finish the final chapters of the book you've been putting off. You can even use it as an opportunity for an artistic Instagram study session photoshoot but make sure you stay focused and get what matters done.
3. Nicola de la Haye Building
Situated just before the LPAC and Engine Shed, the Nicola de la Haye is the perfect spot for those who have some work to do in need of a quiet space or a place to sit with their friends that isn't as crowded as the library.
Plus, the seats are quite funky and aesthetically pleasing, what more could you want?
4. Sir Isaac Newton Building
As the Sir Isaac Newton building is the first purpose-built building for the School of Engineering, its facilities for studying are endless and when you want to have a bit of fun there's a student made, remodelled 80s arcade Pac-Man machine.
Similar to Minerva it's spacious, making it a calm atmosphere to start an essay or chat with a course mate about a final project. Or just go and play Pac-Man because why not?
5. Alfred Tennyson Building
For those that need to access editing software, the Alfred Tennyson building is the place to go. Although, it is only 30 seconds away from The Swan, so try not to let the temptation of curly fries and a pint stop you from doing what you came to do.
Treat yourself after, but I get it. We all procrastinate.
6. Café Nero or 200 Degrees
Although you may have to wait until May 17th, the options will soon be available. Whether you fancy chilling at Café Nero or sipping hot chocolate at 200 Degrees, they are both the idyllic spot for a caffeinated fuelled lab report or a final read-through of that essay you have been putting off.
The bustle of Café Nero is perfect for a chat to de-stress after a rouge 9am and the peaceful nature of 200 degrees is inspiring for those starting assessments. When May 17th arrives I know I'll be first to grab a coffee, a friend and discuss how the year has been.
Some students find studying in the comfort of their own rooms more desirable, you have everything you need, you can talk to your flatmates for support, and there's no need for a face covering. Just try not to get distracted by what your neighbours doing or your flatmate's dance party.
Related stories recommended by this writer:
• A ranking of the BEST beer gardens in Lincoln based on their heating and shelter
• Here is every type of person you will meet in a Lincoln beer garden
• 12 ways to say you go to Uni of Lincoln without actually saying it