A ranking of the BEST beer gardens in Lincoln based on their heating and shelter
Or maybe just wait until May 17th x
English weather is unpredictable. Whether it's 25 degrees in January or hailing golf balls in May, you can never guess when it will be safe to venture out. And with Miss Rona destroying our inside drinking experiences (until the 17th of May!!!), heating and shelter are essential for a pleasant evening.
And what's better than a Lincoln Tab rating of the best beer gardens based on their shelters and heating systems for those cold summer nights when you are gagging for an ice-cold Strongbow Dark Fruits.
 Trebles – 8/10
Trebles is a staple to outdoor drinking, even pre-pandemic. For the price of a treble vodka Fanta Fruit Twist, I'd sit in the snow for this place. The shelter is good enough, there is nothing too special about it. The heating is your standard heat lamps, but they are only surrounding selected tables. By the time you're 3 trebles deep, you won't feel the cold anymore. A solid 8/10.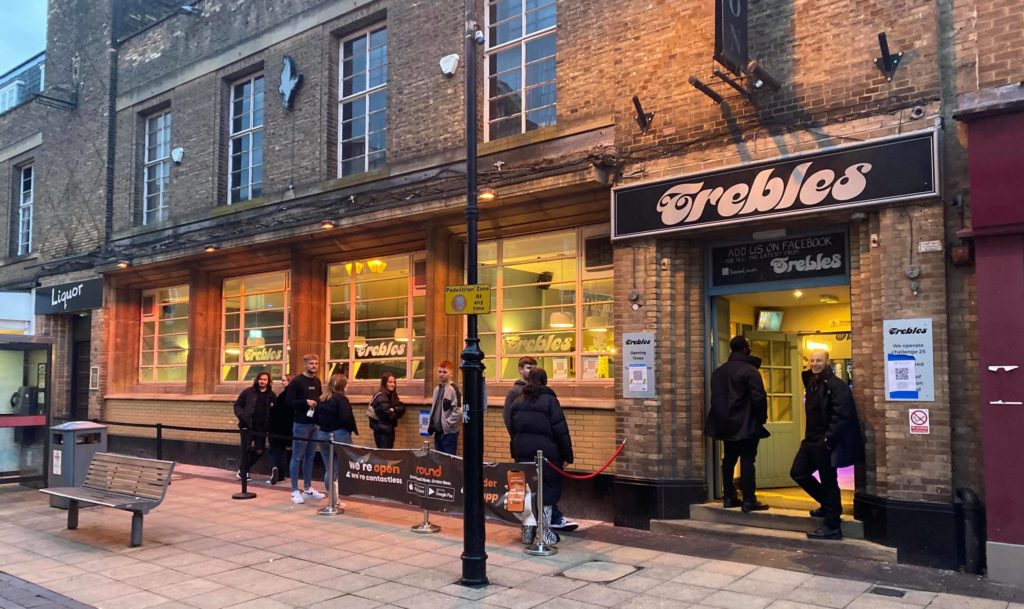 Towers – 5/10
Towers do have a few parasols dotted about the location but because there are so many tables, there just isn't enough to go about. If it rains, prepare to get a soggy bottom as there is nothing to protect you from the downpour. Or they may just close the entire venue, so be prepared to hunt for somewhere else for a Dark Fruits. There are heaters attached to the parasols but they don't radiate Ibiza sun vibes if you catch my drift. A respectable 5/10.
Slug and Lettuce – 4/10
Slug and Lettuce provides one of the best cocktail offers in Lincoln ( 2 4 1) but their shelter and protection isn't up there with the best. There are a fair few tables out in the open with no cover or heating, so if you get one of those tables… unlucky. Saying that, even if you were covered and right next to the heater, it isn't much warmer. But with a few cocktails in you, you'll warm right up. A humble 4/10.
Queen in the West – 9/10
By far, the best-heated pub in Lincoln. The Queen has a few 'pods' that are completely covered and are near a heating source. It is waterproof, windproof and warm! Even if you don't get into the 'pods', the rest of the seating area is heated and warm enough for those cold winter nights (I know it's May, ok). A solid 9/10.
Craft – 7/10
Craft has most of their seats and tables covered to protect you and your pals from the inevitable rain, but the wind and cold are still able to creep in. The heaters are good, and much like Trebles, they do the job. On a dry evening, Craft is a really pleasant place to have a drink and catch up with friends. When it gets a bit rainy, that is when things turn a little less nice. But that is the same with every outdoor venue. 7/10.
The Barge – 2/10
The Barge is a cool and refreshing take on the pub experience, with it being on the Brayford.  It is the perfect summers day, afternoon drinks setting, but with not ideal when it begins to hail down on you with the Lincoln weather we all know and love. Definitely a plan around the weather sort of vibe. 2/10
Lion and Snake – 4/10
The Lion and Snake is cheap, cheerful and a great place to mingle with mates. Each table has a parasol or umbrella but may not provide much assistance when the heavens open. Be sure to bring a blanket and neck a couple of pints and you'll soon start to feel the warmth. You also have to get up Steep Hill to reach Lion and Snake, so you'll be sweating by the time you reach the top and not much need for a heater. 4/10.
If you are umming and ahhing about venturing out on a greyish day, The Straight and Narrow are doing takeaway cocktails to drink on your travels. Or you could always hang on a little for May 17th to enjoy your vodka lemonade in the comfort of the indoors.
Related stories recommended by this writer:
• Here is every type of person you will meet in a Lincoln beer garden
• These are all the beer gardens and outdoor bars reopening in Lincoln on April 12th
• 12 ways to say you go to Uni of Lincoln without actually saying it