King's Ladies Lacrosse are ready to leave UCL in the dust
WhoCl? We know who our money is on
With the ferocity of Reggie and the prospect of post-varsity Margs on the cards, King's Ladies Lacrosse are raring to take home the win.
March 8th. 17:00. Honor Oak Park. Tickets out now. Available here.
Anna Timms – third year Medicine – Midfield (Captain)
Behind her painfully Surrey exterior our beloved captain has quite the temper, having been known to javelin her lacrosse stick when not best pleased. When not running drills, you'll find her running late for placement or stumbling through Guy's on a Thursday morning.
Favourite Place: Orpington.
Most used phrase: "My driver will pick you up".
Court Huston – Study Abroad – GK
Our "Last Yank Standing", Court is the most consistent and intimidating player on the team – even our attackers are too scared to shoot on her. Watch out UCL, her lacrosse abilities are not confined to the crease, catch her charging to the half way line.
Fallback career: P!nk Impersonator.
Fun fact: Brother founded the Mormon Church.
Millie Ward – MSc Genes, Environment and Development in Psychiatry and Psychology – Defence
Our ex-President and lifelong member, Willie Maud is a Varsity veteran. Ready for her 4th series, she is an expert at sliding into the D, although this self-proclaimed organiser of fun is not a fan of cradling balls off the pitch. 
Favourite Pastime: Traipsing through Asia.
Eternal Question: How many gaps years has she been on? 
Pascale Summers – third year History – Defence
After 10 years of lacrosse, Pascale recently discovered that a pitch is comprised of thirds not quarters. But do not underestimate this ditzy blonde, five marathons down she will out run every member of the opposition. But boys do not fret, Pascale always has energy left for the Men's 2s.
Likes: Sharking on a Wednesday.
Dislikes: Thursday Mornings.
Maddie Rolfe – fourth year Law with American Legal Studies – Defence
Always full of pep, Rolfe is our resident cheerleader. With an inability to be mean, even if she's marking you she'll probably complement your hair. If her accent doesn't wear you down, her lacrosse skills definitely will.
Fun fact: Maddie once appeared in a Mob Kitchen Insta story.
Favourite word: YAY (eye roll emoji).
Rayven Vinson – MA International Political Economy – Defence
"I just tried the Xtra Flamin Hot Cheetos from Mexico (not be be confused with the XXtra Flamin Hot Cheetos from the US), and I'm pleasantly surprised by the difference in the recipe. This is actually not as hot as the XXtra hot kind and the taste is more in line with the Flamin Hot Cheetos Limón. I have so many questions…"
Likes: Xtra Flamin Hot Cheetos from Mexico.
Dislikes: XXtra Flamin Hot Cheetos from the US.
Madeline Sibley – third year PPE – Defence
Maddie's solid defensive play will ensure no UCL player will penetrate the fan, yet her talents are not confined to the pitch. When not making up vicious lies about other members of the club, she can be found spreading them. Sibley's natural habitat is DC, recently solidifying her status as most loyal customer by extending her overdraft for a pint.
Biggest achievement: DC Challenge All Time Ladies Record.
Biggest fear: Having to go back to speech therapy.
Meghan Taylor – third year International Relations – Defence
Our resident 'Ranga's impeccable performance is sustained by a diet of snakebite and skittles. Ask her to dance and Meghan will wow you with the sprinkler, the lawnmower and shooting hoops. But on March 8th prepare to be wowed by her clean checks and swift slides. 
Biggest achievement: Pulled every bouncer at Guy's Bar.
Interesting fact: Once tickled by Ainsley Harriott in Amsterdam.
Holly Campbell – second year French and History – Midfield
Vegan.
Likes: Sam Wakeley.
Dislikes: GKT Football.
Jemima Tsang – third year Biomedical Science – Midfield
Great at faking both on and off the pitch (which comes in handy with the rowing boys), don't judge this smol bean by her height. Jemima's shots hit all angles: UCL's keeper doesn't stand a chance. 
Sensitive Subject: Women's first team Captaincy (there's always 2020).
Height: Five subways long.
Alice Devaney – fifth year intercalating in Medical Genetics – Midfield
Although this girl insists on wearing Birmingham stash head to toe, we all know she bleeds red. As a new addition to the team, Alice has more than earned her place on the Varsity squad. Whether she is making her teammates laugh or UCL cry, she'll be sure to mention that she's a vegetarian.
Favourite recipe: Tofu wrapped in facon.
Signature move: Both Butts Low.
Kat Willoch – second year Computer Science – Midfield
Otherwise known as the third Hadid-sister, Kat's long legs surpass Jemima's full height. Perfect for those midfield transitions, you won't even see her go past you. Computer Science by day, modelling by night; Kat's talents are endless.
Most appropriate description: Wholesome but will blowtorch your house in a fur coat.
Origins: Scandinavia?
Ines Hayward-Daventry – first year French and Spanish – Attack
Lovingly named Saskia 2.0, Ines has certainly left her mark on the team in her first year. Whether this being because of her bizarre antics on a Wednesday or her supreme shooting skills, she is certain to be a memorable member of the club for years to come.
Idol: Saskia Chiaramonte.
Fun Fact: One of only two people in the country who can eat swan.
Coco Hands – third year Economics and Management – Attack
Our self-appointed Queen of Mean, you will not want to cross Coco Hands on or off the pitch. When not playing dank lax, she can be found telling freshers to quit lacrosse. You will not like Coco and she will not like you, and that is not going to change anytime soon.
Will not admit: She misses John Keblish.
Likes: 18-year-olds in blue dresses.
Annie Nicholls – First year History – Attack
Annie is one of our most beloved Freshers and certainly made her mark on Tour 2019 (see below). On the lacrosse pitch and nights out alike, an aggressive and uncontrollable side to this seemingly innocent first year becomes instantly apparent. We're not sure who should be more scared: UCL or the student body in Guy's Bar.
Likes: Mancunian DJs.
Dislikes: Railway Arches.
Lizzy Willis – third year Nursing – Attack
Despite not being Black, Asian or Minority Ethnic find her at: www.bamemodels.com/portfolio/caucasian/all/1303092/lizzy-willis 
Signature Move: Crease Roll.
Current Number of Boyfriends: Seven.
Annie Berry – first year Postgraduate Medicine – Attack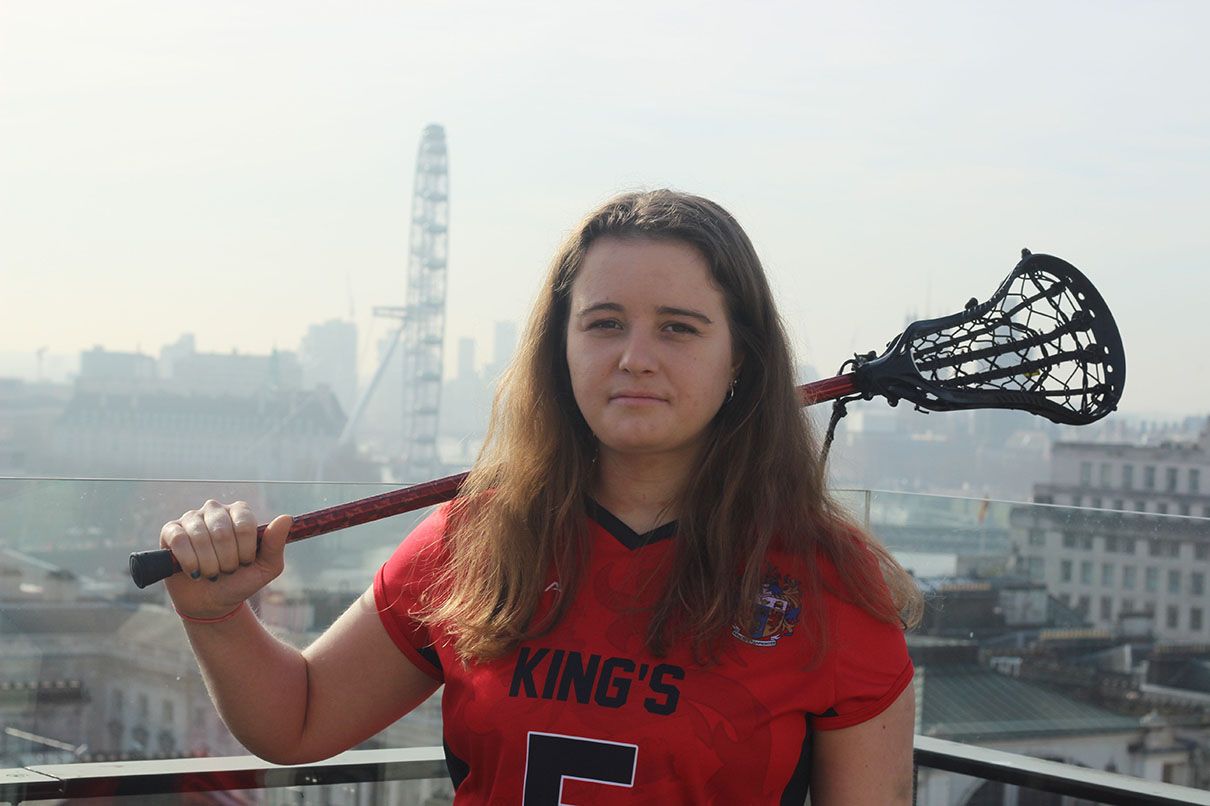 Durham's loss is KCL's gain. In stark contrast to most of the team Annie is utterly delightful. From swift interceptions to smooth goals, this girl definitely knows how to handle a shaft and balls.
Favourite Berry: Annie.
Favourite Annie: Berry.
Kerry Baird – second year Biomedical Engineering – Attack
Kerry might have only been playing lacrosse for two years, but don't be deceived by this blonde. She may be small, but she is mighty, able to take on any player on the field, whether that be a six foot rugby player in mixed, or a speedy UCL girl. Kerry's enthusiasm for lacrosse is not left on the pitch, with maximum effort (and many cardboard boxes) being used for every social.
Number of Welsh boys she brings home a night: Four.
Favourite Hobby: Chipping her teeth.