This fiesty Glasgow finalist, 20, is now the youngest MP in 400 years
She said: 'Smirnoff Ice is the drink of the gods – I cannae handle this cunt man'
Just two years ago, she was barely old enough to vote — now she's an MP.
Politics finalist Mhairi Black, 20, was elected last night as the MP for Paisley and Renfrewshire South, trouncing the Labour heavyweight Douglas Alexander, 27 years her senior.
She is the youngest MP since 1667, when the Duke of Albemarle, 13, represented Devon.
Mhairi has openly posted about how she "really fucking hates" Celtic and how Smirnoff Ice is the "drink of the gods".
Speaking in a voice which really has to be heard to be believed, she also made a speech about headbutting Labour councillors.
The SNP candidate took 23,548 votes compared to the former cabinet minister's 17,584 in a night of Labour massacre.
The triumphant Partick Thistle football fan said: "The fact is that people have woken up to the fact that Westminster has not been serving them and the Labour party has not been serving them.
"While I appreciate that this is a blow for Douglas Alexander, I truly hope he will remain to see his future in politics once he has recovered from this result."
When asked what was next for her, she said "sleep" and then "breakfast".
Mhairi still has to finish her dissertation by the end of the month so she can pass her degree — the title is "How the SNP's party structure has had to accommodate the influx of new members since the referendum, up from 20,000 to over 100,000".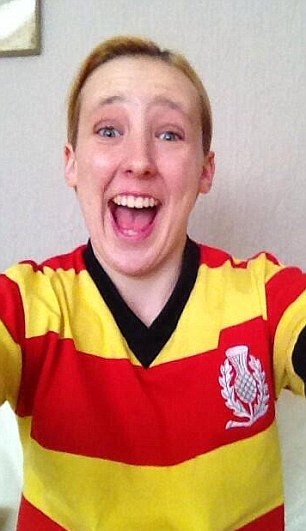 She was once caught on camera admitting she struggled to stop herself head-butting Labour councillors, who she claimed had provoked Yes voters in the aftermath of the independence referendum last year.
She later insisted she had changed her attitude towards No voters when she was challenged about her naughty language.
---
Mhairi's top tweets – now deleted
"Smirnoff Ice is the drink of the gods – I cannae handle this cunt man."
"Woke up beside half a can of Tennents and a full pizza and more money than I came out with. I call that a success."
"Ed Milliband is an unbearable tit"
"I've only just realised – I really fuckin hate Celtic"
"Celtic, yer a joke! #scum"
Last night, the SNP won 56 seats and Labour lost 26 as the Conservatives won a narrow majority.