Campus Style
We've been creeping round uni again to find everyone rocking their looks.
The weather has improved yet again this week with the temeratures feeling positively tropical.
We threw together a bunch of you who looked pretty damn cool.
Bethany, 19, Spanish and English Lit
Jumper: Got it for a fiver at Reading Festival
Jeans: Hollister
Cardigan: Urban Outfitters
Shoes: From a little shop in London
Bag: River Island
Martha, 19, English Lit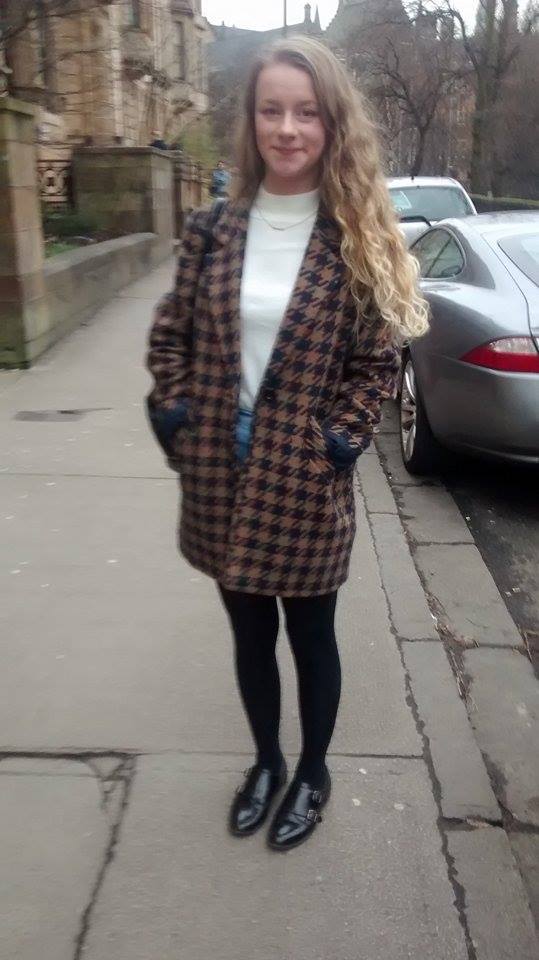 Coat: Miss Selfridge
Shoes: Primark
Shorts: Topshop
Jumper: Primark
Pavel, 21, Computing
Coat: From Vietnam, for 5 US Dollars
Jeans: Unsure
Shoes: Sports Direct
Capucine, 28, History of Art
Cardigan: Cos
Jumper: Cos
Scarf: Zara
Shoes: Nike
Leggings: Nike
Rae, 19, Comparative Literature
Coat: Charity Shop
Shoes: Dr Martens
Jeans: Her friends jeans
Bag: Peru
Joel, 18, Medicine
Jumper: Market in London
Shoes: Hotter
Jeans: His Mum bought them
Iona, 20, English Lit and History of Art
Shoes: Nike
Trousers: Topshop
Shirt: BBG Urban Outfitters
Vest: Miss Selfridge
Coat: For 10 quid from The Beatroot & Lace Bazaar Vintage Fai
Michelle, 19, Genetics
Coat: ASOS
Top: Primark
Shoes: Primark
Skirt: Ordered it from China
Bag: Primark
Dimitros, 21, Computer Science
Trousers: H&M
Shoes: A high end shop on Buchanan Street
Coat: Had it since he was a child
Sophie, 20, Psychology
Shoes: Her friend bought them from Topshop, but they were too small so gave them to her.
Skirt: Urban Outfitters
Top: Topshop
Necklace: Topshop
Cardigan: Her Grandma gave it to her because she thought it would suit her.