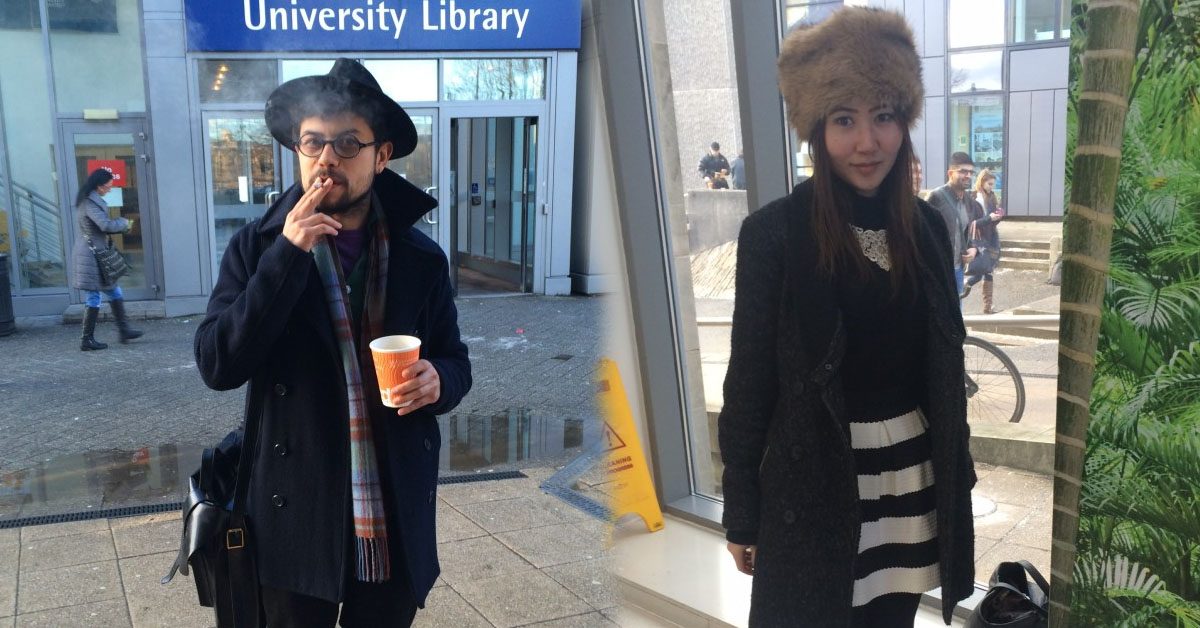 Are you a West End wanker?
You may find yourself there frequently or even live there, but how much of a west end wanker are you really?
Waitrose 
"Where I do all my food shopping!"- said no student, ever.
Waitrose has posh counters for fish, meat, and cakes. If you find yourself there rather than at the freezers of Iceland, you are a definite a west-ender.
Hanoi Bike Shop
Glasgow's first Vietnamese restaurant has tried to bring the far-east to the west-end, by making the questionable decor decision to hang bike wheels and screwdrivers from the walls and ceilings.
Found on the very trendy Ruthven Lane, a visit here is an impressive notch on your "west-end quiz" bedpost.
Ketchup 
Ketchup earn their wanky stripes by putting dishes on wooden boards, milkshakes in old glass bottles, and having fruit on display outside their restaurant for no apparent reason.
But despite these hipster attempts, even casual west-enders are likely to have visited here at least once.
Artisan Roast
Not just a coffee shop but a roastery (whatever that is), this café/bar on Gibson Street is a true hipster venue.
Expect to see lots of English students reading in the corner over a hot drink and slice of banana loaf.
Oran Mor 
Recognisable as 'the church with the hula hoop on its roof', this bar and restaurant is a west-end icon.
Often a last port of call when all other bars are shut, a popular stop for most west end wankers.
Hillhead Book Club
A restaurant /bar with an alleged "sense of humour" as on their menu they describe salads as "stuff from the allotment, the window box & next door's greenhouse".
Beneath all this "hilarity" they serve food and cocktails and occasionally host a BYOB event.
Warning: avoid if you suffer from OCD as the décor is on the quirky side and there isn't a matching chair in the whole place.
Vintage Guru 
Full of clothes, shoes and even hats probably last worn by your grandparents, Vintage Guru is a Mecca for hipsters everywhere.
Pretty expensive, but at least you won't have to worry about bumping into someone wearing the same outfit in Viper.
Cup Glasgow
When Tesco's £1 muffins simply won't do, Cup has scones and cakes on offer for those with a more sophisticated taste.
If spending £2.65 on a Ferrero Rocher cupcake named 'Ambassador's Delight' sounds like something you would do, the chances are you have visited Cup.
Viper
The club every west-ender loves to hate.
Well located on Great Western Road, Glasgow Uni students are sure to visit this small and sweaty venue at least once (a week) in the course of their degree.
A mix of music is on offer but a long wait at the bar awaits those visiting, with Monday and Wednesday being a definite hipflask night.
Unless you want to grow a beard whilst waiting for your vodka mixer.
The Grosvenor
Found on Ashton Lane, one of the West End's most famous locations, this cinema and restaurant tries to distance itself from the likes of Cineworld and Odeon by offering couches as well as seats.
Ingenuis.
An alternative cinema experience for the bohemians of Glasgow.
Oliver Bonas
Not immediately clear what they sell, but a £200 chair in the window gives an indication into the wankyness of this west end venue.
On closer inspection, they offer fairly expensive homeware, gifts and clothes.
Consider yourself very west-end if you shop here to accessorise your flat (or yourself).
And allow others to consider you annoying because you just spent £200 on a chair made of newspaper.