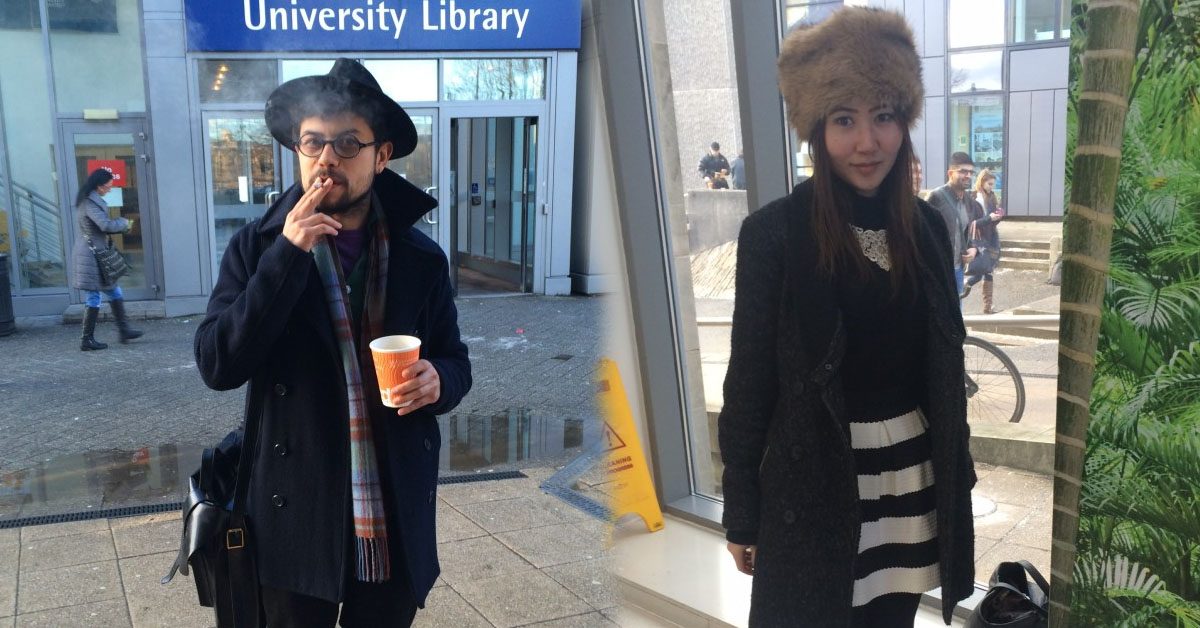 Campus style: Library Hill
Look at the pretty people in the pretty clothes
Look out Glasgow, the shitter version of the fashion police are back.
We've been stalking, begging and photographing the most fashionable students that happened to be on Library Hill whilst we were loitering there.
What with the weather being nothing short of neurotic at the moment, the name of the game this week is layers.
From snow to a balmy 5 degrees, these practi-cool outfits cover all bases.
Catroina, 20, English and Classics
Jacket: Next
Dress: Topshop
Jumper: T K Maxx
Shoes: Sketchers
Abraham, 27, Philosophy 
Hat: Paris
Scarf: found on a red light in Paris
Jumper: Mexican
Trousers: shop in Montpellier, in France
Coat: Fred Perry
Bag: Dr Marten
Anna, 21, Accounting and Finance 
Coat: Ellen Tracy
Jeans: Hollister
Shoes: Timberland
Hat: Norse Project
Rachel, 22, Sociology 
Coat: stolen from a colleague
Skirt: American Apparel
Top: Zara
Shoes: Urban Outfitter
Scarf: Primark
Bag: Sister's
Jessica, 22, International Banking and Finance 
Bag: Jansport
Coat: From China
Jeans: Topshop
Shoes: Office
John, 22, Psychology 
Jacket: his Dad's in the 90s
Trousers: Acne (a Swedish brand)
Shoes: Dr Martens
Robbie, 20, Business 
Jacket: Barbour
Scarf: Glasgow Vintage
Top: Topman
Jeans: Topman
Shoes: New Balance
Amy, 19, Accountancy 
Coat: Topshop
Scarf: Primark
Jeans: H&M
Jumper: Urban Outfitters
Shoes: New Balance
Chauke, 22, Economics and Politics 
Hat: Botanic Gallery
Coat: Mango
Top: Botanic Gallery
Skirt: House of Fraser
Shoes: Unknown
Guest Appearance: Johnny, 18, Pharmacy at Strathclyde 
Jacket: AllSaints
Jumper: GAP
Jeans: Levi's
Shoes: Vans