We spoke to people at Exeter's vigil against sexual abuse
'There was not just sadness, but anger and frustration at the impact sexual violence has on every woman's life'
TW: This article contains discussion of sexual assault. 
Huge crowds gathered on Cathedral Green on Saturday evening for a vigil in memory of Sarah Everard and Lorraine Cox. The event was organised by the group Exeter Against Sexual Abuse so that  people could "stand up against sexual violence and abuse experienced by womxn, especially those who are POC and from marginalised communities".
And gather they did. The entire green was covered in socially distanced groups who had come to pay their respects, bringing with them flowers, signs and candles. One attendee said that she was "moved by the incredible amounts of people there" who "made her feel like she wasn't alone".
The event had multiple planned speakers who spoke about sexual abuse and police violence, as well as offering an open mic. Speakers, many of whom were students, shared raw and personal stories about their experience with rape and sexual violence.
One spoke of how the police didn't believe her when she went to them for help. Another, through tears, sang a song about her experience with her rapist.
We spoke to India Dillon (@poemsbyindia), a student and poet who took to the open mic to read a poem about sexual harassment. When asked about the vigil she said "I think the way it was handled by organisers was so well done. It can be difficult to get the balance between sharing stories and honouring these women but also making sure we're still getting angry about it!
"And that tone was captured so perfectly. It was peaceful, it was respectful and it was powerful and I wish that everyone against protesting these issues could have seen the way this was organised.
"It was socially distanced, people wore masks – there isn't one thing you could fault it on.
"We created a community in one evening and I'm so proud of it. It was so eye-opening to see so many people turn up, and I just hope that lending the microphone to women has been hard-hitting enough to trigger the people who have the power to change things.
"She also stressed the importance of creating spaces that allow females and non-binary people to talk freely."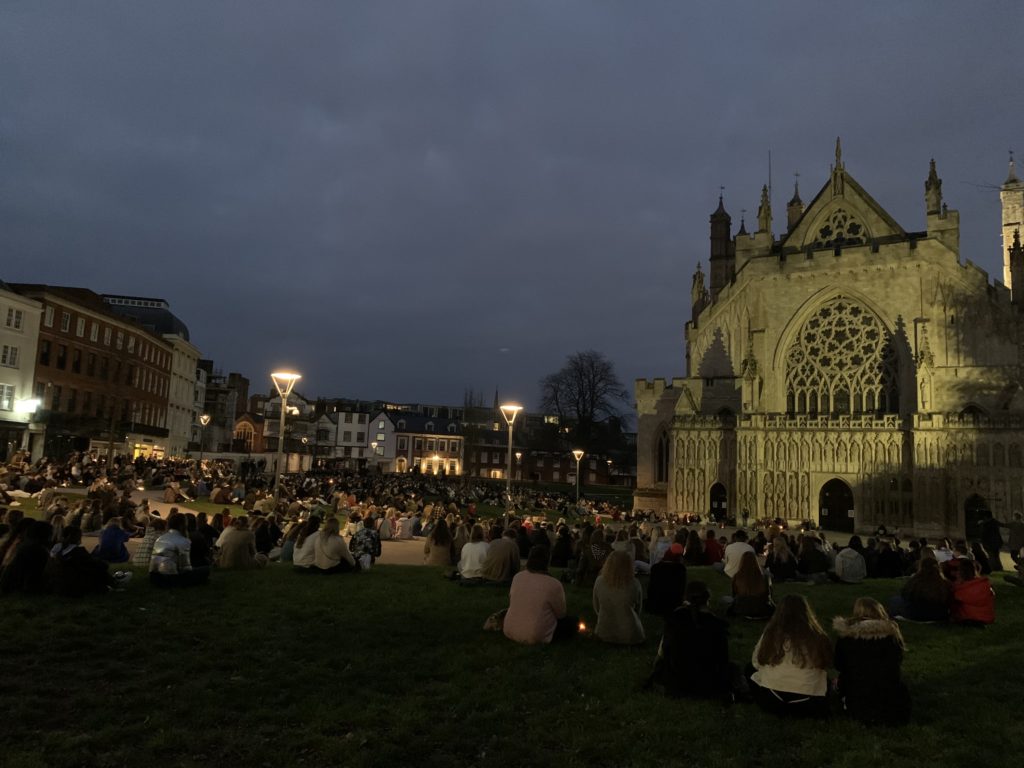 We also talked to one of the main facilitators of the event, who wishes to remain anonymous. They said: "It was an honour to assemble such an amazing community of people to come together and support one another.
"There was a domino effect of every speaker seeming to empower the next.
"There was not just sadness, but anger and frustration at the impact that sexual violence has on every woman's life."
They also told us how woman after woman has stories of being belittled by the police, and being told that their sexual abuse was just part of the experience of being a women.
"This community needs to result in radical conversations and structural change. If you are not standing up against the problem, you're a part of it."
Another speaker chose to acknowledge the horrific ongoing murder case of local Exeter woman Lorraine Cox: "I would just like to say two words: Lorraine Cox."
"I would say thank you to men but I should not have to stand here and thank you for treating us like human beings."
The Tab Exeter also spoke to students there to ask why they chose to attend the vigil and why they they felt it was important to do so.
One student reflected that: "Being men, exposing us to this situation, seeing how people are feeling, it's all so important. I didn't realise how many people would be here. Seeing everyone here, it really does encapsulate the wider feeling."
"It's more than obvious that it's a problem. My parents are really vocal about it, especially my mother. It's good to see how many people are here. Most blokes are pretty oblivious about it all. The main consensus is that men need to listen, it's something that men need to fix. It's not a women's problem, it's a man's problem.
"I'm a bit disappointed that there are so few men here. It's a massive issue with women in our society, but the men need to stand by them too. It's great to see everyone joining together."
Another student told us: "It's just nice to see how many people actually care. It's easy to forget how many people are there for you if something does happen.
"I'm here because I feel like staying silent is as bad as being the people who are the issue. The institution, everything, is the entire problem."
To read the poem India read out, click HERE.
Related stories recommended by this writer:
• On campus there's been so many assaults': We spoke to Exeter students Sit Down N Shut Up
• Exeter Uni 'liaising with police' following arrests after two sexual assaults on campus