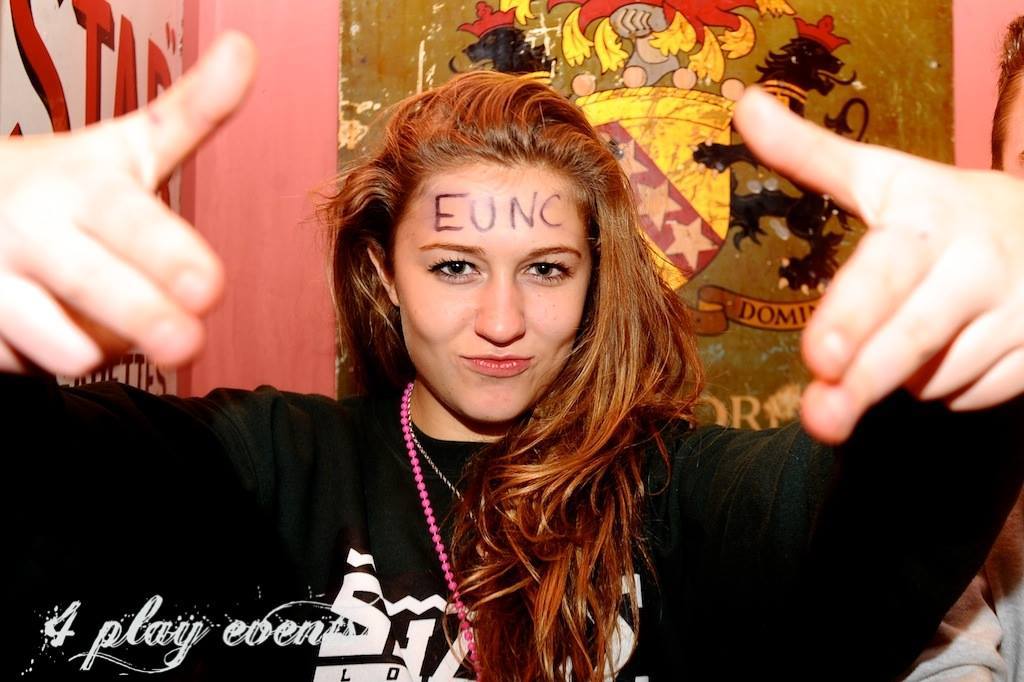 Meet the AU Captains
Sporty? Want to do something about it? Join a club and earn the respect and awe of your peers
AU
Exeter
football
Hockey
Netball
Rugby
sports
To kick off your Fresher's Week, we met the captains of some of Exeter's most popular teams.
You've probably seen them in the gym and on the pitch, demonstrating their excellent sportsmanship, whilst also showing off their superhuman levels of fitness.
They are the model athletes. However, there's more to Exeter's captains than just sporting success.
What's behind those chiselled bodies, what's underneath that Lycra- what it's really like to be one of Exeter's sporting elite?
And, most importantly, what really happens on tour?
Rowing – George Butcher
Hometown:
London.
Funniest moment from last season:
Maybe not the funniest moments, but one of the best moments would have to be our Christmas Dinner at the Thistle… Freshers getting drunk with alumni always has funny results.
Player to watch:
Jess Elkington is definitely a rower to look out for. She rowed for the British U23 team last year and this year is trying to get into the GB senior team – which is the Olympic squad. She almost broke a world record on the rowing machine last year!
We are the best team because:
EUBC is one of the best clubs as we have a lot of fun together because all squads, boys and girls, mix at socials and training. We are also all inclusive with any abilities welcome. We're also a successful team- recently winning races at BUCS, national races and we even picked up an international gold medal at the European University Rowing Championships.
Men's Hockey – Rory Collett
Hometown:
Dubai
Funniest moment from last season:
A toss up between the Club sending Jack Banister to Edinburgh after his abysmal game of fives or the fun and games of the summer boat party in Exmouth.
On both occasions things couldn't have worked out much better. 
Player to watch:
Keep an eye out for Tom Brown – a TP frequenter and stick and ball connoisseur.
If you're a Fresher and a lady it's more than likely you've had an encounter with him. 
It's probably also worthwhile being aware of Ali Williams, Vice-Club Captain and a particularly thirsty bloke.
We are the best team because:
We have 6 very successful teams, all of which play top level hockey.
We have had both Olympians and Commonwealth players within our ranks, whilst our sixth team play and win more often than not against other strong Club first-team sides.
Also, whilst our second-team have won their league multiple times, they cannot be promoted any higher due to EUMHC having too many teams in the higher top leagues.
All the facts speak for themselves.  
Men's Rugby – Ben King
Hometown:
Countess Wear.
Funniest moment from last year:
Varsity.
Player to watch:
Harry Ledger.
We are the best team because:
We are the biggest, burliest, booziest and best Club in the AU.
Men's Football – Magnus Assmundson
Hometown:
Barnes, London.
Funniest moment from last year:
From what I've heard they had a great time last year but unfortunately I was on my year abroad.
Player to watch:
I would have to say our false 9 Tony Yeates.
He's a skilful player who's got good vision going forward. Pete Beadle should get a mention too, he's our experienced centre-mid captain who likes to be everywhere on the pitch.
We are the best team because:
Football is the world's favourite sport, we won the most awards at the AU Dinner last year and no other club can attract as many spectators to a varsity game as ours.
Women's Hockey – Juliet Heyworth
Hometown: Stratford-upon-Avon.
Funniest moment from last year:
The girls on tour racked up an impressive pulling rate, with a certain fresher excelling (or disgracing herself) with a total of 100+ over 4 nights.
Player to watch:
The self confessed "banter sec" Frankie. Though she may have unfortunate average chat and terrible bolting, she makes up for it with her antics in Timepiece on a Wednesday where she can usually be located being escorted out by the bouncers.
Frankie occasionally dabbles in the odd hockey match, impressively progressing from the fourth to second team last season.
We are the best team because:
EULHC is the biggest ladies sport's  club at Exeter uni, with a huge present  both on the field and off – namely in Timepiece.
Netball – Ana
Hometown: 
Cambridge.
Funniest moment from last year:
Beating the football and hockey boys in the boat race.
Player to watch:
Ashleigh Jay as she's represented the England U21 this year.
We are the best team because:
Because no matter how late we get back from a match we always make it to TP – in costume!
Women's Rugby – Kate Alder
Hometown:
I live in Clevedon, just outside of Bristol.
Funniest moment from last year:
As you can imagine there are quite literally hundreds to choose from!
Salou, Bournemouth and Newquay 7s are always the social highlights of the year resulting in an abundance of hilarious confessions.
But the rules clearly state what goes on tour stays on tour! So the most I can give away would have to be a story involving a leek, a Welsh girl and Spanish border control…
Player to watch:
It would have to be our captain and fierce number-eight Clara Nielson.
Having already gained herself an England Under 20s cap, since joining Bristol Women's Rugby last year her skills, fitness and overall performance has rocketed.
You'll find her at every breakdown of the game, and at every single turnover you can put your money on the fact that it's the doing of captain Clara.
Having recently been selected as this years first team captain, I have no doubt that she is the one to watch.
We are the best team because:
Rugby is such a unique sport, one of few sports where you will put your body on the line for a team mate.
But from that comes a unique, family like bond that you don't find anywhere else.
At Exeter we play for each other, not with each other and that's what makes this team undoubtedly the best. (P.S. the outrageous tours and crazy socials also contribute..!)