What the hell is Spec Soc?
They're about as elusive as Alex Salmond's neck
Speculative society was founded in 1764 and has historic ties to the Uni. And yeah, that's from Wikipedia – they're a pretty big deal.
Spec Soc are a debating society that boasts Robert Louis Stevenson and Walter Scott among their alumni, as well as Scotland's most senior judge Lord Cullen.
In fact, due to close ties with lawyers, the society came under attack in 2003 when it was claimed membership constituted a breach of human rights.
Admission to the club is by invitation only, and these invitations are extended almost exclusively to law students – and men only.
They meet in black tie. They're older than the Bullingdon Club, so call them elitist wankers (even a tux from Matalan costs the equivalent of 35 VKs) pretentious pricks – anything you like – but not copycats.
They hold meetings in Old College, and we're never invited.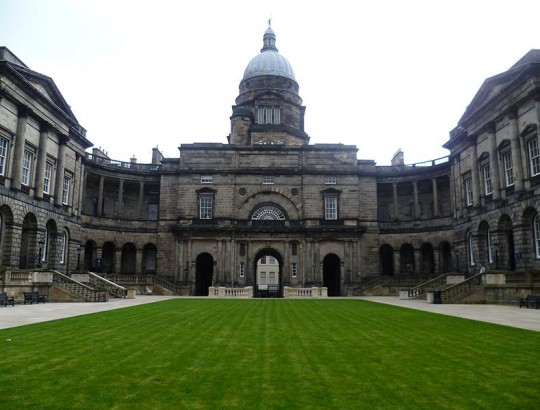 What we found out
With the Old College refurbishment under way, there's speculation surrounding the impact on the society's rooms.
A uni spokesperson confirmed: "The rooms used by the Speculative Society are not part of the Old College renovation. Therefore the Society is neither contributing financially to the works nor benefitting from them."
But this directly contradicts our own Head of Law School's claim that "the rooms which are used by the Speculative Society do not belong to the Law School nor do they belong to the university."
The gender requirements to join Spec Soc, it actually contradicts EUSA's "safe space" policy.
The uni said in response: "The review of the University's relationship with the Speculative Society is ongoing.
"The University is aware that the Speculative Society is hiring a room, but for commercial reasons we are unable to disclose any further details."
Should all-male societies be allowed to exist?
For all the suspicion surrounding Spec Soc, the most concrete reason we have to dislike them is their exclusion of women.
So, in a year that saw St. Andrew's Golf Club finally lift a 260 year ban on female members, we asked some of Edinburgh's finest for their opinion on all male societies.
Marc, a second year Business student at Edinburgh, had strong opinions on the topic.
"We have women running the country now, so they should be in societies too.
"Shut them down, it's 2014."
We asked Gary, a black cab driver from Marchmont, if he thought all male societies should be tolerated.
"No."
Time is money, after all.
Hamish (centre), studying Economic History and Business, and Jim (right), studying Economics and Chinese, simply don't give a fuck.
Hamish said: "A bit of misogyny's always welcome."
Their friend Claire, however – who studies History of Art – has a more balanced view.
She said: "There's always going to be an element of natural separation, as the two genders are clearly different.
"Women can have their own societies too so on the whole I don't see a problem with it."
Louise is a Classical Music graduate. She Handel'd the question quite diplomatically.
"I'm neither for or against them. I'd have to know more about an individual society before passing judgement."
Steph goes to Edinburgh University. We asked her the same question.
She said: "No."