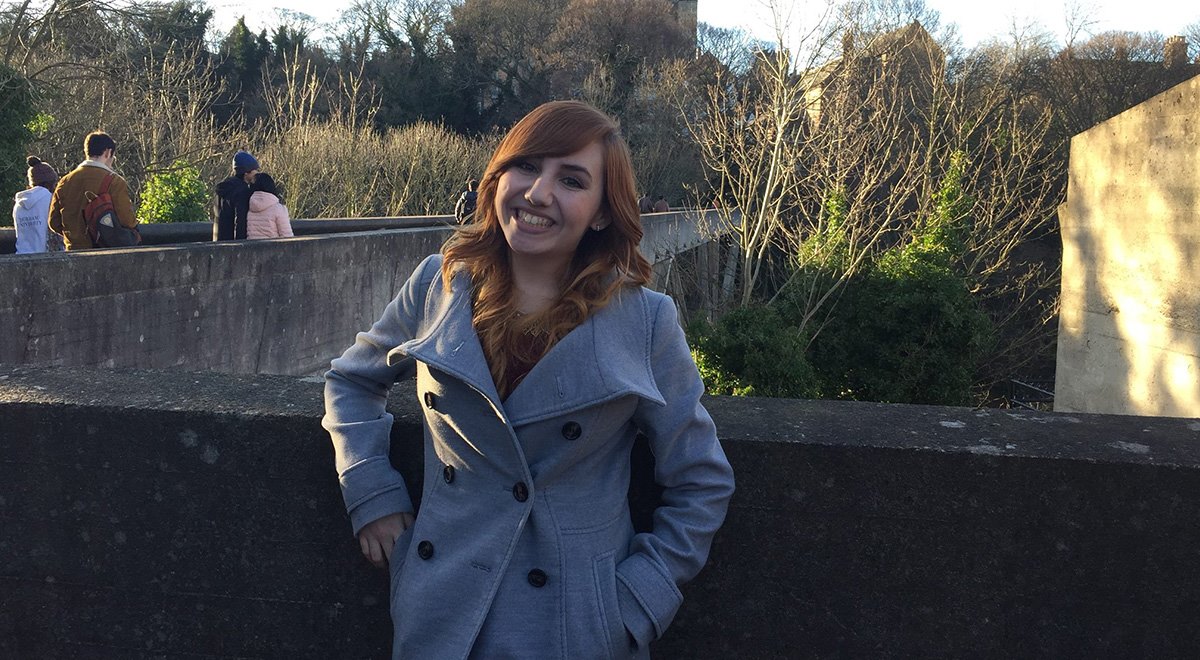 'Things must change': Jade Azim starts DSU campaign
'I'm telling them to piss off'
Jade Azim, a politics third year at Cuths, has kicked off her campaign with a fiery Tab interview. In the interview she revealed:
She wants to "shame" landlords into cheaper rents
Labelled the NUS a "complete waste"
Wants to change Durham through "confrontational" methods 
Proud Londoner, Jade, has launched an anti-Establishment effort to become Durham Union President. The role decides our voice on a national and uni level.
"I've got a diss to do, but the campaign is just two weeks." So says the political activist, and third year, Jade.
Sitting in the concrete DSU, she tells The Tab why she's running: "I'm pissed off. I went to get some concessions for my grant, that was delayed in second year, and the university basically told me to piss off.
"So now: I'm telling them things need to change." With a history of working for charities, Jade is currently a Cuth's loyalist. "I came to this because I want to change things, I'm angry about things, I never intended to do this but I want to see change so badly."
Threatening a massive shake-up, Jade Azim is leading a "confrontational" charge against the VC. The most expensive VC office in the whole country, Durham is also the third biggest spender on art.
"No student cares about those art exhibitions, so I want to see what to do with them. I want see the receipts. It's wealth accumulation when right now we don't have wealth to give.
"They're demanding they pay more for their accommodation; they're demanding the poorest kids get £1000 taken away from them at the same time maintenance grants are being abolished.
"I will make that case to the VC and his staff that these decisions directly affect poorer kids in Durham when they can't justify it."
Durham students may be mostly Tory, but Jade is Labour. She says: "I'm not leading a coup against central government. Tories have liked my Facebook page because they know what campaigning looks like.
"Campaigning gets shit done. And I'm a campaigner."
Like everyone else, Jade isn't a fan of the NUS. "They're complete waste. Things like the bloody Lib Dem fight-back bus, when they make national huge statements everyone just points and laughs.
"I'm not here for that – I'm here for the bread and butter issues, the real issues, that matter to Durham students."
Nervously asking "Can I swear?" Jade's beef with landlords is palpable. "We need to shame the landlords into reducing their rent prices. I want to publish a list of the best and worst agencies and hopefully that will make things competitive.
"They'll be shamed into reducing their rents or whatever and so forth. And obviously the landlords that come off worst will get the least business.
"I'm going to go around surveying different renters in different parts of town and in Stockton, and compile a list of best and worst landlords by area."
Jade say's people don't vote because they don't think things can change, and her central theme appears to be changing the union. A "campaigning President" may sound like an American political drama.
That's why Jade was proud to declare: "Bernie Sanders campaigns in America against the establishment. So yes I would like be confrontational in that way – just yelling at everyone. There's too much crap going on."