Tab Live Blogs: RAG Blind Date
Welcome to The Tab's Live Blog on RAG Blind Date, whether you've got major FOMO or want to embarrass your friends here is your port of call.
charity
Dating
fun
liveblog
RAG
Tab
We're always looking for funny stories and exciting dates so contact us on [email protected] to keep the feed going. Or tweet @tabcambridge . Or message our Facebook page.
---
00:27 Bye.
00:26 Retraction, Cindies looks really good.  Probably time to wrap this up.
00:24 But remember, it's all for charity. Someone, somewhere is benefitting from your bad date. We love you Cambridge RAG.
00:20 Post-blind date Cindies. Not particularly raging, suggesting that not many people actually made it there. Winky face. Either that or they're curled up in the foetal position on the floor in their room after a terrible, terrible night. Which would be more consistent with most of the stories we've had sent into us.
00:14 Getting in another bad blind date report. "She was very pretty but a bit boring." This sucks. Please. Something positive guys. We're only getting the bad stuff.
23:57 Contrary to previously stated information James and Rory are NOW going to the Van of Life and Cindies. Sorry. Live blogging will meet Tab TV in a violation of all previously stated rules of Tab journalism.
23:52 We've just been emailed about 50 screenshots of a super awkward blind date conversation. This is the first. Subject of the email is "My date was just cray". He says: "It started badly and we didn't end up going on the date." Poor guy.
23:46 The unsung heros of tonight are BLIND DATE LIMPETS.
23:43 At least you're not sitting in a room getting inundated by messages about shit dates.
23:38 Update on the sarcastic two people comment. Sarcastic two people comment comes not from it being as though there was only one person as she didn't talk but rather from the presence of MANY people, which seems to have peeved our friend.
"It was me, her, three guys, her friends, and a forty-year-old man (Does he even go to Cambridge? How is he part of RAG? THE PLOT THICKENS.) Sitting around a table freezing our tits off and everyone was 100% sober I literally don't know my dates (real) name."
23:32 Our source tells us she said four words in the space of 45 minutes. Which is even less than she managed to text. Our resentful friend tells us: "A date contrary to popular belief does not involve two people." We think sarcastically.
(A more pressing concern of course is the earlier part of the conversation. We're not asking for details.)
23:27 Was he a Republican?
23:21 Editor James and Deputy Features Rory heading to Van of Life and/or Cindies for quotes and anecdotes. Be there in roughly five minutes time if you want to be famous.
23:18 Update on Eiffel towering. Definition has been read out by Deputy Editor Molly O'Connor. Life not appreciably better than it was 30 seconds ago.
23:16 Update from a double date. They have skipped Cindies and reportedly engaged in a "foursome" and Eiffel towering. I am told by a number of people at once not to Google that. DO NOT GOOGLE. Keep your mind innocent.
23:14 RAG BLIND DATE SUCCESS. One happy couple spotted leaving Spoons hand in hand and heading back to Magdalene.
23:13 Lipstick on point, coat even more so. Nice, Olivia.
23:08 Xavier's roommate James is being incredibly useful and standing by his promise to send in a large number of photos. Comes with the following assurance "She's intentionally looking sad! She's not actually sad." Well.
23:03 The Tab, as said before, takes a firm pro-Tilly stance, Tilly being stood up by her date earlier in the night. (Sorry Theo, it's not personal.) Tilly has also just emailed in with her grateful support. We're also bored and running low on material so we did this for you Tilly. For you.
22:57 JUST IN. WE HAVE A REPORT OF A BLIND DATE DINE AND DASH. These people are bringing shame upon a charity event. FOR SHAME.
22:55 Update from Tab contact: "Discovered my blind date's ideal job: courtroom artist." Great chat.
22:54 Coke? What kind of coke?
22:52 Just in. There have been at least two success stories in Cambridge tonight. TWO.
22:50 Bad thing? Good thing?
22:48 Tab condoms packed into bag again.
22:47 It is sinking in to us that the below statement makes very, very little sense. Quality of roving reporters rapidly declining. Possible intoxication.
22:45 Ellie (roving reporter) has seen a couple go off and buy chips together at Gardies. "They crash into the wall. It's very obvious who is going to have sex. They hijack a bike and ride it off together and then try and ride each other."
22:41 The Tab is introducing a new welfare system in response to your wildly successful dates. Email [email protected] if you want any.
22:37 Another blind date has given her date a biological description of a newt projected on the Senate House. "She's a bionatsci. They have no bones."
22:34 A blind date who was told TO HIS FACE last Michaelmas that he was "the worst date in the world". His current date has now left him on his own to drink a pint and go to Cindies with no friends. Harsh.
22:32 Our roving reporter, Ellie Olcott, has spoken to the official Big Fish Ents reps at Cindies. They say people are more awkward than last year, they're drinking more VKs and listening to music. People are sweet tonight.
Last year on RAG blind date night, the first couples out of the doors went at half 11 (to start copulating). Couples are filtering out earlier tonight.
22:30 Xavier, here, taking over very briefly to point out that the below contribution from Charlotte Ivers is almost certainly not an update on a real RAG blind date (seriously, the Union?) and almost certainly a cynical ploy to perpetuate her personality cult by contributing to this feed.
22:23 Raniyah and her date.
22:20 Olivia's date claims to have eaten 100 Nandos chickens in his life and owns Nandos stash. Not sure whether she thinks this is a good thing or not.
22:17 If you have stories or pictures you'd like to share, send a message to our Facebook page or tweet us @tabcambridge".
22:14 Update from BNOC #1 (Chivers) "William (BNOC #31) here has taken his lucky blind date Leyla on a behind the scenes tour of the Union!"
22:12 Alex's date is 10 minutes late. Fortunately he has a penchant for bamboo. All is well. He informs us that he is OKAY.
22:09 Blind dates in MacDonalds have found love over big macs. They "found the harsh white lighting in there and banging disco to be particularly sensual".
22:07 A poor guy has been left waiting for more than 40 minutes as his date went back to 'get her ID'.
22:05: An attempt to keep The Tab on Team Theo has been emailed to us "He is a most excellent gentleman who happens to transcend the sexualized silliness of undergraduate girls. His ditched date should learn her lesson."
Molly says "Anyone who is that intimidated by cocks probably has a tiny one."
#TeamTilly
22:01 Update from La Raza, with two guys drinking Long Island Iced Teas "I do land ec, do you want to plough me?" If you want more subject-related chat up lines, check out The Tab's suggestions.
21:58 A beautiful moment – she had blue hair, dyed especially for the date. He specified he wanted someone with blue hair. She bribed for a Tab journalist and ended up with Shamir (she got one).
21:56 Almost got a free meal from Spoons
21:48 In case anyone was wondering, Girton's headliner is Tinchy Stryder – no doubt he's no longer her "number one" then.
21:46 Overheard in Spoons "Wavey garms and wild chat on my date".
Tab HQ is confused by the concept of "wavey garms". According to Google, "Wavey Garms is a Facebook group set up for users to sell new or vintage streetwear clothes. Est.19 Mar 2014″.
21:43 Freddie Dyke has provided an "alternate way to spend the evening…"
21:41 Ta Bouche is packed
21:40 Pre-date field report "Date starts in 20 mins although she said she could only do half an hour…. My magic takes a lot longer than that to work."
21:28 A girl was impressed when her date divulged the Girton Spring Ball headliner until finding out via the group chat that this information had already been formally released.
21:23 After a treacherous journey, countless hashtags and a (seemingly) endless search, finally love has found Killian.
21:21
21:19 Awkward Rag Blind Date update about a stood-up guy who "Got the EXACT same blind date as last year (by pure coincidence/laziness) and the girl is convinced I've bribed for her/is a stalker. She has refused to turn up."
21:16 RAG President has NOT been stood up! She's met her date and he's apparently "super nice".
21:15 Olivia and Alex about to head off to Ta Bouche after two rounds at La Raza.
21:10 James is about to head out, looking "cool and date-ready" (direct quote).
21:06 The Tab may reverse the firm anti-Theo stance we took at 19:55 as we've received an apology from his friends on his behalf:
"There isn't much we can say in defence of our best friend Theo, but we're going to try. We think the ejaculating penis was very artistic. Unfortunately our dearest friend Theo did not rate the masterpiece but perhaps it placed undue pressure on him which brought out his shy and demure side. Do not be disheartened, dear Tilly, while Theodore might literally mean gift from God, it seems he was not a gift intended for you. Theo just doesn't deal in the reward of (unprintable extract from Tilly's form) but we trust you'll find someone who is a 10 some day. #teamTillyandTheo #maybeoneday "
20:58 Someone is (hopefully) getting lucky.
20:55 Update from The Tab HQ: Molly, Josie, Jay and Shani blogging. If any single men have been stood up/are looking for dates, please come join us.
20:47 La Raza. According to a secret Tab source, "The vibe in there is very tetchy and the awkwardness is palpable".
20:44 Olivia Sinclair tells us "My blind date is already postponing me". Apparently, even being RAG President doesn't guarantee you a good date.
20:43 Cecily from Clare and Tom from Christ's have just hid the complimentary olives they got as they hated them. Cheeky.
20:42 If your date's name is Einar, he just got to La Raza, is waiting for his date and is excited.
20:36 Forgot to get a form? It's not too late.
20:31 Miles from Pembroke and James from Tit Hall are having a great time at 2468. They've been there for an hour and a half.
20:28 First success story.
20:23 A (hopefully successful) date begins at Trinity Great Gate.
20:20 Update about the tragic story we brought you at 19:45. A source has emailed The Tab saying the RAG rep "asked for the selection of Jesus forms and chose (his date) himself…I can confirm (his date) is currently in the library so he is indeed working."
20:16 Shani and Jay taking over with a drinking game in case your date is going badly:
19.55 The Tab takes a firm pro-Tilly, anti-Theo stance. Seriously someone save her from a lonely Tuesday 16 February.
19.53 Literally the most horrific thing has reached us. Gimme a tick to upload. Disaster in The Tab lifestyle inbox.
19.45 Word has reached The Tab of an incredibly tragic RAG story. One RAG rep, who shall remain unnamed, had his date withdraw two days in advance of blind date with the excuse that he had "too much work". Without wishing to speculate (although we are) The Tab fears that said lonely heart is the victim of his own university-wide notoriety. Please send us in some positive stories. We need them so, so badly right now.
19.30 We can now reveal the name of the nameless, mystery dateless man with the dating agent: His name is Kilian. #findloveforkilian
19.25 WILL SOMEONE FIND THIS MAN A DATE? The Tab now has a new campaign.
19.20 James here, taking over from Francesco and Anna, who are wisely leaving just before the dating rush hour begins.
19.13: A 21st century date if we ever saw one (from your editors)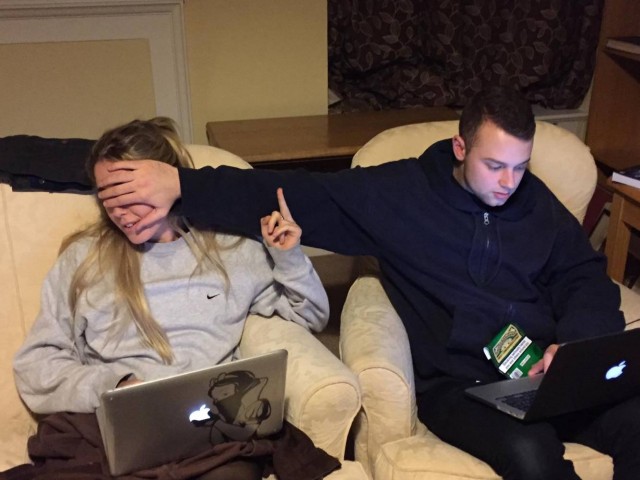 19.02: Desperate times resort to last year's content
18.45: Came across these nifty RAG deals for the frugal (stingy) among you:
The Maypole – 50p off all beers and a special RAG Cocktail
Tabouche Cambridge – Happy Hour all night, with cocktails for only £4.50
The Granta – 3 for 2 on large glasses of Rioja/Chardonnay all day, Sandwich side and drink for £7.95 before 5pm, 2 steaks and 2 desserts and bottle of house wine £29.95 after 5pm, Burger & drink £10.95 before 5pm
Ballare – £3 entry with your form
18.40: Is this over yet
18.39: That rhymed
18.38: Sudden realisation nobody is on a date at 18.38
18.23: Francesco and Anna reporting from RAG HQ – with absolutely no material to report