MAY BUMPS 2013: LIVE
LIVE blog updates of the final day of May Bumps, brought to you by JACK ANDERSON.
Cambridge
colleges
may bumps
river
Rowing
Welcome to our LIVE coverage of May Bumps.
Over the next four days, we'll be tweeting and texting from the river to give you up to-the-minute coverage of the entire event. Build up, in-race info, comments and analysis, it's all here.
To get involved, tweet @TabSport or use the #MayBumps hashtag, email [email protected] or comment below.
And you can also listen to live commentary of every race with our partners, CamFM.
—————————–
18:15 Well, that's it for the 2013 May Bumps. It has been an unforgettable ride full of excitement, drama and controversy. Many thanks to my colleagues who have joined me this week particularly Will Pithers, Christopher McKeon, Josh Kay and Molly Byrne. Thanks again to CamFm for their excellent coverage over the past four days. Finally thanks to everyone who has visited the site. This is Jack Anderson signing off, see you next time!

18:05 Big congrats to Churchill who have taken the Pegasus Cup for the best overall movement across all boats.
18:03 And here are those final results:
17:57 And that's that for May Bumps 2013! Very exciting race there, confirmed results to come. Congrats again to Caius for regaining the headship from Downing.
17:55 Clare and Kings are still battling it out. No confirmation on the bump yet. Just finished with around half a length between them. Clare hold off Kings, so no blades for them.
17:53 Peterhouse M1 gain blades by bumping Homerton. Fitz look likely to row over and avoid Spoons, but that gap is growing between Kings and Clare. Blades looking less and less likely every second for them.
17:52 Kings are just a third of a length from their Blades, but Clare are holding it at the minute.
17:51 LMBC have bumped Jesus. Congrats to them. Pembroke have just bumped Queens.
17:49 Big battle between Jesus and LMBC. So close between them to. Pembroke are just about to bump Queens M1.
17:48  So close now between them. And there's the bump! CAIUS TAKE THE HEADSHIP. Downing concede the bump and Caius are delighted.
17:45 We're away and the two front boats are away incredibly fast. Big gap between them two and Jesus behind them. Downing are keeping the gap from Caius at the minute, currently around 3/4s of a length.
17:45 Also should be interesting between Clare and Pembroke who have bumped each other twice already this week.
17:44 A minute to go, huge excitement surrounds this race. There have only been three headships of the river over the last decade, and Caius have had it since 2011. Huge race here.
17:41 Further down the river, Kings M1 are the only boat still on for Blades, while Magdalene and Fitzwilliam are both still on for Spoons. Jesus will be hoping to avoid the bump from LMBC to keep third spot, but it seems unlikely that they will catch the excitement ahead of them.
17:39 Meanwhile, Downing have said that if they retain the headship after today's race then they will burn their boat in college as a celebration. Apparently the Downing Porters have said they will help. Should be a massive clash. Five to go now.
17:38 So Caius have been head of the river since 2011, and have rowed beautifully all week. But they were bumped yesterday after the rudder fell of their boat, allowing Downing to take the headship from them. But Caius have a plan to demonstrate their dominance on the river. They are apparently planning on catching Downing but not bumping them straight away. Instead they are going to row next to them for a while "for the banter". Poor sportsmanship?
17:35 10 minutes to go until the big race and some info about the Downing/Caius battle for the headship of the river has just reached us. More on that in a second.
17:29 15 minutes until the climatic final race of the 2013 May Bumps. Here's how M1 finished yesterday:
17:24 Yep confirmation on those results below. So Blades for Peterhouse, Double Blades for Clare and Spoons for Pembroke. M1 up next at 17:45.
17:19 A load of congratulatory messages have come in for Clare. Here's one from Trisha Greenhalgh on the Twitter: "How splendid. Clare College 1st Women's Boat Head of the River for the 1st time in history. Alumni women are #proud @ClareCollege #Maybumps"
17:17 Provisional results here, loads happened in that race. Confirmation as we get it.
17:07 Jesus row over to drop to third this year. Peterhouse are bumped yet again, that's Spoons for them.
17:05 Christs managed to bump up here, avoiding Spoons and preventing LMBC from achieving Blades. More bumps to confirm but the big story here is Clare's success. #YellowFire
17:04 Peterhouse bump up on Tit Hall to secure blades! Well done Peterhouse. That bump on Downing mean that Clare have achieved Double Blades this week: for taking the headship and for bumping every day of the race. Huge achievement for Clare, congrats again.
17:02 CLARE HAVE THE HEADSHIP. Clare have bumped Downing and take the headship of the river. Congrats to them. First and Third W1 bump up on Pembroke W1
17:01 Downing now only have a third of a length over Clare with half a mile left of the race. Less than a quarter now. Downing are pulling across the river.
17:00 We're underway and Newnham have just been bumped by Caius. Clare are closing on Downing fast.
16:57 TAB EXCLUSIVE – MESS AT THE RIVERSIDE. One of the portaloos has fallen over down by the river.
16:55 Five minutes till W1 begin. Who do you all fancy for Blades? Will Christs be bumped yet again? Can Clare catch Downing to take the headship of the river? We'll find out in the next ten minutes.
16:50 Some quality photos from our partners over at CamFM from today's racing. Remember you can also listen to live commentary of every race with them.

16:45 15 minutes until the W1 division gets underway, and here's how it starts after this week's racing:
16:43 As well as Clare W1, Lady Margaret and Peterhouse are still on for Blades today, whilst Christs will be trying to avoid the dubious honour of Spoons.
16:39 The next race due up is the W1 division at 17:00. We will bring you the line-up in a couple. Downing have looked very strong all week and seem to be sure to keep the head of the river, whilst Jesus W1 will be looking to get revenge for yesterday's bump by Clare who are still on for Blades.
16:38 Just had a word with out resident weatherman and he's backing this sun to stay around for the last couple of races today. Cheers Johnny
16:35 Thank you very much to Will Pithers for quality coverage of the lower races. This is Jack Anderson taking over for the last two races of the day. We'll have all the build up for the W1 and M1 divisions. Apologies again for the technical problems before, was definitely the rain's fault.
16.29 Here they are – the M2 results at the end of May Bumps 2013:
16.22 Confirmed results coming up imminently, courtesy of our wonderful partners at CamFM.
Correction on the M3 results, btw: Emma M3 actually bumped up on Robinson M2, rather than getting rowovers as the results show.
16.20 Lovin' this, plenty of bumps in this race!
16.19 Oop, correction. Darwin M1 and Wolfson M1 have pulled in – so it looks like the latter have bumped up on Darwin on this final day.
16.18 The bottom three boats look like they're rowing through without any bumps.
Queens' M2 confirm a bump on Jesus M2. That's Blades for the former.
16.17 Downing M2 have pulled in – so it looks like they've been bumped by Eddies M1. That's Spoons for them. Uh oh.
16.16 Christ's M2 confirm the bump – that's Blades for the boys in blue!
Towards the top of the division, Selwyn M1 have bumped Tit Hall M1. Churchill M1 look like they'll have a simple row over this afternoon, then.
16.15 Christ's M2 are gunning for FaT M2 – clash of oars on paintwork there, I'm hearing. Looks like this bump is imminent.
16.14 Caius M2 bump up on LMBC M2! Highest men's second boat on the river this year. That's how we do it. Come on guys.
16.13 Hughes Hall M1 bump Pembroke M2! Great early move by those guys.
Wolfson M1 also concede to Darwin M1.
16.12 Caius M2 are making an early move on Maggie M2 – good lads. Ditto Christ's M2 on FaT M2.
Queens' M2 bump on Jesus M2 looking imminent.
16.11 T minus one minute.
16.07 Should be an interesting race, this one, with three boats – Hughes Hall M1, Queens' M2 and Christ's M2 all going for Blades.
At the other end of the scale, Downing M2 and FaT M2 will be doing their utmost to avoid the dreaded Spoons. It's crunch time, boys.
16.06 Here's how the crews line up prior to the final M2 race of this week's May Bumps:
15.55 M2 coming up at 4.15pm. Stuff's getting serious, so get involved.
15.43 Better give you all a rundown of the results from today's earlier races – that's M6, W5, M5, W4 and M4, W3, M3 and W2. They are as follows:
15.41 Right. Apologies, readers – serious technical issues this afternoon (blame the rain? can we do that?) meant that we have been unable to blog the final day of May Bumps. BUT we're back – and just in time to see the third, second, and first division races.
Judging by the weather, we're assuming you've all decided to stay home this afternoon: a wise choice. Keep up to date with all the action from the dryness of your living room – we'll be here until the very end.
We're excited, and we hope you are.
—————————–
Day 3
19.57 Okay, I'm outta here. Thanks for joining us today. Check back at the earlier time of 11am tomorrow morning for the final day of May Bumps 2013.
19.53 Final results then after that super dramatic M1 race:
19.47 Further row overs for LMBC M1 and Catz M1.
19.46 Girton M1 row over the line just ahead of Homerton M1, so the two of them record row overs.
19.45 More info on Caius M1 and the reason they bizarrely rowed straight into the bank: their rudder fell off, and they lost all control of the boat. So a gear malfunction has meant that Caius have lost the headship as Downing sailed through.
19.43 Pembroke M1 have bumped on Clare M1 – who must have just missed out on a bump on Queens'. That one was close.
19.42 Past the railway bridge, Maggie M1 are under serious threat from Catz M1 – just a quarter of a length between the two boats.
19.41 Further down the revision, though, there are a number of tussles hotting up.
Homerton M1 look as though they may have bumped up on Girton M1, whilst King's M1 confirm that bump on Christ's M1.
19.40 King's M1 have overlap on Christ's M1 coming into the long reach.
The other top boats are looking strong, so no change there.
19.38 Peterhouse M1 have bumped up on Magdalene M1, so Churchill M1 will probably have a very lonely row through to the end of the race. They will remain the sandwich boat going into the final day.
19.39 Things getting back to normal in the middle of the river, as most of the boats row solidly.
19.36 Oh my god. Caius have driven into the bank. Trying desperately to recover – thankfully Downing M1 are also fucking up.
This is mayhem. Caius are still on the bank – but Downing have gone past them and that'll be a bump. This is incredible?! This lot have been untouchable for three years. I'm devastated, naturally.
19.35 Interesting to see how those bizarre incidents will affect this race's proceedings. Kicking off very shortly.
19.32 Here's how the crews line up:
Apparently the Downing bow caught a crab on the way up to the start line. Laughter from the fans. Love it.
What's more, LMBC M1 (somehow?) managed to row into the BANK on the way up. More laughter. Wonderful.
19.22 Final race of the day – M1 – coming up shortly. These guys are strong. Top 4 boats have been non-movers all week.
19.05 Final results from that thrilling W1 race. I'm told that the Jesus W1 boat were inches away from bumping up on Downing W1, before Clare W1 caught them with 5 metres to spare.
It'd be a huge story if Clare W1 were able to rise from fifth to the headship this week!
19.01 Epic. Clare W1 bumped Jesus W1 "on the line" – literally, two strokes to spare. Incredible stuff. JFK totally justified.
19.00 The sandwich boat, Churchill W1, have just secured a bump Magdalene W1 – and their support is huge from those supporters watching on the bank!
Plenty of boats above them pulled in to the bank – so there appears to have been numerous bumps in this race.
18.59 Huge overlap between LMBC W1 and Christ's W1 – and we're expecting a bump very soon.
Massively close at the top: half a length between Downing and Jesus, and the same between Jesus and Clare.
The CamFM commentator just quoted JFK. This is too much.
18.57 Girton W1 have just been bumped by Peterhouse W1!
18.56 Jesus W1 are working incredibly hard to shut down Downing W1, but the league leaders are very strong and are holding them off well.
18.54 Further down the table, FaT W1 are being closed in on by Christ's W1.
Emma W1 have a confirmed bump up on Newnham W1.
18.53 Clare W1, though, took the first corner well, and are gaining well on Jesus W1.
Early bump on First Post Corner, by all accounts – think it could be Caius W1 on Pembroke W1. We're smashin' it. The Pembroke cox is apparently furious, 'cos their crew had had such a brilliant start.
18.52 Jesus W1 are making an early move in on Downing W1, and having got very close to  them yesterday, the Jesus girls will be looking to make the bump today.
18.50 W1 kicking off a bit early, so eyes in, readers.
18.41 A little under 20 minutes until the start of the women's first division race. This is how the crews look after an interesting day yesterday:
18.38 W1 on the way next. Before then, check out this cheeky Vine from Sir Cam. If you're on Twitter, you'll know him. Love this!
#MayBumps #Cambridge Day 3 https://t.co/QnNwyLAgFh

— Sir Cam (@camdiary) June 14, 2013
18.20 Robinson M1 did hold off LMBC M2 despite a massive overlap – they were made to fight until the very end, though, by all accounts. Rowovers for the pair of them, then.
18.19 Darwin M1 crewmember shouting out to his mum, Monica, on CamFM. Raucous laughter from nearby spectators.
18.16 Caius M2 bump up on Downing M2. Foliage being grabbed. Told ya!
Caius cox: "My boys did me proud…great race."
Lower down the river, LMBC M2 are really going for Darwin M1 – and it's bloody close, but it looks as though they may just run out of water.
18.15 At the top of the table, Churchill M1 bump up on Tit Hall M1. Solid performance from those guys.
Just below them, Selwyn M1 will have a easy rowover – but they'll be gutted that they didn't manage to bump up today because they were on for Blades.
18.12 Looks like Eddies M1 have bumped FaT M2, whilst Darwin W1 look to lose their title as sandwich boat as they gain overlap on Corpus M1 just above them.
Further up, Jesus M2 are bumped by Christ's M2. Ditto by Queens' M2 up on Sidney M2. Mayhem at Ditton Corner!
18.10 Tit Hall M1 have gone rather wide on the first corner, as things get going. Churchill are causing them problems already!
Selwyn M1 also giving the Churchill boys a run for their money. Behind the front three, there's a bit of a gap opening up.
Further down the division, Downing M2 have overlap on LMBC M2. Bump looks imminent.
18.10 Smelly chat from the radio commentators pre-race. Ice lollies and stuff. Let's get going, shall we?!
18.07 PS. Blog's been lacking Caius bias for a while. Come on Caius M2, you got this. Downing have nothing.
18.05 Robinson M1 and Downing M1 are sinking fast, so they'll want to keep a lid on things this afternoon. At the other end of the spectrum, Peterhouse M1, Selwyn M1 and LMBC M2 are all on the up. The same can be said for Christ's M2, Queens' M2 and Hughes Hall M1, all of whom will be looking for a third consecutive bump!
All to play for, and we're sure to have some changes this avvy.
18.04 Glorious sunshine as we move into the final few races of the day – "hundreds" of spectators on Grassy Corner, according to our partners at CamFM!
18.02 M2 up next, and this, mi amigos, is how the boats line up:
17.55 So after that last race, both Robinson W1 and Homerton W1 will be nervously looking over their shoulders as they go into Day 4 having been bumped three times – likewise LMBC W2.
On the other hand, Darwin W1 have been very impressive and are still in the hunt for Blades.
17.40 Shout out to today's CamFM presenters, who've done a stellar job today. They had a bit of a shaky technical start, but they've been brilliant these last few races.
17.39 Awesome race! Really enjoyed that. Results as follows:
17.37 Darwin W1 rower on the radio is loving life: "OH HEY BOOOOOYSS!" she shouts. Cooooool.
17.35 Bump up for Churchill W1 on the division's leaders. Below them, the next eight boats had ferocious battles.
Things cooled down a bit in the middle of the division, but Caius W2 down bumped down.
17.34 Christ's W2 appears to have bumped up on Caius W2 – that's two consecutive bumps down for the girls from my college. Gutted doesn't cover it.
Jesus W2 bumped Robinson W1.
17.33 Pembroke W2 have surely got Sidney W1, but Emma W2 are also gaining on Pembroke; this is tight.
17.30 Churchill cut the gap between them and King's, this division's leaders, down to one length.
Emma W2 are very close to Pembroke W2, and it looks as though this may be a bump. Unconfirmed as of yet.
17.28 Both King's W1 and Churchill W1 have started strongly, with good lines round the first corner.
Fitz W1 have made a storming start, and are looking for their third bump in as many days, as they gain on Murray Edwards W1.
17.26 Sun's shining on the women for the second division race, and we're set to go in about 30 seconds.
17.15 W2 up next, and things are hotting up. Here's what the division looks like after Day 2:
17.05 Incredible facial hair from a Clare Hall boatie in that last race. The Tab approves.
16.53 Provisional results from that exciting M3 race:
16.50 At the bottom, though, Churchill M2 look to have bumped Fitz M2 – so kudos to them.
16.49 Emma M3 confirmed, then. Catz M2 look to have caught Selwyn M2 at the top. Top performance from that, because Selwyn were looking good.
Lower down the division, there seem to be a load of rowovers as all the boats hold their own.
16.48 Whistles are blowing, and Catz are smashing it, by the sounds. Just past Grassy Corner, Emma M3 are gaining on Magdalene M2. The former are looking really strong this afternoon. Quarter of a length between them.
16.47 Confirmation of that Emma-FaT bump. LMBC M3 are being chased ferociously by Tit Hall M2, but they're doing their best to hold on.
16.46 Robinson M2 are bumped by Queens' M3. That lot are on for Blades. Nice.
16.45 Emma M2 are hot on the heels on FaT M3, and it looks as though that'll be a bump. Catz M2 also gunning for Selwyn M2.
16.44 Darwin M1 at the top of the division are battling an early headwind, but they're keeping a decent line, and they've opened up a bit of a lead on Clare M2 behind them.
16.43 Big crowds to cheer on the boats in this one, I'm hearing. It's hotting up.
One minute cannon's just gone.
16.42 Catz M2 been very quick so far this week, so they'll be looking to progress today. Ditto Girton M2. Fitz M2, on the other hand, have had a rocky start to May Bumps.
16.40 Line up for the aforementioned M3 race:
16.38 Sun's out, guns out. Or something. Reports flooding in that the M1 crews are already down by the river and stripping off to enjoy the rays. M3 up next, set to go at 16.45
16.20 Results from that W3 race:
16.09 My mistake RE: the bottom of the division – lack of Fitz W2 and Jesus W3 suggests there may have been a bump there.
Race is over; you'll know the confirmed when I do.
16.07 Looks like four rowovers at the bottom of the division. Clare Hall W1 are really gunning for Newnham W3 ahead of them, but the latter are holding them off well.
16.06 More confirmed bumps: Pembroke W3 by Murray Edwards W2 and FaT W2 by Emma W3.
16.05 Corpus W1 have pulled over, whilst Tit Hall W2 have just been bumped by Magdalene W2. Bit of chaos in this part of the river as the teams try to get their boats off the river.
16.03 Early crash between Queens' W2 and Christ's W2 – but the latter bumped Hughes Hall W1 just before, so they should be alright there. Does this mean Queens' were bumped by Corpus just below them?
15.59 One minute out. Stay tuned.
15.55 W3 up next. This has also witnessed an unusually high number of bumps this week, so it's set to be another interesting race this afternoon. Starting line up as follows:
1 Hughes Hall W1
2 Christ's W2
3 Queens' W2
4 Corpus W1
5 Tit Hall W2
6 Magdalene W2
7 Catz W2
8 Girton W2
9 Selwyn W2
10 Pembroke W3
11 Murray Edwards W2
12 FaT W2
13 Emma W3
14 Newnham W3
15 Clare Hall W1
16 Sidney W2
17 Fitz W2
18 Jesus W3
15.54 M4 results as follows:
15.41 Just got a text from a mate on the river: "A-Hartz looking a bit ropey this afternoon. Don't think he should have stayed up all night at the Pitt last night. #boozilad"
And THAT is why Caius M3 just got bumped.
15.26 CONFIRMED: Corpus M2 bump Christ's M3, so that's that little tussle over with.
Almost everyone seems to have bumped(!), apart from King's M2 at the top, Downing M3, and Selwyn M3. As far as I can tell. Maybe I'm wrong.
15.25 Big battle developing between Selwyn M3, Christ's M3 and Corpus M2. It's a case of who can bump who first, at this stage.
Ditto below them, as Homerton, FaT and St Ed's have stopped under the motorway bridge.
15.24 In the middle of the division, it's a little bit calmer. Towards the bottom, it looks as though there have been a few early bumps. Hughes Hall M2, for one, have definitely bumped Jesus M4.
15.22 Catz M3 bump Wolfson M2.
Clare Hall M1 bump Caius M3. I'm devastated. King's M2 have an easy rowover at the top of the division then.
Jesus M3 have bumped up on Darwin M2.
15.20 We're off. King's M2 are being very hard pushed by Caius M3 as they come round first post corner. COME ON!
Clare Hall M1 also chasing Caius. Caius need to catch King's before Clare all get 'em.
15.15 Caius M3 will be looking to regain their position at the top of the table, having (obviously outrageously) lost their position to King's M2.
Downing M3 are dropping like a stone this week, so they'll be keen to try and hold their position in fourth this afternoon.
Lots of boats in the middle of the division on for either Spoons or Blades, so we could have a pretty exciting race on our hands here. Set to go shortly.
15.13 M4 coming up next. Here's how the table looks after yesterday: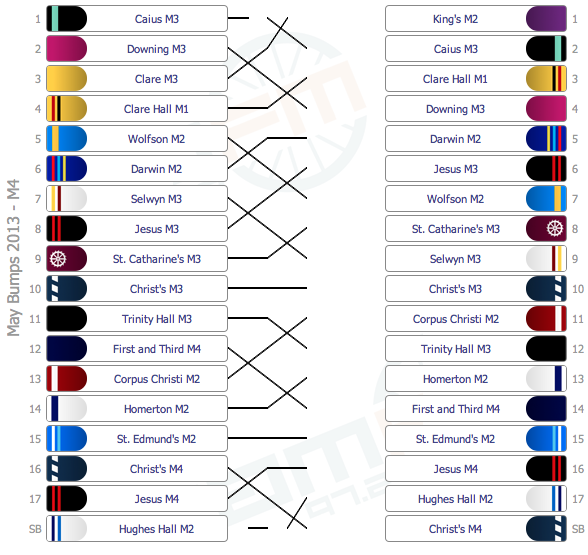 14.57 Results from that manic W4 race just now, courtesy of our partners at CamFM.
14.50 In the middle of the division, however, there appears to be a bit of a stalemate. Emma W4, Selwyn W3 and King's W3 all seem to be non-movers.
14.44 Sounds mental out there in this race, but I'm having technical difficulties, obvs. Bottom six boats all bumped, including a technical rowover.
Lots of movements further up the division, too. Will have them to you ASAP.
14.43 Homerton W2, top of the division, are starting well. St Ed's W1, on the other hand, took an awful line off the start. They've recovered since, but still lost a lot of ground with that shaky start.
14.42 Coxes sticking their hands in the air; we're off.
14.40 Emma W4, for their part, have had a stormer this week. They overbumped on Day 1 and bumped up AGAIN yesterday. That's four places they've already jumped up.
14.39 Jesus W3 going for top spot in the division today, having bumped both yesterday and the day before that. On the other hand, all of Peterhouse W2, Hughes Hall W2, Selwyn W3, Clare W4 and Jesus W4 will all be looking to avoid a third consecutive move down the table.
14.37 4-minute cannon just gone off.
Some stellar advice from the CamFM commentator: "You have to try to fail, but don't fail to try." Have a feeling that'll go down in the history books.
14.33 W4 up next. Line up as follows:
14.10 I've also just been informed that our W5 results are inaccurate (thanks mystery commenter!). Here they are, confirmed this time, then:
Far more interesting than we first thought!
14.07 Solid tweeting from the Caius crew:
M4 bump King's M3! Awesome work. They're now up 2! #maybumps

— Caius Boat Club (@CaiusBoatClub) June 14, 2013
#Easy
14.01 Rowovers at the bottom of the division too, by the sounds, but it's all rather confusing out there so we'll have the confirmed results to you as soon as is humanly possible.
14.01 All quiet at the top, then, but LMBC M4 were disqualified; this means that they were bumped by Queens' M4.
13.59 Queens' M5 look to have bumped Clare M4; the latter are in a spot of bother now after three consecutive bumps.
13.58 King's M3 have been bumped by Caius M4! Impressive performance from my college, there. Go on, lads.
13.57 Okay, we're off. Better late than ever.
13.51 More tardiness. My apologies, readers. Not my fault!
13.42 Should be an interesting race, this. With Christ's M4 sitting pretty at the top, Magdalene M3 and LMBC M4 have been battling it out just beneath them.
Further down the division, Queen's M4, Emma M4 and Darwin M3 will all be looking to keep their Blades dreams alive. King's M3 and Clare M4 will be desperate to stop the rot and avoid Spoons.
13.38 It's M5 up next, with kick off (kick off?) set for around 7 minutes' time. Here's how they line up:
13.25
Hughes M3, my boys who I coached for the past month, just BUMPED Catz VI. I AM SO FREAKING #PROUD. #maybumps

— Stella Lempidaki (@Astrosunshine) June 14, 2013
Das cute.
13.23 Right then. All unconfirmed rowovers in the W5 race, with the M6 division results as follows:
13.15 No change so far. Fitz W3 looking slow, but judging by Girton W3's performances so far this week, it doesn't look like they'll be too troubled today.
13.13 W5 division kicks off – with a grand total of four boats. CamFM commentator calls it a "somewhat lonely row". Agreed.
13.10 Interesting tussle on grassy corner, which sees Clare M6 crash. Sounds like carnage out there! This means that Girton M4, despite a double bump so far this week, will sit tight and row over.
Emma M5 also bump up on Downing M4; that's two days in a row now for the boys from Emma.
13.10 Catz have just conceded to Hughes Hall, who left themselves off the bottom of the table with that bump.
13.09 Churchill M3 have bumped Corpus M4 on First Post Corner. Clare M5 also get the bump early on – they are the division's new leaders.
13.07 Right, we're off. Clare M5 looking to get an early bump on Homerton M3, the division's leaders.
13.06 Fucking tardiness. What's happening to the world?
12.56 How many of today's rowers do we think pulled an all-nighter for Rudimental last night? Crackin' hangover cure, Bumps is.
At least the sun's out. Sort of.
12.51 Up first are M6 and W5, which are raced at the same time: 1pm. Here's how things ended up after yesterday's clashes:
12.43 Some decent hype tweeting coming from what looks like an St. Edmund's student. Check this:
12.36 Remember you can get in touch with my in all the usual ways: via Twitter (@TabSport) with the hashtag #MayBumps, via email, [email protected], or in the comments below. Classic.
12.30 Afternoon all. Will Pithers back on the blogs here for Day 3 of May Bumps 2013. I've surrounded myself with six packs of stella (#lad) and copious numbers of caramel chocolate digestives.
We're strapped in for what promises to be another exciting afternoon(/evening) of bumps action. Sit tight! W5/M6 kicking off in half an hour.
—————————–
Day 2
20:05
Many thanks for joining myself and Josh Kay today. Its been a fantastic day out on the river, with almost as many bumps as yesterday's chaos. Clare yet again impressed, while most other colleges had mixed days.
With multiple colleges still on for Blades, as well as a few challenging for the dubious honour of Spoons, the final two days are guaranteed to be exciting.
Tune in from half 12 tomorrow when the Tab will be bringing you more up-to-the-minute updates from the 2013 May Bumps. Until then xoxo
20:00
Final results have just come in for M1:
19:52
St Cats looked to have rowed over ending the race for today. Confirmation of results as they come in. Not many bumps in M1 today though.
19:51
Pembroke now concede, that's a bump up for Clare. Girton looking like they will row over today, escaping the challenge behind them.
19:50
Three lengths between Jesus and Maggie so looking like the top four will all row over again today. Loads of drama further down in the field though. Clare still moving up and have now overlapped on Pembroke. No concession yet though.
19:48
Loads of action left in this race. Clare looking like they are going to bump up one, more on that as I get it.
19:47
The front two boats are pulling away from Jesus behind them, who are being caught by Maggie, potential bump here. Homerton have bumped up one and Peterhouse have bumped up on Trinity Hall, well done to both of them.
19:45
St. Cats, with Olympian George Nash rowing for them today, are quickly closing the gap to the boats in front of them. Kings M1 have bumped up on Fitz M1. Chaos as that bump took place on the corner. They are moving over quickly but the boats behind are quickly on top of each other.
19:44
We're underway in M1. Here we go.
19:35
Around ten minutes until the last race of the day kicks off.
19:30
Those results below have been confirmed. Only one race left today: M1. Here's how it stands to begin:
19:23
Here are the provisional results from W1:
19:16
Full results to come up in a few. Some quality rowing in W1, only M1 to come.
19:08
Downing and Jesus both row over. Queens bumped by LMBC whilst Magdelene and Kings row over. More to come.
19:06
Maggie are closing in on Queens, who are looking a little tired as they round the bend at the bridge. Tit Hall 1 have bumped St Cats, whilst more are imminent.
19:04
Pembroke have been bumped by Emma, well done to them.
19:02
Newnham have been bumped by Clare. Those two are pulling over causing some congestion behind them.
19:01
Some bunching up behind Newnham W1 who are instantly under pressure from the chasing pack. Jesus holding on to Downing at the minute, but the lead is opening up slowly.
19:00
We're underway and the leaders have all started strongly.
18:57
W1 just about to get underway, this is how it finished yesterday:
18:47
On the Twitter Emma Clement describes Churchill disgraceful behavior: "Churchill just absolutely "mullered" a swan. Classic @BenRTWeisz commentary for #maybumps"
18:35
Provisional results from M2 here:
18:27
Robinson have been bumped by Selwyn whilst most overs have rowed through. Confirmation when we get them.
18:26
Downing have just conceded, that's a bump up for Maggie.
18:25
St Edmunds have four or five boat lengths between the battle between Downing and Maggie, looking safe for today.
18:24
Hughes Hall have bumped  up on Corups. Jesus are four or five lengths behind the boat in front, but are not in any trouble from behind, looking like they're going to row over.
18:23
M2 has started. Jesus M2 have started strongly whilst Peterhouse bump up on Churchill. Downing are pulling away from the chasing pack here.
18:15
Sun has just broken out for the last few races of the day. Updates as they happen. Flo Simpson would like to wish the Jesus M2 a big shout-out, "particularly the number five rower. #BigBoy#FunintheCavity#Acolytes". Thanks Florence. Remember you can get in touch on the twitter at @tabsport and #maybumps.
18:10
We have M2 coming up in around 5 minutes. Here is how it finished after yesterday's racing:
18:00
Provisional results in from W2: King's 1, Churchill 1, ME 1 row over, Fitz 1 bump up on Sidney 1, Pembroke 2, Emma 2 row over.
Darwin 1 bump Robinson 1, Jesus 2 bump Homerton 1, Newnham 2 row over, Clare 2 bump LMBC 2.
Downing 2 row over, Wolfson 1 bump Caius 2, Hughes Hall 1 row over
17:53
Jesus W2 have bumped up against Homerton W1.
17:51
Looks like the top three will row over here yet again. Sidney, Robinson and Wolfson have all been bumped down here.
17:50
Wolfson have been bumped by Darwin, congrats to them. Clare have just completed that bump on LMBC.
17:48
LMBC are just about to be caught by Clare, whilst Jesus are rowing strongly and pulling away from the chasing pack. Tight behind them.
17:47
We're undway and Fitz W1 have bumped up already, congrats to them.
17:43
We've been told that W2 should be kicking off in a few. Updates as they happen.
17:34
Next race due up is the W2 division. Obviously that race has been delayed because of the re-row in the M3 division before. Here's how it stands after yesterday:
17:27
Next lot of results from M3: Queens' 3 bump Magdalene 2, Emma 3 bump Fitz 2, Churchill 2 row over, Clare 3 bump King's 2.
17:25
First lot of provisional results from M3 have come in:Emma 2 and Peterhouse 2 row over, Girton 2 bump LMBC 3, Tit Hall 2 bumps up on Robinson 2.
17:19
The re-row can be called: Emma and Peterhouse both row over, Clare bumped Kings at the back and Churchill row over. More results to come.
17:16
That bump has just been confirmed, Kings now the sandwich boat.
17:15
Clare, the sandwich boat, are catching Kings very fast, bump possible.
17:14
Emma 3 have bumped up, just escaping Churchill behind them.
17:12
Girton have closed the gap to LM very quickly, bump looking likely.
17:11
Re-row is just about to start. Away we go.
16:57

Catz have bumped up, Darwin have caught the aforementioned Clare. Has just been confirmed that all boats from place 6 below are being re-rowed due to failure of clear. 15 minutes till that re-row.
16:54
Looking like there will be a re-row for all boats lower than number 6.
16:53
Top three boats have avoided all the chaos behind, and Clare M2 are "stroking delightfully" according to our partners on CamFM. Good shout for them to bump up into M2 later on this afternoon.
16:51
M3 is underway and Girton have been bumped straight away. Carnage all over the river. Peterhouse have plowed into the bank, blades in the water.
16:47
The M3 race is coming up imminently, will update you all as soon as it happens.
16:46
Official results in from W3:
Hughes Hall 1 run over, Christ's 2 row over, Queens' 2 row over, Corpus 1 bump Tit Hall 2. Magdalene 2 awarded an overbump and a half over Pembroke 3, St Catz awarded a technical rowover whilst Girton 2 bump Selwyn 2, ME 2 bump FAT 2, Emma 3 row over, Newnham 3 row over, Clare Hall 1 bump Sidney 2. Finally Fitz 2 row over and Homerton 2 row over.
16:38
Weather update: its raining. No Johnny needed this time, I just looked outside.
16:31
Next race due up is M3 at 16:45. This is how it finished yesterday:
16:28
Some more results from W3: Selwyn 2 bumped by Girton 2 whilst Catz 2 were awarded a technical rowover – but then Magdalene 2 bumped Pembroke 3. Loads of chaos in this race, will update as soon as we know more.
16:16
Top three boats in W3 have rowed over today. Catz got the row-over whilst Selwyn bumped up one.
16:13
Clare Hall have bumped Sidney Sussex, unfortunate for Fitz who were about to bump Clare.
16:10
Selwyn may have bumped Catz, confirmation when I have it. Murray Edwards have bumped up.
16.08
The W2 race is now underway.
16:05
Wolfson W1 have moved up to W2 and have been replaced by Hughes Hall in this division. Race is due to begin in about five minutes
15:55
So with W3 coming up here is how it finished yesterday:
15:51
The provisional results from M4 below have been confirmed now. Some big bumps there.
15:48
Next race due up is the W3 at 16:00. Will let you know the starting order in a wee bit.
15:41

Some more provisional results from M4: St Edmund's 2, Jesus 4 row over, Christ's 4 are bumped by Hughes Hall 2
15:36
Provisional M4 results: Clare 3 bump Caius 3, Clare Hall 1 bump up on Downing 3, Darwin 2 row over, Jesus 3 bump Wolfson 2. Catz 3 bump up on Selwyn 3, Christ's 3 row over, Corpus 2 bump Tit Hall 3, Homerton 2 bump FAT 4.
15:35
Hughes Hall 2, the sandwich boat, caught Christ's 4 just before they caught Jesus 4 – long row home for Jesus.
15:33
Catz 3 bump up on Selwyn 3, Corpus 2 catch Tit Hall 3, Caius 3 caught by Clare 3, FAT 4 caught by Homerton 2 and Jesus M4 have somehow managed to escape a bump from Christs 4.
15:30
Downing M3 have been bumped by Clare M1. Jesus 3 bump up on Wolfson 2.
15:28
The M4 race is just about to begin, delayed because of a problem with the Wolfson boat.
And we're away.
15:27
More results from W4 have just come in: Emma 4 bump up on Selwyn 3, King's 3 row over, Robinson 2 bumps up on Clare 4, Queens' 4 row over. Jesus 4 bumped by Churchill 2, Emma 5 row over.
15:23
Official results from W4: Homerton 2 rows over, Jesus 3 bump up on St Ed's 1, King's 2 awarded technical bump on Peterhouse 2. Queens' 3 awarded technical rowover, ME 3 bumps up on Hughes Hall 2, Clare 3 row over.
15:22
Homerton Boat Club have tweeted their support for their M2 in the next race: "Up next is M2 in Div 4. A solid row over yesterday, looking to bumps FaT4 today for boathouse bragging rights! #maybumps #crew #hcbc"
15:17
The next race is M4, which was full of controversy yesterday. Here's how it will start today:
15:16
Still delayed down at the river, will resume commentary as soon as the racing restarts.
15:10
Text in from Garth Crooks – "Come on Jesus"
15:00 Text from a Molly Byrne, a fresher at Jesus College, "thanks guys, this commentary is great!" Always a pleasure Molly. She always wants to remind any of the rowers today that if they need any "special attention" then she is around all day.
14.53
Official comment from @redboysrugby: "We would like to release a statement: we have been disqualified from bumps due to boaties being unable to deal with any chat."
Controversial
14.52
Still waiting to hear what the marshals decide on Peterhouse W2, King's W2 and Queens' 3 – they all got stuck after Jesus 3 didn't clear river. Bad Jesus
14.51
Robinson W2 bumped Clare 4 during that race, while Emma W4 bump up on Selwyn W3.
14.48
Big chaos lower in the division but confirmation that Jesus W3 have bumped up, while Fitz row over. Jesus 4 bumped by Churchill.
More results as they come in.
14:45
Robinson have bumped in this race, well done to them.
14:44
Emma V have rowed on while confirmation that Jesus W4 have been bumped by Churchill.
14:41
Jesus W3 have just been bumped. Peterhouse have just hit the back of Jesus in the chaos that followed that bump.
14.38
The W4 race has just started, this is how it left off yesterday:
14.36
Yesterday's expert live-updater Chris McKeon has tweeted: "Looking like the @redboysrugby boat has been disqualified after tweeting that they'd broken the rules. Hoist by their own chat #MayBumps"
14:30
Not long until the next race begins. However, interesting developments on the satellite images front, as top tab weatherman Johnny informs us, a significant increase in altocumulus clouds to the east could play a real part in this afternoon's events
14:21
Stay tuned, the official results are in (see 14:14), and the next race is coming up soon
14:17
Whispers of a scandal have been confirmed, LMBC 4 have been disqualified after bragging on Twitter about their (lack of) outings. Will the rowing world recover? Who knows. The moral vacuum of the rowing community has been brutally exposed by these revelations.
14:14
Provisional M5 results: Hughes Hall 2 row over, LMBC 4 don't show up so Magdalene 3 move up one place, Queen's 4 bump Sidney 2, Girton 3 bump up on King's 3, Caius 4, Magdalene 4, Jesus 5 and Fitz 3 all row over, Emma 4 bump up on Clare 4, Queens' 5 row over, Darwin 3 bump up on Corpus 3, Selwyn 4 bump up on Homerton 3
14:10
Word on The Cam has it that LMBC M4 have been disqualified, after tweeting that they had only completed 4 outings instead of the required 10.
14:06
Rain forecast in the next half hour. Cheers Johnny
14:03
Congratulations to Selwyn 4, the sandwich boat, as they bump up on Homerton 3
13.58
Darwin have bumped up on Corpus
13.56
We believe Girton have been bumped, whilst Jesus M5 are pulling away from Fitz M3 who put them under pressure earlier on. Well done Ed Robbo.
13.54
Lady Margaret M4 never turned up today so Sidney Sussex M2 automatically bump and start one up.
13.53
M5 is just about to start and the sun has come out to join them.
13.50
Our resident weather expert has told us to expect rain later in the afternoon. Cheers Johnny.
13.47
MOTORBOAT ALERT! Some idiot has taken their motorboat up the river delaying the start of M5 for a few. Will let you know as soon as we're underway.
13.45:
The M5 is just about to start. Here's how things stand after yesterday's re-row:
13.40
Apologies for the confusion surrounding Churchill and Emma in W5. It seems that Emma were relegated to W5 yesterday, and Churchill took their place in W4. Sorry Jess Palmer and @Camfm972!
13.31
Provisional M6 results: Selwyn M4 have rowed over, Clare 5 bumped Downing 4, Emma 5 bump up on Girton 4.
Clare M6 and Corpus M4 have been awarded technical bumps.
Finally, Churchill M3 bumps Catz M4, and Hughes Hall M3 have rowed over.
13.28
Clare Boat Club have just tweeted: We'll pass the compliment on, @TabSport … apparently Rach is wearing 'a lovely pair of yellow sunglasses'. #yellowfire #maybumps.
13.24
Some of the chaos in M6 have been resolved, get results up as soon as they have been confirmed. Clare V have bumped for certain.
13.20
The results from the W5 division:
Churchill and Murray Edwards rowed over, whilst Fitz bumped Girton. Girton W3 still on for the Spoons this week.
13.16
Girton W3 have been bumped for the second day by Fitz W3.
13.15
We'll catch up on the chaos that was the M6 division when everything has been confirmed. For now, the W5 race has started.
13:13
Churchill M3 have be awarded a bump of Catz M4, currently getting some foliage from the shore to celebrate.
13:11
Clare V, whose cox is wearing a lovely pair of yellow sunglasses, have bumped Downing, continuing yesterday's success.
The bottom five boats may have to re-row, but it is possible that technical bumps may be awarded.
13:09
Carnage on the river as a pile-up has occurred after the Emma bump. It looks like some of the boats are going to have to re-row here.
13:06
The first race has just started. M6 is underway. Emma V have bumped straight away, congrats to them.
13.02
CAM FM are reporting that the start of the M6 division has been delayed. We will let you know the reason when we hear.
Outrageous comments from CamFM who claim that M6 is just full of beer boats.
12:57
Great day for the two Clare boats in the M6 division yesterday, another one to come?
12:55
Today's line up for our first race is:
W5
Churchill II
Murray Edwards IV
Girton III
Fitz III
M6
Darwin III
Selwyn IV
Downing IV
Clare V
Girton IV
Emma V
Clare VI
Corpus IV
Catz IV
Churchill III
Hughes Hall III
12:45
The first division coming up today is M6/W5 at 13.00. Here's how things start after yesterday's carnage:
12:35
So apparently one of the Cam FM presenters is late for her commentary becuase she was helping a certain Jesus boatie "wax his oar last night". Draw your own conclusions.
12:30
Good afternoon all. Jack Anderson and Josh Kay here to bring you all the live action from the second day of the 2013 May Bumps. Send us all your comments through Twitter with the hashtag #MayBumps, @tabsport or via email at [email protected]
——————————————
Day 1
20.07
So today had it all – 48 bumps, 1 over-bump, carnage in the lower divisions and races right down to the wire in the top ones.
The mature colleges, usually less than impressive on the river, had a good first day but it was Clare who impressed, bringing their 'yellow fire' to the river and involving themselves right in the thick of the action They'll be particularly pleased with the performance of their W1 who showed their undoubted class with a quick bump on Pembroke. They will be the crew Downing will be most concerned about.
Nevertheless, both they and Caius can breathe a little easier knowing their headship is still intact, for another day at least. Tomorrow, you will be joined by my colleague Jack Anderson but for now, this is Chris McKeon signing off.
19.58
The battle between Jesus and LMBC went right down to the wire but in the end both rowed over. That'll be a close contest tomorrow, though Jesus will be able to take some confidence from it.
So, with a massive six bumps in the M1 Division, the summary table looks like this:
19.51
And Catz eventually get First and Third, forcing them to concede with four feet of overlap. Strong showing from the Olympic-powered boat there.
19.49
Girton have caught Magdalene, and there seems to be a large gap after clare, suggesting Fitz have been bumped by Christ's, King's have got Emma and Homerton has got Trinity Hall. Meanwhile, there are about four lengths between leaders Caius and second placed Downing.
19.48
Caius opening up a strong early lead on Downing while LMBC move up on Jesus and Catz quickly close in on FaT. King's are piling the pressure on Emma, surely a bump is soon to follow.
19.46
And the final event is under way, and it's a very quick start indeed.
19.44
The one thing that might stand between Caius and retaining the headship has been a slightly disjointed preparation with Captain Gordon Beck having to come back from a broken shoulder sustained while skiing and his successor Sam Lloyd suffering a knee injury after playing five minutes of rugby. But still they've battled on and are looking as quick as ever.
19.37
And now, as the rain begins to come down more severely, we await the final race of the day, the Men's First Division. Head of the River Caius will be looking to retain their title for the third year running having been comfortable winners last year.
The Tab expects an exciting race with good crews like First and Third, returning Blues for the likes of LMBC and St Catz in the shape of Olympic bronze medallist and Hawk of the Year George Nash. We also tip King's for blades as they continue a strong season.
Here's the line up:
| | |
| --- | --- |
| 1 | Caius |
| 2 | Downing |
| 3 | Jesus |
| 4 | Lady Margaret |
| 5 | First and Third |
| 6 | St. Catharine's |
| 7 | Pembroke |
| 8 | Queens' |
| 9 | Clare |
| 10 | Fitzwilliam |
| 11 | Christ's |
| 12 | Emmanuel |
| 13 | King's |
| 14 | Magdalene |
| 15 | Girton |
| 16 | Trinity Hall |
| 17 | Homerton |
Churchill will race as sandwich boat, and will be looking to escape the second division rather than having to fend off Peterhouse tomorrow.
19.32
Confirmation of the W1 results arrives. Downing survive today, but Clare move another step closer:
19.21
Correction: We are now hearing that it was in fact Peterhouse that bumped Magdalene rather than being bumped by King's.
19.17
Looks like row-overs for the top three, Newnham well off the pace of Jesus so should be a fairly easy target for Clare tomorrow. At the bottom of the division, sandwich boat King's bump up on Peterhouse who fail to replicate the success of their men. Caius W1 also look to have made up some significant ground to catch Christ's.
19.14
LMBC catch Trinity Hall by grassy corner and just behind them, St Catz take Girton – looks like Girton's Eye of the Tiger request to CamFM didn't give them the required motivation.
19.13
But Clare, tipped for great things, quickly move up on Pembroke and bump them. Downing will be getting more and more nervous as these results come in.
19.11
And now, the main event. W1 is underway, everyone pretty much still on station.
19.05
One change to the M2 results, Caius M2 and St Edmund's M1 have both been given technical row overs because they were adjudged to have been impeded by the boats ahead of them once again failing to clear the river quickly enough. So it can happen in the higher divisions as well – hopefully they'll sort it out later in the week.
With that in mind, here is the summary of results for M2:
18.52
While we wait for the rowers to figure out exactly what happened in the M2 race, we shall move on to the first half of the main event – the W1 race. Downing have had a successful run in recent years, but will be looking over their shoulders this year as Jesus starting on the second station have the potential to take their headship.
Watch out also for Clare W1. It's a long way from fifth to first, but it has been done, most recently in Lents by Caius M1 in 2011. Clare are a quick crew and the rest of the club has gone pretty well today. Expect lots of movement.
With all that in mind, here's the full picture of the division:
| | |
| --- | --- |
| 1 | Downing |
| 2 | Jesus |
| 3 | Newnham |
| 4 | Pembroke |
| 5 | Clare |
| 6 | Emmanuel |
| 7 | Christ's |
| 8 | Caius |
| 9 | First and Third |
| 10 | Queens' |
| 11 | Trinity Hall |
| 12 | Lady Margaret |
| 13 | Girton |
| 14 | St. Catharine's |
| 15 | Selwyn |
| 16 | Magdalene |
| 17 | Peterhouse |
King's W1 are the sandwich boat.
18.40
It's looking like a huge seven bumps in the M2 division: Peterhouse on Robinson, Selwyn on Downing, LMBC on FaT, St Edmund's on Caius, Christ's on Pembroke, Queens' on Wolfson and Hughes Hall on Clare. Stay tuned for confirmation.
18.37
Clare M2 have been bumped by Hughes Hall, another win for the mature students, whose representatives in St Edmund's M1 have also caught Caius M2. Peterhouse, with their Olympic rower, unsurprisingly bumped Robinson, but now the CamFM coverage is suffering severe interference so we shall have to wait for confirmation.
18.32
Bumps down the bottom of the division with Christ's M2 catching Pembroke M2 and Queens' M2 catching Wolfson M1. Peterhouse going strong at the top of the division.
18.30

Lifejacket found and the M2 race is underway.
18.22
Apologies for the delay, a cox has forgotten their lifejacket and we can't start without it. Still more sitting around to come.
18.04
While we're waiting for the next race, get in touch with your thoughts. You can email us on [email protected] or get us on Twitter @TabSport or using the #MayBumps hashtag.
18.00
Just one more race until the main event, the M2 Division. Watch out for Peterhouse M1 in this division, featuring an Olympic rower. Should be moving up on Robinson then, you would think. Here's the starting line-up:
| | |
| --- | --- |
| 1 | Churchill |
| 2 | Robinson |
| 3 | Peterhouse |
| 4 | Downing II |
| 5 | Selwyn |
| 6 | First and Third II |
| 7 | Lady Margaret II |
| 8 | Caius II |
| 9 | St. Edmund's |
| 10 | Jesus II |
| 11 | Sidney Sussex |
| 12 | Pembroke II |
| 13 | Christ's II |
| 14 | Wolfson |
| 15 | Queens' II |
| 16 | Corpus Christi |
| 17 | Clare II |
Hughes Hall are the sandwich boat, looking to continue what has been quite a good day for the mature colleges.
17.55
So here are your results for the W2 race, which saw five bumps in all:
17.52
As the W2 race draws to a close, time to tie up a loose end from the carnage that was the M5 race. We can now confirm that Caius IV, having been overlapping Magdalene IV as the race-stopping klaxon sounded, have been awarded a technical bump and so move up a position. A sound decision from the stewards.
17.50
Darwin also continue their college's winning form by catching Homerton. A positive day for the older ladies and gentlemen from Silver Street.
17.48
Clare W2 have caught Downing W2 just by the Plough while Caius W2 look like rowing over comfortably. Could this be an omen for the W1 Division later today? Downing sound worried, Clare look confident with their fire-coloured fire.
17.44
Pretty cagey so far, though Murray Edwards are pushing up on Churchill and Newnham are pressing LMBC. It also looks like Fitz have caught Pembroke, which is nice for them.
17.40
CamFM now discussing the replacement bumps service being run by some ducks. The Mallard's been bumped apparently, but that's the only action from that race. W2 should be starting soon, I promise.
17.36
Now it's not just the cannon that's posing problems but the rowing technology. W2 start delayed due to a broken cox box.
17.34
It seems the lack of gunpowder is still an issue. You'd think if your main method of starting a race was by cannon you would make sure you had enough of it, but then I just report on these events…
17.31
CamFM now talking to the owner of a puppy which is apparently the Clare mascot. The anticipation for this race is unbearable.
17.26
Interesting contest at the bottom of that division, with rowing powerhouse Caius chasing Clare, who insist they're on fire this term and who are in turn chasing Downing W2 who will be looking to their W1 for inspiration. Expect plenty of close battles in this division.
17.23
As we approach the main event, W2 is next. Here's the starting grid:
| | |
| --- | --- |
| 1 | King's |
| 2 | Churchill |
| 3 | Murray Edwards |
| 4 | Sidney Sussex |
| 5 | Pembroke II |
| 6 | Fitzwilliam |
| 7 | Robinson |
| 8 | Emmanuel II |
| 9 | Homerton |
| 10 | Darwin |
| 11 | Jesus II |
| 12 | Lady Margaret II |
| 13 | Newnham II |
| 14 | Downing II |
| 15 | Clare II |
| 16 | Caius II |
| 17 | Hughes Hall/Lucy Cav. |
With Wolfson W1 going again as the sandwich boat.
17.17
And here are those M3 results in full.
17.08
St Catz M2 appear to have bumped Emma M2 as well, making it five bumps in this division. Watch this space for confirmation of M3 results.
17.05
With disappointingly little carnage in this division, I'll take this opportunity to confirm the results of today's W3 race, which are as follows:
17.03
And it looks like Caius M3 will remain the sandwich boat as Churchill catch King's, denying them the chance to move up into this division. Shame. Hughes Hall going strong at the other end of the division.
17.01
Girton catch Robinson, who haven't been having the best Mays so far as a college, while Selwyn catch FaT just by Grassy Corner. Now they just need to get out of the way.
16.59
And they're off, rowing into a stiff headwind. This will be interesting.
16.57
Meanwhile, we wait for M3, who line up thus:
| | |
| --- | --- |
| 1 | Hughes Hall |
| 2 | Darwin |
| 3 | First and Third III |
| 4 | Selwyn II |
| 5 | Emmanuel II |
| 6 | St. Catharine's II |
| 7 | Peterhouse II |
| 8 | Lady Margaret III |
| 9 | Robinson II |
| 10 | Girton II |
| 11 | Trinity Hall II |
| 12 | Magdalene II |
| 13 | Fitzwilliam II |
| 14 | Queens' III |
| 15 | Emmanuel III |
| 16 | King's II |
| 17 | Churchill II |
And Caius III make up the division as sandwich boat.
16.55
Small technical difficulties getting the summary chart, but here are the bumps from W3: Queens' W2 bumped Trinity Hall W2, Catz W2 bumped Selwyn W2, Magdalene W2 bumped FaT W2, Emma W2 bumped Newnham W2, Sidney W2 bumped Clare Hall W1 and Fitz W2 bumped Homerton W2. Chart to follow soon, hopefully…
16.42
Lots of chat from the St John's rugby club over Twitter celebrating their earlier bump on Magdalene M3. 'Imagine if you were a boatie and rowed all year, but still got bumped by a crew who has only 4 outings #gutted'
Gutted indeed, but we always knew rugby players were superior…
16.32
Homerton failed to hold off Fitz's onslaught and are bumped about half way down the Reach.
A huge number of bumps here, especially down the bottom of this division, and not one hint of a re-row. The women very much showing the men how this rowing business is done.
16.29
The wind is really playing havoc with these crews, and St Catz appear to have bumped Selwyn just after Grassy Corner but still waiting for confirmation. Fitz W2 are catching Homerton W2 as they enter the Reach.
16.26
Finally, W3 has begun and there's a slew of bumps by first post corner, Trinity Hall bumped by Queens', FaT bumped by Magdalene, Clare Hall bumped by Sidney.
16.15
And our first mention on CamFM, offering us a jingle. Any ideas, readers?
16.13
Correction: Jesus' bump on Selwyn in the M4 division has been overruled owing to Darwin and Wolfson not clearing the river in time and they've both been given technical row-overs. Unfortunate for Jesus, though there's always tomorrow.
So, M4 final results now looks like this:
16.02
Right, now that's over it's W3 next. Hopefully they'll show us all how it's done. They line up like this:
| | |
| --- | --- |
| 1 | Wolfson |
| 2 | Christ's II |
| 3 | Trinity Hall II |
| 4 | Queens' II |
| 5 | Corpus Christi |
| 6 | Pembroke III |
| 7 | Selwyn II |
| 8 | St. Catharine's II |
| 9 | Girton II |
| 10 | First and Third II |
| 11 | Magdalene II |
| 12 | Murray Edwards II |
| 13 | Newnham III |
| 14 | Emmanuel III |
| 15 | Clare Hall |
| 16 | Sidney Sussex II |
| 17 | Homerton II |
15.55
And, after a good deal of crashing and crabbing, we have now summary of M4:
15.47
Continuing what has become a catastrophe of a division, one of the Hughes Hall rowers has now caught a crab, so they remain the sandwich boat for now. They look exhausted.
15.46
There's going to be a re-row of the bottom five boats from M4, beginning just ahead of the motorway bridge.
In a piece of logistical genius, the race organisers haven't bought enough gunpowder for the starting cannon so they're starting this re-row by shouting 'Go'. They plan for all eventualities, these boaties.
And Christ's get stuck in a bush right off the start and are bumped by Jesus. Well done them, looks like some of the Christ's boat has been damaged in the process.
1540
While we wait for M4 to sort themselves out, CamFM blasts 'Look Down' from Les Miserables, always worth a listen (though it's the film version, rather than the stage version, so it's got Russell Crowe 'singing').
On the river, Clare have been involved in action in every one of their races, two of their boats going down and the other four going up. Darwin, however, are proving consistently good in these lower leagues, both their boats moving up.
15.30
More chaos: The 'mature' colleges of Darwin and Wolfson battling it out, and Darwin come out the victors, bumping Wolfson. This relates in carnage as Jesus bump Selwyn and, trying to clear, some of the Darwin rowers are hit by Selwyn's oars,
Meanwhile, the 'yellow fire' of Clare M3 consumes Downing M3 but can't clear in time so Clare Hall are forced to stop though fortunately they're in acres of space.
Everyone else has stopped due to Selwyn crashing into Darwin. Another men's division and another re-row almost certain. This one's going to take some time to sort out.
15.25
M4 going any second now…
15.19
The Tab are hearing as-yet unconfirmed rumours that Caius M4, going in the M5 Division, are going to be awarded a technical bump rather than a technical row-over as they were about to hit Magdalene M4 before the race was called to a halt. I'm sure Magdalene will be protesting vociferously.
15.10
CamFM now talking about the saga of 'Kyle' and the mystery girl, who has apparently been located and they're going on a date. Bless.
In the world of rowing, nothing much is happening. This division sees Caius M3, who're made up of ex-rowers from higher boats, so they should be rowing over and attempting to recapture their form from 2010 when they moved up 9 places.
15.06
Right, moving ever upwards, next up is M4. Here's what they look like:
| | |
| --- | --- |
| 1 | Caius III |
| 2 | Downing III |
| 3 | Clare III |
| 4 | Clare Hall |
| 5 | Wolfson II |
| 6 | Darwin II |
| 7 | Selwyn III |
| 8 | Jesus III |
| 9 | St. Catharine's III |
| 10 | Christ's III |
| 11 | Trinity Hall III |
| 12 | First and Third IV |
| 13 | Corpus Christi II |
| 14 | Homerton II |
| 15 | St. Edmund's II |
| 16 | Christ's IV |
| 17 | Jesus IV |
15.00
And your W4 Division now looks something like this:
14.57
And Emma W4 have over-bumped Robinson W2, the first over-bump of Mays 2013 – that delay proving very costly for Robinson. That seems to just about wrap up the action for this division, summary table to follow.
14.53
Murray Edwards W3 appear to have pulled over despite having no boats near them, but now they've started again. Maybe just trying to give Robinson a sporting chance after one of their oars got stuck, but they're now very closely followed by Emma going for an over-bump after King's W3 caught Clare W4 – more 'yellow fire' based vengeance being promised over social media.
14.50
Clare W3 bump Selwyn W3, Robinson W2 having oar-based problems but struggling on, Jesus manage to bump Peterhouse before Kings catch them. Hopefully they can get out of the way so we don't have another re-row.
14.47
And they're off.
14.46
Lots of Clare support down at the river to cheer on their two boats in this division, starting in less than 60 seconds. They're not very audible though…
14.35
The suspense is nearly over, W4 are due to set off in 10 minutes. So bumps is running about 15 minutes. I'm sure the organisers will be hoping for no more chaos-based delays, but really where's the fun in that?
14.28
Clare Boat Club dominating the #MayBumps hashtag on Twitter with promises of revenge against Fitz M3 tomorrow using their 'yellow fire' (isn't fire usually yellow?). I'd be afraid if I were Fitz M3, really I would.
14.25
The W4 Division should be starting in about 5 minutes, but the carnage of M5 means it will probably be delayed. In the meantime, here's the line-up:
| | |
| --- | --- |
| 1 | Fitzwilliam II |
| 2 | St. Edmund's |
| 3 | Peterhouse II |
| 4 | Jesus III |
| 5 | King's II |
| 6 | Hughes Hall/Lucy Cav. II |
| 7 | Queens' III |
| 8 | Murray Edwards III |
| 9 | Selwyn III |
| 10 | Clare III |
| 11 | Robinson II |
| 12 | Clare IV |
| 13 | King's III |
| 14 | Emmanuel IV |
| 15 | Jesus IV |
| 16 | Queens' IV |
| 17 | Emmanuel V |
14.20
And the rain begins. Slowly.
Here's the summary of the M5 Division:
14.14
Darwin III have been promoted to this division having caught Homerton III. A number of crews struggling with the crosswind and Fitz III have bumped Clare IV by the Plough. Bragging rights to Clare V and VI as the more senior boat fails to follow their example in the lower division.
Queens' V, bullish on the starting line, were in fact caught by Emma IV – nemesis following hubris. Summary tables to follow.
14.08
RE-ROW. The M5 division will be going again shortly, though we believe LMBC's bump on Magdalene and Queens' bump on King's will stand. The re-row is from station 11 downwards. No early bumps yet, most boats still on station.
13.56
First proper piece of carnage on the river then – this is what bumps is all about, none of that elite sporting stuff, just a lot of people milling about.
Here's what happened: LMBC's rugby boat caught Magdalene III, and as the boats struggled to clear the river Sidney Sussex II were caught in the ensuing chaos, leaving no way through for anyone else. Much angry shouting and confusion.
Right, I'm going to make myself a cup of tea while they sort themselves out. Hopefully back in a few minutes with some news.
13.52
And the race appears to have been stopped, much to the chagrin of everyone involved. It appears that a fair number of boats have been caught in traffic, otherwise known as Sidney Sussex.
We are waiting to hear whether there'll be a re-row or just a lot of technical row overs.
13.50
Crews battling a  crosswind that's just picked up but Queen's IV have bumped King's III, the LMBC rugby boat have, incredibly, caught Magdalene III and Sidney has been caught up in the aftermath as the boats don't pull over in time.
13.47
Finally, we're a minute away from the next division and the starting order remains the same EXCEPT for Trinity First and Third V who have pulled out. Never did take their rowing seriously, did they?
13.30
While we're waiting for the next round of watersport, why not read Tim Squirrell's musings on the life of a rower. It'll really help you understand the minds of the people involved in this week's entertainment. Find it here.
13.26
Our friends at CamFM, meanwhile, are running a 'boatie watch', encouraging you to take photos of 'fit' boaties wearing lycra about town and send it to them. Make of that what you will.
13.25
Keep sending us your rowing-related comments via email ([email protected]), or Twitter (@TabSport, hashtag #MayBumps).
Next up is the M5 race at 13.45, who line up like this:
| | |
| --- | --- |
| 1 | Hughes Hall II |
| 2 | Magdalene III |
| 3 | First and Third V |
| 4 | Lady Margaret IV |
| 5 | Sidney Sussex II |
| 6 | King's III |
| 7 | Queens' IV |
| 8 | Girton III |
| 9 | Magdalene IV |
| 10 | Caius IV |
| 11 | Jesus V |
| 12 | Clare IV |
| 13 | Fitzwilliam III |
| 14 | Queens' V |
| 15 | Emmanuel IV |
| 16 | Corpus Christi III |
| 17 | Homerton III |
13.20
So, there are your first two races of May Bumps 2013. All sorts of carnage in the M6 division and only a little bit in W5. And fluorescent pink kit everywhere. It's a serious business, this rowing.
Here are the summary tables:
13.14
And Murray Edwards bump Girton, who looked in a fair bit of trouble with even the cox grimacing during the race. That's probably the only action from this division given the now insurmountable gap between Churchill in the lead and Fitz at the back.
13.12
The four boats of the W5 Division have begun. CamFM's commentators less than impressed with the quality of the rowing, crews struggling to put their oars in the water at the same time. Which is important.
13.07
As you might expect, bumps everywhere in this division. Darwin III bumps Selwyn IV who manage to park themselves on the bank at Grassy Corner. Clare V have bumped up on Girton IV, Churchill III bumped Hughes Hall III and Clare VI bumped Corpus IV who nearly join Selwyn on the bank at Grassy Corner. Difficult that corner that one.
And Downing prove my sources wrong by rowing a very chilled out race with no-one to catch them.
13.00
And with the first race just about to start, The Rat on Twitter reckons Catz IV is looking pretty strong, while my sources suggest Downing's rugby boat will be the ones to watch, albeit in an 'anything that can go wrong will go wrong' sense.
12.55
First division is about to begin, the M6/W5 Division. So, with that in mind, here's the starting line-up:
M6
Selwyn IV
Darwin III
Downing IV
Girton IV
Clare V
Emma V
Corpus IV
Clare VI
Catz IV
Hughes Hall III
Churchill III
W6
Churchill II
Girton III
Murray Edwards IV
Fitz III
12.45
Looking forward to later in the day, Gordon Beck, captain of head of the river club Caius, says both the M1 and W1 divisions should be interesting with a good mix of clubs. A number of crews have bolstered their ranks with CUBC rowers, including Olympic bronze medallist George Nash returning to the St Catz M1 and Czech Olympian Milan Bruncvik who rows in the Men's second division with Peterhouse M1 – by far the most qualified rower there.
Gordon's also expecting Clare and Jesus to both pose Downing's first serious challenge in the W1 division, so we should be seeing a lot of movement throughout the day.
Finally, King's M1, having won Fairbairns and bladed during Lents are tipped to get their blades in this term's competition.
12.35
With the first division kicking off at 1.00, we'll be providing you with some build-up in the next twenty minutes or so. The first headline is that ARU has officially pulled out of bumps, so this year will be Cambridge colleges only on the river.
12.30
Welcome to The Tab's live text coverage of May Bumps 2013, in association with CamFM. Chris McKeon here to take you through all the day's rowing excitement. Send us your comments through Twitter with the hashtag #MayBumps or via email at [email protected]