A comprehensive guide to the best study spaces across campus
Including the brand new study spaces at the JG Smith Building
The University of Birmingham boasts sixteen dedicated study spaces whilst also having several coffee shops including Starbucks and Costa where work can be done.
There are over 1,800 seats in the Main Library, such as traditional desks and soft-seating, and each space if provided with a plug socket. Fourteen group study rooms are available and can be booked online here.
At the end of September the newly refurbished JG Smith building, which is located behind the Muirhead Tower, was opened with 180 study spaces separated over two floors.
This guide offers the best places on campus to study/ open your laptop and spend three hours scrolling aimlessly on TikTok.
J G Smith Building
This is the perfect place if you are looking for an area to work in where there are very few people. Although this may change when more people discover this study area, there are two floors which have a number of substantial study rooms.
We visited in the afternoon and were the only people on the first floor. The opening times for the JG Smith Building are Monday – Friday 8:00-20:00.
Old Gym
The Old Gym is open Monday to Friday from 08:00 – 19:00 with 36 study spaces. The unique aspect to the Old Gym is the individual chairs with personal tables to work from. Although it is not classed as a silent study space, each time I have studied in there it has been near to silent. There are 36 spaces with 12 PCs that are available to students.
University Centre, The Loft
The University Centre is situated by the library and the study space is located at the top of two flights of stairs.
There are 165 study spaces in the loft and it is open Monday – Friday 8:45-18:00.
The study area is light and spacious, there are plenty of large tables where group study can take place. It is also above the Spar and several food places such as GoMex, which do the best burritos in Birmingham.
Chemical Engineering : Garner Suite
The Chemical Engineering building offers 50 study spaces. Although they may be lesser known if you are not part of engineering, these spaces are open to all students. There is also a cafe and a pool table for when you want a study break.
The study space is open Monday-Friday 8:00-18:00, however it does not have any computer suites.
Medical School Doug Ellis Suite and Clusters
Not being a medical student, and having never set foot inside the medical school, I actually did not realise that non medical students could study there. The medical school offers 210 study spaces which are open to all students, all you need is your student ID to get into the building. There are not only study spaces, but also computers and a café where you can work from.
The study space is open Monday – Friday 7:00-21:00. 
Murray Learning Centre
The Murray Learning Centre is situated around a two minute walk from University station and is open on the weekends as well as during the week. It is open Monday – Friday 7:00 – 01:00 (the next morning) as well as Saturday – Sunday 9:00 – 19:00.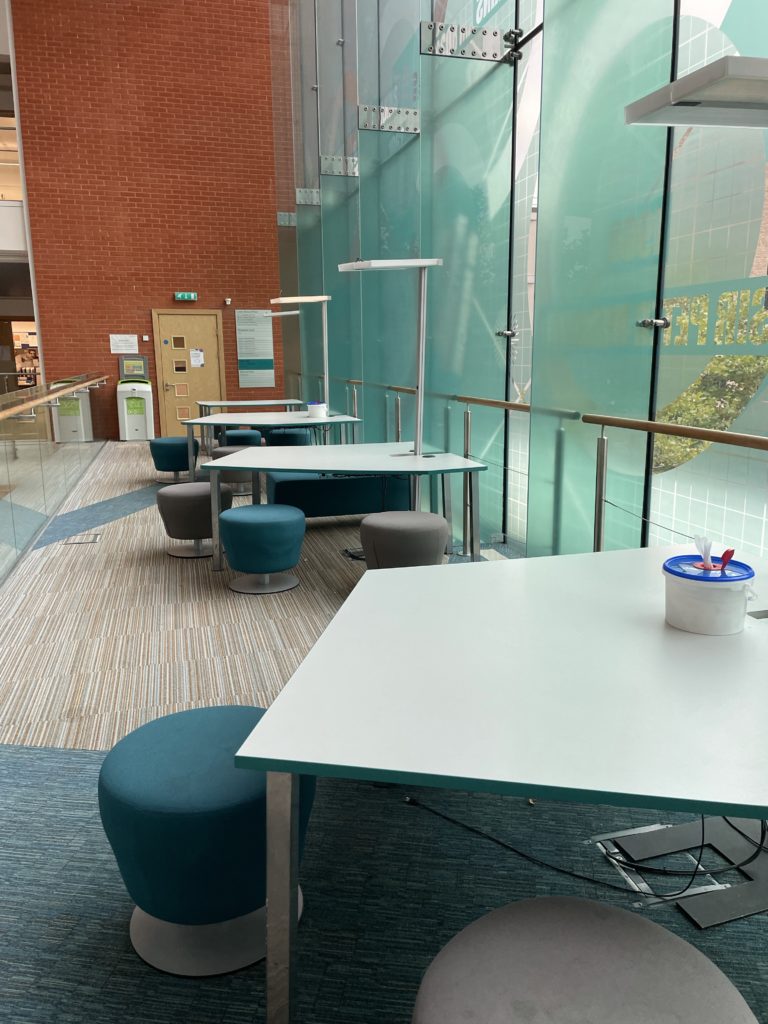 There are 434 study spaces in this building with multiple computer rooms, and communal study spaces with large tables for group study.
There are also several printers, so if the library is overcrowded, you can get your printing done in this building.
Arts Building: Mason Lounge
There are 142 study spaces in the Arts Building, including individual study pods and larger tables for group study. It is a really beautiful and bright space with rows of computers available. An exciting building with lots of art on the walls.
The Arts Building is open Monday – Friday 08:00 – 19:00.
52 Pritchatts Road – Quiet Study Zone
There are 60 study spaces in the 52 Pritchatts Road building, which is located on the opposite side of the road to the University's North Gate entrance.
This study space is open Monday – Friday 08:00 – 19:00.
Aston Webb C Block
The Aston Webb building has a student study zone in the C block with 67 study spaces available, and it is open Monday – Friday 08:00 – 20: 00. The Aston Webb building is one of the most beautiful buildings on campus, and was built in the early 20th Century.
Guild of Students
Currently in the Guild of Students entrance there are sofas that can be used for group discussions, as well as desks for individual work. There is also a Spar, Subway and Joe's bar in the same building. In the former Costa Coffee premises there are going to be a further 80 study spaces coming towards the end of October. The opening times are as follows:
Monday 08:00 – 21:00
Tuesday 08:00 – 22:00
Wednesday 08:00 – 21:00
Thursday: 08:00 – 22:00
Friday: 08:00 – 21:00
Saturday: 10:00 – 20:00
Sunday 10:00 – 20:00
Strathcona Building
There are up to 142 Study Spaces in the Strathcona building, including several computer study spaces. 
The opening times for this building are Monday – Friday 07:00 – 18:00.
Nuffield Building
There are 65 study spaces available in room G25 in the Nuffield building. There were also several rooms of computers that were free when I was studying in there with people doing independent study. The opening times for this building are Monday – Friday 07:00 – 18:00.
Teaching and Learning Building
The Teaching and Learning Building is one of the newest study spaces on campus and also one of the busiest. If you would like to study in here, the earlier you arrive, the most likely you are to be able to get a seat.
The building has 515 study spaces over five floors. There is a lift available for students that require it so there is easy access to each floor.
There are one person desks as well as larger tables, with the majority of seats having access to a power supply. The building is open Monday – Friday 08:00 – 22:00 and Saturday – Sunday 10:00 – 18:00. It is also worth nothing that entry by ID card is required after 18:00 on weekdays and during the weekends.
Related Stories recommended by this writer:
•Met Chief Cressida Dick is speaking at the University of Birmingham this month
•A rundown of the best Birmingham happy hours
•Meet the UoB students who have fallen victim to ticket scammers on Fab n' Fresh