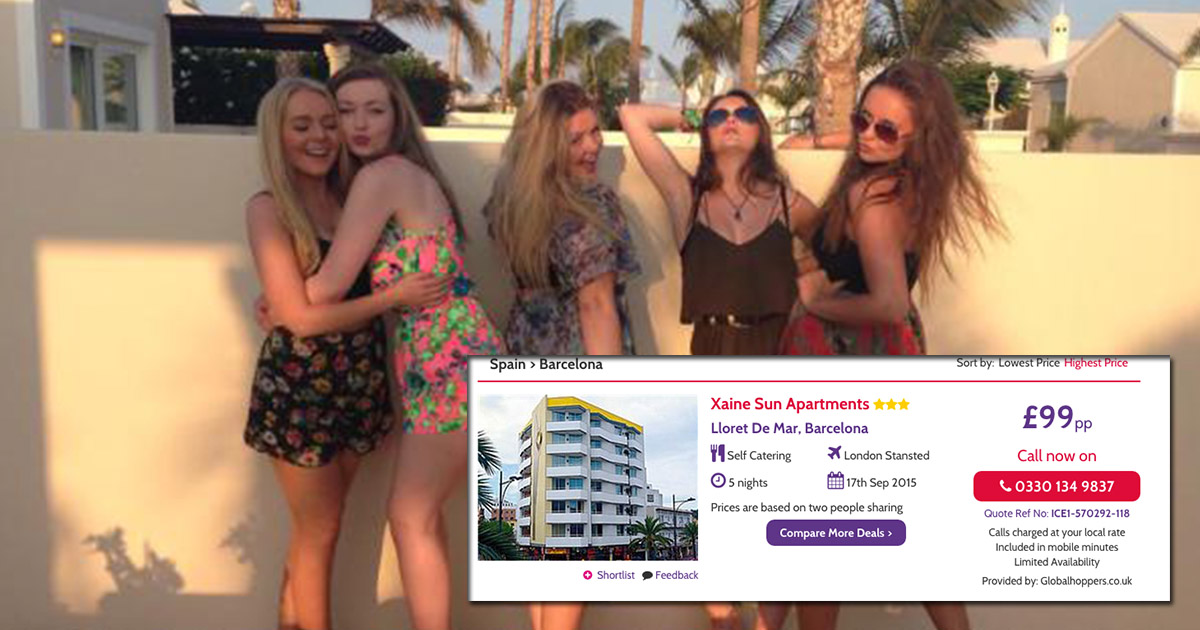 Here's pretty much everywhere you can go on holiday on a tight budget
Including really exotic places like Dublin
beach
beach holiday
holiday
holiday on a budget
national
student budget
sun
You've finished for the summer, and the miserable UK climate is really starting to get you down. 
Your vitamin D deficiency is now a severe problem, and while you're beginning to resemble a ghost, your Facebook is filled with the tanned, toned bodies of those lucky sods whose parents have bunged them a holiday abroad. You've blown your loan, and so the only way you're going to bag yourself a trip this summer is if you can do it on the cheap.
Good luck trying to get a decent, five night holiday abroad for under £400 in July and August. You've waited this long, so you're just going to have to wait a bit longer until September to escape the British borders and soak up the sun.
Under £100
Dublin
The first getaway is somewhere slightly closer to home than you may have imagined, but why not run away to England's delightful coastal neighbour Ireland, especially its capital city Dublin. With Ryanair doing incredibly cheap flights for as low as £10, it's hard to say no. While Ireland is not known as the island of sun, it is full of culture, like the Leprechaun Museum, Jameson Whiskey and Guinness experiences. Dublin offers so much more than beaches and bars.
The average price for most hostels in Dublin is around £8 for a shared dorm or between £13 and £20 for private rooms.Five nights at the Dublin Central Hostel for a private room will cost around £15 a night putting our total at £95, bang on budget for the perfect summer getaway. Described on TripAdvisor as a great location and friendly atmosphere, it doesn't seem too bad a place to base yourself while exploring one of the most exciting cities in Europe. It does, however, say it may not be the best-shared kitchen you've ever been in, but we've all faced halls and survived so you'll manage.
Barcelona
Slightly sunnier and more opportunities for the all important beach selfie. The wonderful city of Barcelona is a prime holiday destination for people across the globe, and a package deal with flights and hotel included for £99 per person may be the best deal found.
While TripAdvisor is a bit torn between how good the location is, it is an hour bus trip to the centre of Barcelona. But many say it's got great beaches and is a wonderful little town in itself. A lot of the complaints are also about noise and the constant partying, but that's probably exactly what you're after. Maybe not the classiest establishment which could have been found, but for a five night getaway but it definitely sounds fun.
£100 to £200
Kavos
Known as one of the best party islands for its infamous strip and world class gyros kebabs, Kavos is one of the most sought after destinations for graduating sixth formers. Not a holiday for those wanting culture or lots of sleep, luckily the beaches do provide some solace after a heavy night. And with the deal found at Not Just Travel for just £118 per person, it becomes a lot easier to say yes to summer sun cravings.
The hotel has been described as "one of the worst hotels in the world" due to its holiday maker's "excursions", and the obvious advertising to hard-core party-ers. It's a clubbers paradise, and one of the most popular in Kavos due to its location and pool. For such a cheap price it makes a usually very expensive island quite doable.
Pula
On the complete opposite end of the holiday spectrum, Pula in Croatia offers relaxing beaches and rich history in a town that has been rebuilt at least four times throughout history. More known for its ruins, Temple of Augustus and Amphitheatre, it's a prime destination for those a bit more culturally aware, and looking for something more than partying on the sand. The deal found once again on Icelolly allows for a trip at the budget price of £167 per person.
The reviews for the hotel are overall very good, with its lovely pools and closeness to the beaches and sea. It is an hour from the centre of Pula but there's public transport available. Don't expect the sand beaches of Greece, Croatia is known for its rock beaches: think Brighton Pier but without the obese pigeons and left over fish and chips. A lot of the other complaints are over the air conditioning units, but after months spent freezing with no heating in our uni accommodations, a little heat will do some of us good.
£200 to £300
Marrakesh
For those of us who saved all year, said no to that last night out or Just Eat discount code, this is the section for you. Able to look a little bit further, a little bit more exotic and at places boasting three to four star ratings.
A city getaway almost bang in the middle of Morocco, Marrakesh is an amazing idea for those of us who want to experience new cuisine, culture and climate. With the famous market places, mosques and palaces, Marrakesh is full of things to do, and for £227.50 per person who can say no?
With an impressive four star rating, the price for the holiday is surprisingly low. Complaints on TripAdvisor range from bad air con to bad drinks served by the pool. But food, location and rooms are revered. Slightly fancier than most of us are used to, it allows for a bit of class this summer.
Algarve
The final destination on the list is the Algarve in Portugal. This is a popular vacationing destination known around the world for its amazing sunny climate and fabulous beaches. While the area isn't known for its cultural diversity, it's a prime spot if you want a week of relaxation and tanning.
With a deal for £274 per person it's the most expensive destination on the list. Found on Expedia, it's right on the strip, a 10 minute walk from the beach with its own pool, and close to the golf club and water sports centre. All rooms have wifi and a private bathroom – a far cry from the shared dorms of hostels in the first section.
Décor may be "dated, and food vile", but all the amenities and pool make these seem less important.